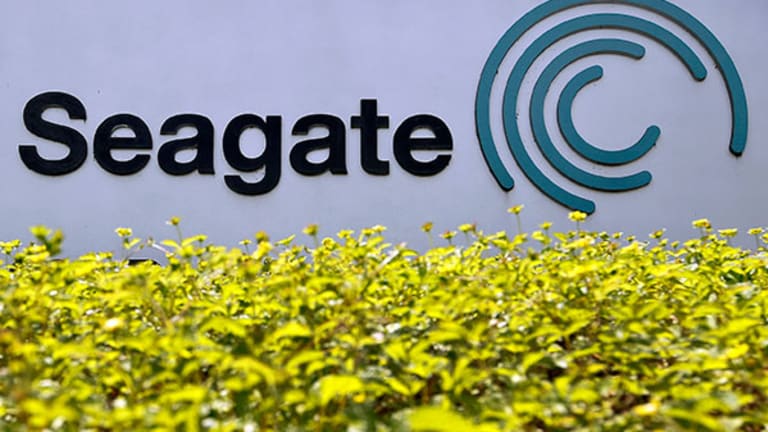 Why Seagate's Big Earnings Miss Isn't Terrible News for Western Digital
Seagate appears to be losing share in a key hard drive segment, and is paying a price for its limited flash memory exposure.
If you're going to refrain from making big investments to up your exposure to a new technology that's gradually eating away at your core market, it's important to at least have a very strong competitive position in that core market. Seagate Technology PLC   (STX) - Get Seagate Technology Holdings PLC Report  has failed to do that, and together with the steady cannibalization of large portions of that core market (hard drives) by a newer technology (SSDs), this has left the company in a much tougher spot than archrival Western Digital Corp. (WDC) - Get Western Digital Corporation Report .
On Tuesday morning, Seagate reported June quarter (fiscal fourth quarter) revenue of $2.41 billion (down 9% annually) and adjusted EPS of $0.65, easily missing consensus analyst estimates of $2.56 billion and $0.98. And on its earnings call, the company guided for September quarter revenue of $2.5 billion to $2.6 billion, below a $2.71 billion consensus and implying a 9% annual decline at the midpoint. Seagate added that while it expects revenue to grow sequentially in the seasonally strong December quarter, it's "not on a trajectory" to hit prior calendar 2017 EPS guidance of $4.50.
Along with its results, Seagate announced Steve Luczo will be stepping down as CEO after more than eight years on the job, albeit while remaining chairman, and that it's cutting another 600 jobs six months after unveiling plans to cut over 2,000 jobs by shuttering a Chinese plant. President/COO Dave Mosley will be Seagate's new CEO as of October 1.
Shares are down 17% to $33.18 on Wednesday morning, putting them at their lowest levels since last November. DRAM/NAND flash memory maker Micron Technology Inc. (MU) - Get Micron Technology, Inc. Report , which Seagate has an SSD partnership with, is down 4.3% to $30.33.
But Western Digital, which has often gone in the same direction as Seagate after an earnings report, is down just fractionally, as markets conclude that Seagate's problems partly stem from issues that Western will either benefit from or won't get stung as badly by. Western, which reports on Thursday afternoon, is just a month removed from affirming its June quarter sales guidance, while hiking its quarterly gross margin and EPS guidance. It also reiterated calendar 2017 EPS guidance of roughly $12.
The June quarter sales outlook implies 3% sequential growth, a sharp contrast to the 10% sequential decline Seagate just reported. Western, 14 months removed from buying NAND flash giant SanDisk for $19 billion, attributed its outlook to "strong demand for the company's broad portfolio of storage products, particularly for flash-based devices and solutions and the 10 terabyte helium capacity hard drives."
Jim Cramer and the AAP team hold a position in Western Digital for their Action Alerts PLUS Charitable Trust Portfolio. Want to be alerted before Cramer buys or sells WDC? Learn more now.
On its call, Seagate blamed several factors for its recent woes. These included softness for costly mission-critical enterprise hard drives, as well as for cheaper drives sold to OEMs for nearline enterprise storage systems. SSD cannibalization has been taking a heavy toll on the mission-critical hard drive market, and cloud storage adoption has pressured both mission-critical and nearline enterprise storage sales.
More of What's Trending on TheStreet:
AMD Surges in Premarket Trading After Chipmaker Blows Wall Street Away
Advanced Micro Devices Could Explode Another 17% Within Hours: Chart
AMD's Strong Guidance Points to Market Share Gains and More Could Be On the Way
GM May Slash Six Car Models to Combat Slumping Sales, Avoid Plant Layoffs
In addition, Seagate noted memory price hikes and related supply chain issues have hurt nearline sales to both enterprises and Chinese service providers, and that its cloud storage systems business saw weak demand. During the Q&A session, Mosley noted parts of Seagate's storage systems business involves acting like a contract manufacturer (ODM). "That stuff is not very good business," he admitted. "We're going to have to really take a look at how much of that business we continue to support going forward."
But Mosley also admitted Seagate has lost some share in market for higher-capacity nearline hard drives -- for example, 10TB and 12TB helium drives -- products for which cloud giants have been placing massive orders. "I think at the highest capacity points, there are some things about our ramp that we're not happy with," he said, while adding Seagate is "quite happy with our products" for lower capacity points.
In a recent note, Mizuho analyst Vijay Rakesh reported (citing an industry insider) that Western Digital has close to a 60% share of the helium drive market, and that the company has a major technology lead for newer drives. Specifically, for the process of hermetically sealing helium drives to deliver a reliability rating of at least 2 million hours. Rakesh added Seagate "might be having yield and qualification issues" for high-capacity helium drives that could position Western for further share gains in the second half of 2017.
Seagate's June quarter shipment figures certainly point to some share loss, even after accounting for secular enterprise storage pressures. On a capacity basis, the company's nearline enterprise hard drive shipments fell 14% annually to 21.2 exabytes (21.2 million terabytes) -- hard drive unit growth was probably worse, since average drive capacities rise over time -- a reversal from the March quarter's 21% growth. That largely offset the capacity growth seen for consumer and PC hard drives.
Seagate's other big elephant in the drawing room: Its "Enterprise systems, flash and other" reporting segment, which cover products such as SSDs and hard drive and SSD-based systems, saw revenue drop 7% to $186 million, or just 8% of total revenue. Even if Seagate was holding its own in the helium drive market, the failure of this segment to offset the cannibalization of hard drives by SSDs in the PC and mission-critical storage markets would be a major issue.
And recent storage systems challenges aside, this issue has much to do with the limited size of Seagate's SSD business, which (unlike the SSD businesses of rivals such as Samsung, Toshiba and Intel) has to rely on a third party (Micron) for flash memory rather than get it at cost. Western doesn't have this problem thanks to SanDisk and its massive flash manufacturing joint ventures with Toshiba, and -- amid a NAND flash boom cycle -- is also benefiting from SanDisk's strong exposure to non-SSD consumer and mobile flash memory markets.
Though conditions briefly looked better, Seagate's decision to avoid acquiring or at least making a big investment in a flash manufacturer in favor of partnering with Micron is looking questionable. Especially when it's losing share in a crucial hard drive segment. Ending those share losses and overhauling Seagate's flash strategy will have to be at the top of Mosley's to-do list after he takes over as CEO.
More of What's Trending on TheStreet:
AMD Surges in Premarket Trading After Chipmaker Blows Wall Street Away
Advanced Micro Devices Could Explode Another 17% Within Hours: Chart
AMD's Strong Guidance Points to Market Share Gains and More Could Be On the Way
GM May Slash Six Car Models to Combat Slumping Sales, Avoid Plant Layoffs