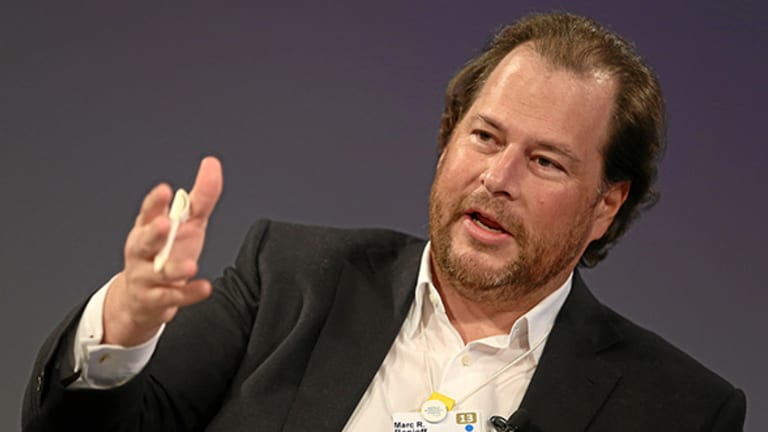 Why Salesforce, Splunk, Microsoft and Other Software Stocks Could Rip Even Higher
The gains may not be over.
The gains may not be over.
Even though Salesforce.com Inc. (CRM) - Get Report , Splunk Inc. (SPLK) - Get Report , Workday Inc. (WDAY) - Get Report , Microsoft Corp. (MSFT) - Get Report and other enterprise software stocks that Evercore ISI follows have collectively gained 27% in the first half, analyst Kirk Materne suggests the shares could still climb in the second half.
Despite their gains, the Evercore analyst notes, many are still relatively inexpensive compared to their value before the cloud crash of early 2014, when a number of software-as-a-service (SaaS) stocks dropped precipitously after reaching high valuations.
"On average software companies are valued 7% lower than in January 2014," he wrote, noting that Salesforce.com, ServiceNow Inc.  (NOW) - Get Report , Microsoft, Oracle Corp. (ORCL) - Get Report , Imperva Inc.   (IMPV) - Get Report and CyberArk Software Ltd (CYBR) - Get Report are his top picks for the second half.
The group gave back some of this year's gains on Thursday. Customer relationshiop management software group Salesforce closed down 0.9% at $89.57. Data analytics and security outfit Splunk dropped nearly 0.6% to $60.38. HR and financial management software developer Workday fell 0.7% to $102.22. Microsoft was one of the few gainers among the big enterprise software stocks, with an increase of nearly 0.9% to $71.77. IT giant Oracle fell 0.2% to $50.35. The pure-play cyber security stocks on Materne's list fared better, as Imperva gained 0.7$ to $50.70 and CyberArk rose 1.1% to $51.00.
"While software stocks may be due for a breather after a strong start to 2017, when taking a 6-12 month view, the secular trends/fundamentals remain positive, valuations are still below levels pre-SaaS crash (2014) levels," Materne wrote of the software group. "As such, this 'summer lull' could linger, but we expect the grind higher to resume" in the second half of 2017 and into 2018.
While Salesforce.com stock is up 60% from January 2014, Materne notes, its underlying business has grown at an even stronger growth. Projected operating cash flow for the coming 12 months is $2.8 billion, or 160% above their level in January 2014. 
Don't forget that Marc Benioff's aggressive bidding war with Microsoft's Satya Nadella for LinkedIn spooked some investors, who thought the Salesforce boss might embark on a reckless acquisition streak. Salesforce's pursuit of Twitter Inc. (TWTR) - Get Report , in particular, may have scared off some long-term investors, Materne notes. The company's $55.4 billion enterprise value today is about 21.5 times operating cash flow, a steep discount to its multiple of 32 times before the cloud crash.
Even though Splunk's business has more than doubled since the Saas-crash, its enterprise value has dropped from $7.3 billion at the start of 2014 to $6.7 billion. Sales for the coming 12 months are $1.3 billion, a gain of 243% from its levels about three and a half years ago. Splunk's valuation of about 5 times sales is cheap compared to its multiple of 18 times in early 2014.
ServiceNow stock is up 95% since January 2014, while its operating cash flow has increased about seven-fold to $720 million. The company's enterprise value of nearly $12 billion is about 24.9 times operating cash flow, compared to a multiple of 66.9 times operating cash flow before the cloud stocks fell in 2014.
So even though many enterprise software stocks have rocketed this year, they have not reached the dizzying valuations that they had obtained a few years ago.
Microsoft had the biggest increase in valuation over the period, with its price jumping from 13 times earnings in early 2014 to about 21 earnings today. However, Materne suggests that the market's shift to new revenue models accounts for much of the gains. "We believe Microsoft's commercial cloud is creating a robust top and bottom-line growth opportunity over the next five years," he wrote.
These stocks could fall off a cliff as they did in 2014. "[I]f shares were to correct, we believe public M&A would likely heat up," Materne wrote.
Of course, if the M&A machine cranks up again so may investor concerns that Benioff, Nadella and others may enter new bidding wars.
More of What's Trending on TheStreet:
10 Private Islands Starting at $5 Million You Could Call Home Today
Apple's $1,200 iPhone 8 Could Be Vastly Overhyped
Hyundai's Popular Sonata Gets a Facelift, Improving Its Chops in Soft U.S. Sedan Market
10 Great Jobs That Will Make You Happy
Visit here for the latest business headlines.