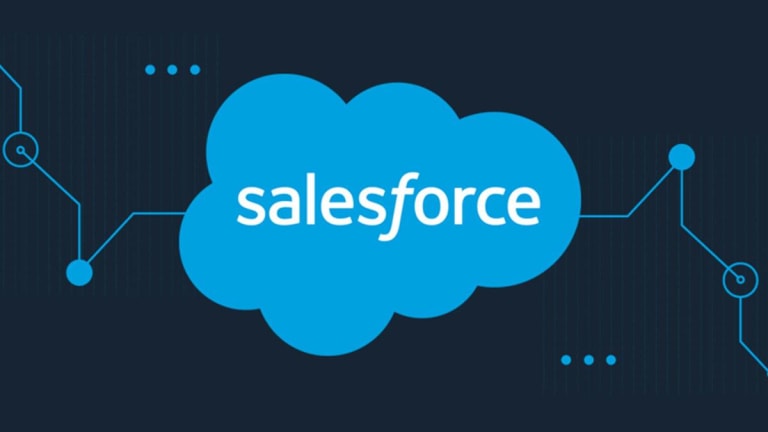 Why Salesforce.com Is One of Jim Cramer's 10 Best Stocks for a Market Pullback
The company's software 'is no longer a luxury, it's a necessity,' Cramer says.
Jim Cramer counts computer-cloud giant Salesforce.com (CRM) - Get salesforce.com, inc. Report among his 10 Best Stocks for a Market Pullback, saying the company's software "is no longer a luxury, it's a necessity."
"The No. 1 thing to keep in mind is that companies today must know their customer better than the customers know themselves if they are to effectively compete within their industry. The Salesforce platform is what makes that possible," Cramer said during a VIP video conference with members of his Action Alerts PLUS club for investors.
Cramer compiled a rundown of the 10 best stocks for the market's recent pullback to "provide you with solid entry points right now, with upside in the near-term as well as the power to continue growing into the future." Salesforce made the list because "demand for customer data will only accelerate as the 'Fourth Industrial Revolution' -- characterized by digitization -- increasingly takes hold across sectors and in countries across the globe as emerging markets such as India continue to develop," Cramer said.
Other things that Cramer likes about CRM include:
A New Apple Partnership
Salesforce recently cut a deal with Apple AAPL to jointly develop versions of the Salesforce platform specifically for Apple's iOS operating system for mobile devices.
Cramer said he's personally spoken to both Apple CEO Tim Cook and Salesforce.com co-CEO Marc Benioff about the partnership "and I do believe it [will] ultimately move the needle for both teams."
Want to Buy $1 Worth of Stock for 90 Cents or Less? You can with certain so-called "closed-end" mutual funds - an often overlooked investment class. Click here to register for a free online video in which TheStreet's retirement expert Robert Powell and an all-star panel tell you all you need to know.
MuleSoft
Salesforce closed a $6.5 billion purchase of software giant MuleSoft earlier this year, and Cramer said the deal represents "a key factor allowing management to realize its fiscal 2022 target of $21 billion to $23 billion in revenue."
Cramer said acquiring MuleSoft, a top platform for building application networks, will help CRM's customers "unlock data previously trapped on legacy hardware for use on the Salesforce platform. A lot of people thought [Salesforce] overpaid for MuleSoft, but now that we've seen the action, we know that's not the case."
Great Co-CEOs
Salesforce promoted company Vice Chairman Keith Block to co-CEO in August amid hints that the socially conscious Benioff -- who founded the firm -- might want to move on to other things.
"We like that Keith Block, whom I know well, is now co-CEO," Cramer said. "[That] it answers the oft-asked question of whether Marc Benioff is going to go off and do something else."
However, Cramer added that Benioff "has told me numerous times that business is the greatest platform for change [and that] he's not going anywhere."
Want to see all 10 of Cramer's top stock picks for a market pullback? Click here for a free 14-day trial of Action Alerts PLUS and watch his whole VIP video conference. AAP members automatically get free access to all of Jim's monthly VIP calls, along with:
A rundown of all stocks that Jim's AAP charitable trust currently holds;
Custom research throughout every trading day from Jim and his team of stock-market analysts;
E-mail alerts that give you a chance to buy or sell a stock before Jim and the team make any trade for the charitable trust.
You can watch a full rewind of Jim's latest video call here.
Employees of TheStreet are restricted from trading individual securities.