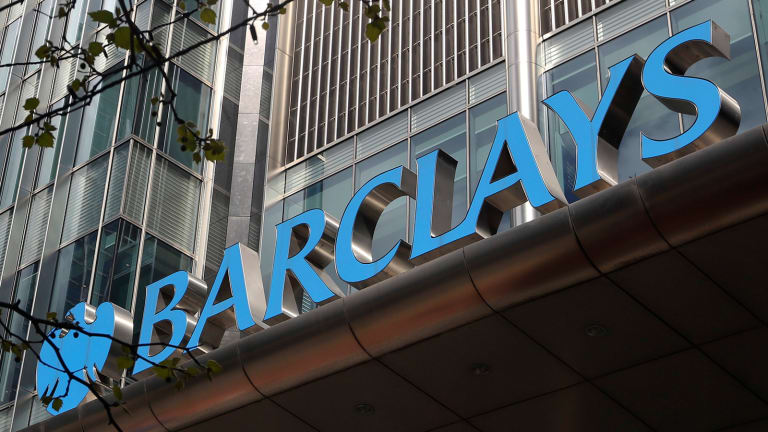 Publish date:
Why Risk Takers Might Want to Roll the Dice on Shares of Barclays
The British financial giant reported encouraging third-quarter results, and it is trying to overcome its challenges. But the stock isn't for the faint of heart.
The British financial giant reported encouraging third-quarter results, and it is trying to overcome its challenges. But the stock isn't for the faint of heart.
Shares of U.K.-based financial services giant Barclays (BCS) - Get Report  had fallen out of favor, with problems in Europe and a possible fine in the U.S. driving the stock down nearly 29% this year.
And yet, Barclays remains a value proposition that investors who are comfortable with some risk should consider.
For starters, Barclays isn't the worst-performing bank stock this year. That honor goes to Royal Bank of Scotland, shares of which have dropped 46%.
Barclays trades at just 40% of its book value, compared with 43% for RBS. To put that into perspective, investment banking-focused lenders such as Citigroup (67% of book) and Morgan Stanley (at 92%) have higher valuations.
Not only is Barclays inexpensive, but its recent earnings report was encouraging. 
The London-based bank Thursday reported total revenue of £5.4 billion ($6.5 billion), beating the consensus for revenue of £4.8 billion by about 12%. Higher revenue, lower non-core losses and tight cost controls helped push adjusted profit before taxes up to £1.7 billion, beating the consensus estimate of £1.3 billion by 30%.
However, Barclays does face challenges.
Revenue growth has been difficult, while higher operating expenses and rising credit impairment charges have undermined the company.
In addition, Barclays has agreed to pay penalties for rigging foreign-exchange and LIBOR markets, as well as damages to customers for mis-selling payment protection insurance.
Barclays is taking steps in an attempt to turn the tide. The company has cut about 14,500 jobs and agreed to sell its corporate-banking and retail business in Egypt.
The restructuring aims to simplify the company into a transatlantic, consumer, corporate and investment bank, which could rejuvenate the core business.
Barclays is also inching closer to the sale of its Italian retail business and its Iberian credit cards operation, in addition to lowering its stake in Barclays Africa.
Chief Executive Jes Staley has said that he will unload £35 billion in unwanted assets by the end of next year.
Once these assets are sold, the company's return on equity could hit double digits and it would also allow free up a chunk of capital that could be invested in smarter yield-earning operations.
However, if Barclays' asset sales are delayed, the stock could fall further. And interest rates, if they stay low, could hurt all banks.
But given how cheap the stock is, investors who are comfortable with risk might want to bet that Barclays will overcome its challenges.
---
A crisis is coming. When it hits, weak companies and their investors will be washed away. Don't let that happen to you! I've found seven companies you should own no matter what the economy is doing. Each one of these powerful yet overlooked companies barely notices when the market tumbles. And they'll skyrocket when it rebounds. You can pick up all seven for pennies on the dollar right now. To get the names of these "seven survivor stocks," click here.
The author is an independent contributor who at the time of publication owned none of the stocks mentioned.