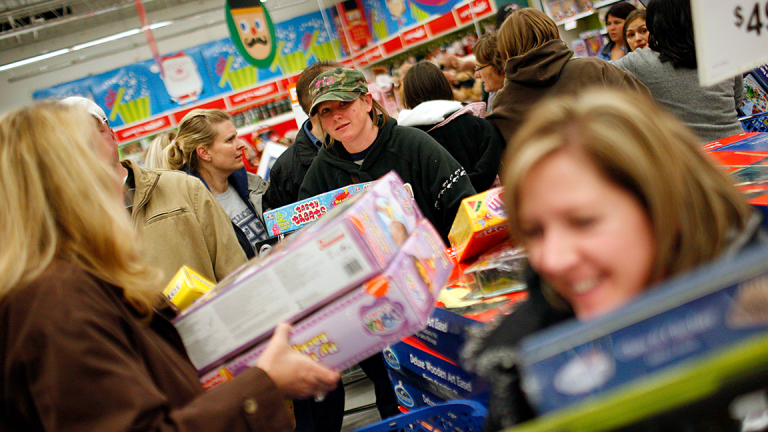 Why Retail Stocks Have Spiked During the Week After Thanksgiving
The S&P Retail ETF dramatically exceeded the S&P 500 in the period between Thanksgiving and the following Wednesday for the first time in seven years.
It was a good week for the market but an even better one for retail.
Between Thanksgiving, Nov. 23 and Wednesday, Nov. 29, shares for retailers like J.C. Penney Company Inc. (JCP) - Get J. C. Penney Company, Inc. Report and Gap, Inc. (GPS) - Get Gap, Inc. (GPS) Report jumped as high as 10%. Pretty much all the major players in the ailing industry, in fact, saw a slight bump in shares following a record-breaking $6.59 billion Cyber Monday.
"We see now that it's not too late for the retail industry," said Jim Fosina, CEO of Fosina Marketing Group. "It's not a phenomenon that retail stocks went up this week. All these companies took a really assertive approach in reaching their customers this year, both digitally and in stores."
The SPDR S&P Retail ETF (XRT) - Get SPDR S&P Retail ETF Report saw its stock rise by 5.4% between Wednesday, Nov. 22 — the day before Thanksgiving — and the following Wednesday, before leveling off Thursday, Nov. 30. It was the first time in seven years that the retail ETF exceeded the S&P 500 Index in this period by more than one percentage point. The retail ETF dropped by 0.48% on Friday, Dec. 1.
Cyber Monday was especially fruitful this year, preliminary data shows. Shopper turnout on Cyber Monday exceeded that of Black Friday — 81 million shoppers versus 77 million — according to the National Retail Federation. Between Thanksgiving and Cyber Monday, more than 174 million Americans shopped, exceeding the NRF's estimate of 146 million. The organization points to high consumer sentiment, an overall healthy economy and favorable weather conditions that contributed to the success this year.
"Retailers are acutely aware of how their shoppers are behaving and they're meeting them where they want to shop, how they want to shop," said NRF CEO Matthew Shay in a media call Tuesday, Nov. 28.
"It speaks to the continuing evolution of the industry."
The high sales numbers also point to the possibility of exceptional fourth quarter sales, according to Susquehanna analyst Bill Dreher.
"It looks like retailers really exited the third quarter with momentum and that we'll have decent fourth quarter," he told TheStreet.
But just because retail had a good week doesn't mean it's out of the woods, he added.
"Retail is a very underweighted group right now so it doesn't take much for it to move dramatical. Right now it's a hedge fund playground, so you know there's going to be a lot of volatility."
More of What's Trending on TheStreet: