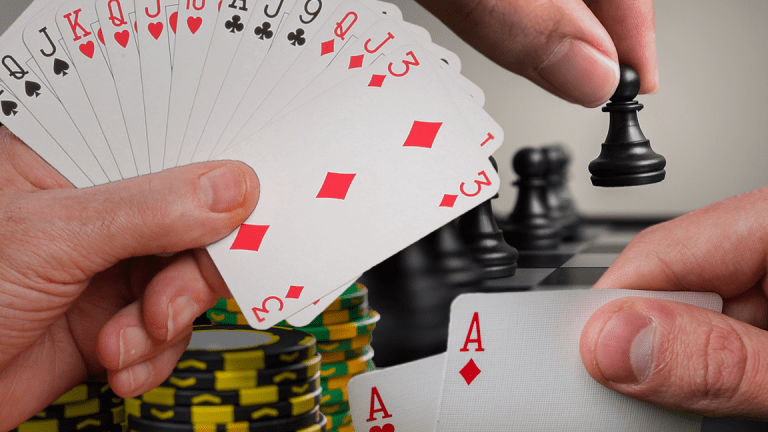 Why Playing Poker, Chess or Bridge Can Make You a Better Investor
There's time off and time off. If you use off time to play bridge, chess, poker or even checkers, you just may be a better investor.
Former World Series of Poker champion Annie Duke says poker players make better investors than chess players.
With poker, said Duke, there are unknown factors, such as the opponents' cards, which add an element of luck and uncertainty, which is more like investing in companies' stocks. With chess, she said, chance doesn't factor into your decision-making.
Some well-known financial types who play poker are Jack Ma, co-founder of Alibaba Group Holdings Ltd. (BABA) - Get Alibaba Group Holding Ltd. Sponsored ADR Report , who is said to "dabble" in the game, according to a 2012 profile in Bloomberg, and David Einhorn, co-founder of the hedge fund Greenlight Capital, who placed 18th in the World Series of Poker in 2006. A dozen years ago, Warren Buffett, better known as a bridge player, tried poker at a charity celebrity game, according to NBCnews.com, but failed miserably.
So are the players of chess, bridge or poker right? "All these games are strategic and they have interdependencies. When you make investment decisions, you make strategic decisions, too," Margaret Neale, a professor of management at Stanford Graduate School of Business, told TheStreet. "These games encourage people to think: what's my next move? What are my opponents likely to do? To win in games or investing, you have to be at least one step ahead of your counterpart."
Game strategist and Carnegie Mellon University professor Kevin Zollman agrees with Duke that playing poker is the best off-time activity to improve investing skills.
"Investing has a lot of the same features as poker," said Zollman, an amateur poker player and the co-author of "The Game Theorist Guide to Parenting." "Poker is a game of incomplete information. In chess, I know where all the pieces are located. In theory, I could calculate all I need to know about chess. With poker, there's still randomness. Bridge lives between poker and chess. In bridge, all the cards are dealt out in the beginning. While you don't know where they are, you can make educated guesses."
Another similarity, Zollman added, is that he can make a decision in both poker and investing that may seem "sound," but result in losing. "You buy a company['s stock] that appears to be a good investment, then something happens: a war breaks out, there's an accident, someone invents a brand-new technology that makes your company obsolete."
As a professional poker player, Duke won some $4 million. Since she retired from the game in 2012, Duke has been a consultant and public speaker focusing on decision-making. In February, Duke published her latest book, "Thinking in Bets: Making Smarter Decisions When You Don't Have All the Facts."
Duke's opinion nothwithstanding, what's the best game to play to sharpen your investing skills? Here's where the two academics concur.
"All of the games — chess, bridge, poker and even checkers — are going to teach you a type of reasoning that helps in investing,"  Zollman said. "Anything that forces you to think predictably about the consequences of your actions, and how others will respond to them, that helps you in investing."