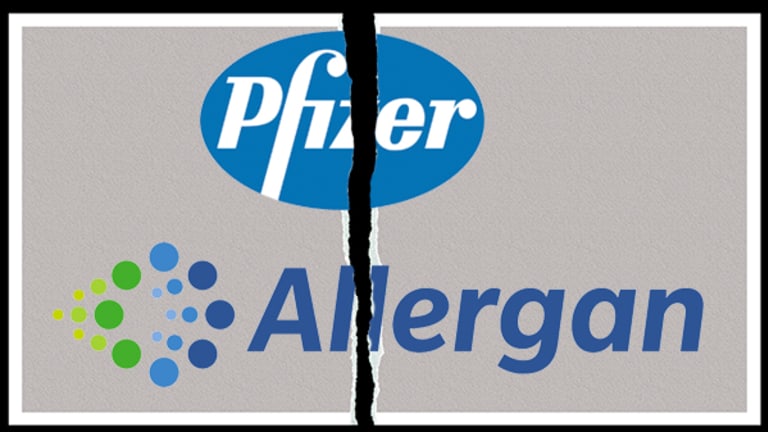 When it comes to Pfizer (PFE) - Get Pfizer Inc. Report , what's old is new again, and that should be a good thing.
After scrapping its plan to merge with Allergan in a $160 billion deal that would have moved the company's headquarters to Ireland, Pfizer has returned to a strategy it first floated five years ago: splitting Pfizer into two firms, one producing established drugs and another focused on developing new ones. 
The sequence of events is a good news, bad news story, although in the end, Pfizer should benefit. The New York-based company has a number of potential blockbuster drugs in its pipeline, a strong balance sheet and commitment to R&D that should lead to more promising, new products. Pfizer shares rose 1.62% in Friday trading. 
The Allergan deal faced public scrutiny after the Obama Administration followed through on a pledge to crack down on companies looking to move overseas to avoid paying heftier U.S. taxes. 
To be sure, there's evidence a split would have paid off handsomely for investors in the near term. A 2012 study by Credit Suisse looked at spinoffs over the preceding 17 years and found that, on average, both the parent and the new firm handily beat the S&P 500 in the first year after a breakup, by 9.6% and 13.4%, respectively.
But in the long run, Pfizer should still deliver market-beating gains, even without the spinoff. 
That's because the company spends heartedly on R&D -- about 16% of its revenues. Such a commitment leads new therapies that generate millions in revenue. Pfizer is also starting to benefit from its latest acquisitions and, freed from the Allergan merger and the planned spinoff, management can focus on making more deals, like its $14-billion purchase of cancer-drug maker Medivation, which closed Sept. 28.
The move adds Xtandi, a prostate-cancer drug, to Pfizer's already formidable oncology portfolio. Xtandi could see its yearly sales jump from a forecast 1.5 billion this year to around $7 billion by 2023. In the second quarter, Pfizer's cancer treatments saw a combined 54% sales spike. In all, it sees Medivation adding $0.05 a share to its adjusted earnings per share in the first year.
Pfizer is also targeting lower-profile conditions, like eczema, a skin inflammation that affects 18 million to 25 million Americans. Toward that end, it recently paid $5.2 billion for Anacor, whose crisaborole ointment is now under review by the Food and Drug Administration. Pfizer feels crisaborole could generate $2 billion in yearly sales.
You can bet more deals are on the way, thanks to Pfizer's strong balance sheet, with $21.1 billion in cash and long-term investments as of July 3, and healthy free cash flow, which came in at $13.1 billion over the last 12 months.
But even if the stock moves sideways following the aborted spinoff, you'll still be holding one of the most reliable dividend payers inside or outside the pharma business. Shares yield 3.5% today, and the quarterly payout has grown 67% in the past five years. Meanwhile, Pfizer's forward price-to-earnings ratio clocks in at 12.8, a big discount to other major drug makers such as Johnson & Johnson at 16.6 and Merck at 16.2.
So don't let the spinoff news drive you away from Pfizer. Instead, now's the time to consider buying this low-priced pharma mainstay and to lock in its attractive dividend yield.
---
Pfizer is well positioned to outperform the S&P 500 in the next 12 months, but even with its growing pipeline, its future profits-and share-price gains-are far from guaranteed. But that's not the case with the proven system we've found: one trader used it to turn $50,000 into a $5-million fortune, and now he's guaranteeing you at least $67,548 per year in profitable trades if you follow his simple process. Go right here to see how easy it is to start collecting thousands of dollars in "free money" every month.
The author is an independent contributor who at the time of publication owned none of the stocks mentioned.