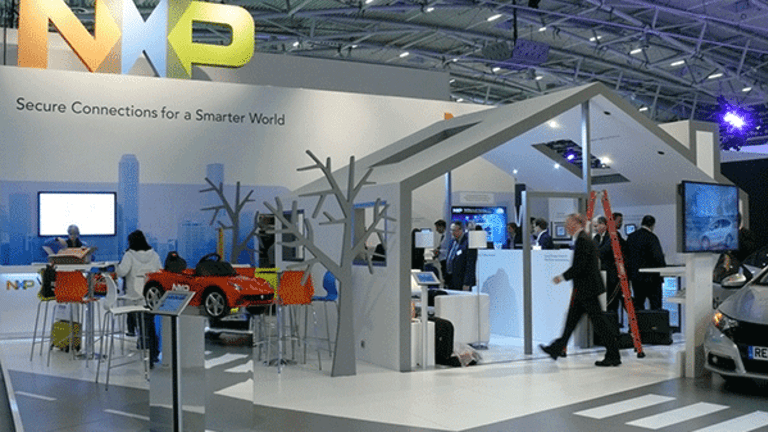 Publish date:
Why NXP Shares Could Go Even Higher From Here
Qualcomm's interest in the chipmaker has caused NXP's stock to surge, but chances of it receiving an even sweeter offer are high.
Qualcomm's interest in the chipmaker has caused NXP's stock to surge, but chances of it receiving an even sweeter offer are high.
Shares of NXP Semiconductor (NXPI) - Get Report  continued to rise on Tuesday, following recent reports that the chipmaker had hired prominent boutique investment bankQatalyst after drawing interest from mobile chip giant Qualcomm (QCOM) - Get Report   last week.
Qatalyst, founded by legendary tech banker Frank Quattrone, has been one of the go-to shops in tech. The San Francisco outfit ran the auction of LinkedIn (LNKD) earlier this year, which turned into a bidding war between Microsoft (MSFT) - Get Report and Salesforce.com (CRM) - Get Report , and has been active in the growing consolidation of the semiconductor sector in recent years.
NXP shares reached $105 per share on Monday morning, its high mark for the year, before finishing the day at $102.76. On Tuesday morning, shares were gaining 1.1% to $103.86. On Thursday, before reports of Qualcomm's pursuit of the Dutch chipmaker appeared, the shares traded around $82.
There still may be room for the stock to grow. At roughly $103, UBS analyst Stephen Chin noted, NXP is worth 18 times consensus earnings per share for 2016, below the multiple of 21 times EPS for recent semiconductor deals.
NXP management could look for $115 per share at a minimum, said Jim Cramer and Jack Mohr, the manager and research director for the Action Alerts PLUS portfolio, which owns NXPI.
"NXP is in a sweet spot where it is large enough to move the needle, and has unmatched leadership in a rare growth area for semis," Cramer and Mohr said. Autos are 40% of sales and have high margins, they noted.
With a roughly $35 billion market cap, NXI would be Qualcomm's largest purchase by far. The San Diego company's biggest payout to date was the $3.1 billion purchase of Wi-Fi chip maker Atheros Communications in 2011, an auction that, incidentally, Qatalyst ran.
Qualcomm could pay a bit of a premium to Monday's share price without breaking the bank, RBC Capital Markets analyst Amit Daryanani suggested in a Monday note.
The San Diego chip maker has $30 billion or so in cash, almost all of which is overseas. Like many tech companies, Qualcomm faces the prospect of paying a tax bill if it repatriates cash to fund dividends. With an overseas acquisition, Qualcomm could presumably put the cash to use without paying a tax bill.
By drawing on the cash held outside the U.S., Daryanani wrote, Qualcomm could pay $120 to $130 per share. Among other considerations, the analyst suggested that Qualcomm would want to keep its debt at about twice its Ebitda.
Qatalyst has advised on its share of blockbusters.
The $26.2 billion LinkedIn deal was Microsoft's biggest purchase ever, and the largest sale for Qatalyst. The boutique also sold NetSuite to Oracle (ORCL) - Get Report for $9.3 billion this year. When activist shareholder Elliott Associates agitated against Imperva (IMPV) - Get Report over the summer, the cyber security company hired Qatalyst to explore options.
In the semiconductor industry, Qatalyst advised Linear Technology (LLTC) on its pending $14.3 billion sale to Analog Devices Inc. (ADI) - Get Report earlier this year.
Mandates last year included the $3.4 billion sale of Atmel to Microchip Technology (MCHP) - Get Report , trumping a bid from Dialog Semiconductor.
In 2015, Qatalyst sold chip equipment-maker KLA Tencor (KLAC) - Get Report to Lam Research (LRCX) - Get Report for $10.6 billion. The companies have said that regulators have held up the deal closing.
In another competitive Qatalyst process, Microsemi (MSCC) trumped Skyworks Solutions (SWKS) - Get Report with a roughly $2.5 billion acquisition of PMC-Sierra, also in 2015.
NXI did not respond to a request for comment for this story. Qatalyst and Qualcomm also declined to comment.