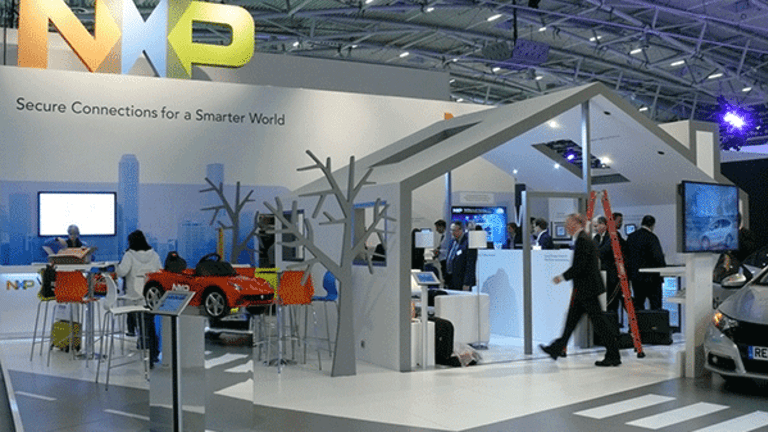 Why NXP Might Not Be as Good a Fit for Qualcomm as Many Think
Qualcomm faces integration, culture and business model risks with its potential purchase of the fast-growing NXP in what would be the biggest semiconductor acquisition in history.
Chipmakers Qualcomm (QCOM) and NXP Semiconductors (NXPI) are reportedly inching closer to a blockbuster deal, but the acquisition worth almost $40 billion won't necessarily be an easy one for Qualcomm to digest.
Qualcomm has agreed to acquire NXP for $110 per share in a deal that could be announced next week, CNBC reported Friday. A day earlier, Bloomberg reported that the two were negotiating a price in the range of $110 to $120 per share.
NXP pulled back 3.3% Friday afternoon to $101.07 while Qualcomm gained 2.3% to $68.88.
While the market has signaled its approval of the potential deal, the tie-up could turn out to be a difficult one for Qualcomm to pull off given integration and cultural risks, according to analysts.
"From a structural standpoint, this company had just been put together," Drexel Hamilton analyst Cody Acree said of NXP Semiconductors, referring to the semi's $11.8 billion acquisition of Freescale last year. "They were just beginning to realize the synergies of the combination."
NXP is one of the better-positioned semi companies largely due to its strong presence in fast-growing automotive and industrial segments and doesn't absolutely need to be acquired by Qualcomm, Acree said.
NXP is a holding in Jim Cramer'sAction Alerts PLUS Charitable Trust Portfolio. Want to be alerted before Cramer buys or sells NXPI? Learn more now.
"My bigger concern is that Qualcomm has no idea of how to run an analog semiconductor company," he said, adding that it's difficult to say exactly how Qualcomm would enhance NXP's competitiveness in end-markets such as automotive and industrial.
Qualcomm, which is targeting NXP largely for the latter's presence in the automotive sector, could also find that the end-markets the combined entity would serve are drastically different in terms of product cycles, as the automotive industry has a much slower cycle than the handset industry that Qualcomm has dominated, agreed Mizuho Securities analyst Vijay Rakesh.
Their business models also vary, as Qualcomm is largely a fab-less company, meaning it doesn't own plants where chips are actually built, while NXP has a decently-sized fab base, Rakesh noted. In addition, Qualcomm has traditionally relied on a handful of customers while NXP has a significantly larger customer base.
There could also be cultural risks between San Diego, Calif.-based Qualcomm and Netherlands-based NXP. 
Integrating such different businesses would mean that the acquisition would change Qualcomm dramatically, said Drexel Hamilton's Acree.
In addition, from a valuation perspective, the reported $110-per-share to $120-per-share offer represents just a mid-teens multiple to NXP's forward earnings, which is slightly below the premium other recent transactions have fetched.
For example, Avago purchased Broadcom at 18 times forward earnings (the buyer took the name of the target after the acquisition), ON Semiconductor (ON) bought Fairchild Semiconductor International at 21 times, Analog Devices (ADI) is paying 25 times for Linear Technology (LLTC) and Renesas Electronics is shelling out 30 times earnings for Intersil (ISIL) .
The $110 to $120 offer would value NXP at about $37.3 billion to $40.7 billion and would be the largest semi transaction ever.
Qualcomm has enough cash, much of it overseas, to support the acquisition, and buying NXP for end-market diversification would be an efficient way to deploy its capital, said Morningstar analyst Abhinav Davuluri. Qualcomm has largely stayed on the sidelines during the consolidation wave even as its peers have rushed to make deals over the past 12 to 18 months.
NXP's strengths could also be magnified with the help of Qualcomm's resources and expertise, he noted.
Meanwhile, the marriage could significantly affect the broader M&A landscape for chipmakers. It would certainly impact the opportunities available to chip giant Broadcom (AVGO) , which plans to pursue more deal-making following its massive $37 billion acquisition last year.
If Qualcomm ultimately decides to walk away or is unable to get a deal for NXP done, the chipmaker also has a handful of additional targets it could look at: Cavium (CAVM) and Xilinx (XLNX) .