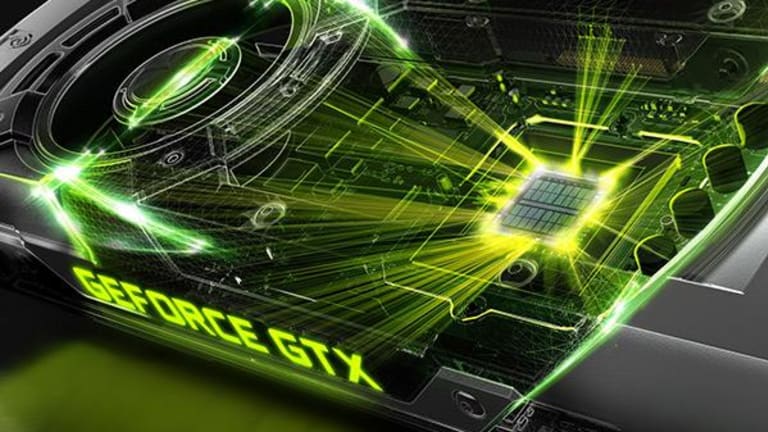 Publish date:
This Is Why Nvidia and AMD Continue to Ride the Cryptocurrency Mining Wave
Ether mining is actually driving more demand for GPU's from the two companies than bitcoin, but it might not last.
Ether mining is actually driving more demand for GPU's from the two companies than bitcoin, but it might not last.
Shares of GPU makers Nvidia Corp. (NVDA) - Get NVIDIA Corporation Report and Advanced Micro Devices Inc. (AMD) - Get Advanced Micro Devices, Inc. Report have gotten a shot in the arm recently thanks to a resurgence in the cryptocurrency mining market. 
But what's behind the recent boost in cryptocurrency mining demand? It's coming from China and Eastern Europe, where miners of an alternative cryptocurrency called Ethereum are buying desktop graphics cards in droves, according to analysts. Mining is the process of verifying cryptocurrency transactions, at which point the transactions are added to the public ledger, called the blockchain. New cryptocurrency is created every time a transaction is verified, and those mining it make money whenever they do so.
The growing cryptocurrency mining market has contributed $100 million worth of GPU sales for Nvidia in the last 11 days alone, according to RBC Capital Markets analyst Mitch Steves. The demand has led to greater confidence on Wall Street that Nvidia and AMD will be able to rise above a seasonally weaker fiscal second quarter.
There is a frequent misconception that GPUs are primarily used to mine Bitcoin, the more common cryptocurrency, but in recent years, people have switched to ASICs chips because Bitcoin requires more powerful processors.Any time a bitcoin is mined, it gets harder and harder to mine the remaining ones, said Bernstein analyst Stacy Rasgon. Users will build small, high-end computers and download programs to mine the currency, which means that the GPUs are usually running all day long.
As Bitcoins became harder to mine, users began to switch to custom-designed ASICs (application-specific integrated circuit) chips because they needed more powerful equipment that could run the mining programs and still make a profit. If miners used GPUs to mine bitcoin, they would spend more money on electricity than they would make in profit, said RBC analyst Mitch Steves.
Ether, meanwhile, was designed to consume less electricity and to be mined via GPUs. 
"As the value of bitcoin grew, it became economically rational for folks to get ASICs chips," Rasgon said. "Ether, they wanted to keep in the realm of the hobbyist."
More and more people have begun mining on Ethereum's platform, which has spurred a dramatic rise in the value of Ether, Steves said. The price of Ether has skyrocketed 4,056% over the last year. As of today, the price of Ether was roughly $327, compared to about $8 on Jan. 1, according to ethereumprice.org.
Between the two major GPU makers, AMD is more likely to benefit from the rise in Ether mining because the Ethereum algorithm runs better on their GPUs, Rasgon said. Additionally, AMD's overall graphics revenues are smaller than Nvidia's, so the boost from Ether mining is likely to move the needle more, he added. 
Steves noted that AMD chips are the best to mine Ether; however, the price of AMD GPUs has gone way up since the rise in Ether demand, which may cause some users to buy Nvidia's more reasonably-priced chips.
Ultimately, few Wall Street analysts view the resurgence in cryptocurrency as a long-term value driver for either stock. The rapid rise and fall in Bitcoin prices in 2013 showed many investors that it was a market that can't necessarily be depended upon. Just as Bitcoin shed more than 80% of its value in 13 months that year, the same could happen to Ether, Rasgon said. 
"If the price [of Ether] crashes, it may not be economical to use these GPUs," Rasgon explained. "I'm not sure this is a long term investable thesis. It could provide near-term support but not long term."
AMD's shares fell 0.3% to $14.13 early Monday afternoon. Nvidia's shares were down 1.5% to $151.56.
Visit here for the latest business headlines.
Editors' pick: Originally published June 22.