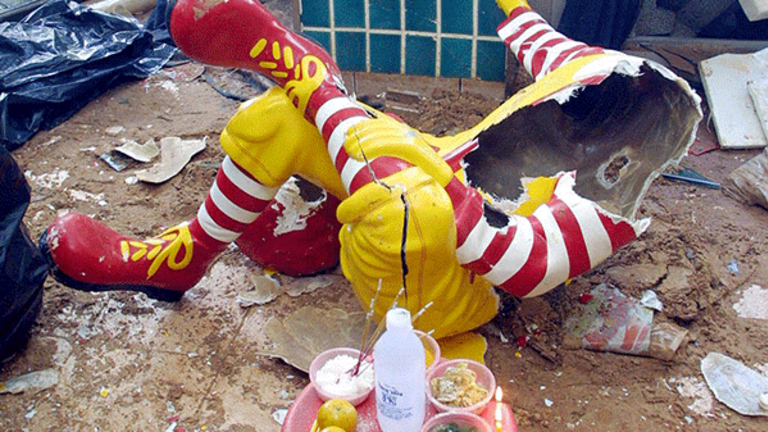 Why New Minimum Wage Increases May Signal a Future of $10 McDonald's Big Macs
Several states passed hefty increases to their minimum wage on Election Day. The fast-food industry should be scared.
Editors' pick: Originally published Nov. 9.
Updated from 11:02 a.m. EST.
Fast-food titans such as McDonald's (MCD) - Get McDonald's Corporation Report  and full-service restaurants like Buffalo Wild Wings (BWLD)  should be quaking in their boots after Election Day.
Arizona and Colorado voted Tuesday to incrementally increase their state minimum wage to $12 an hour from about $8 an hour by 2020. Maine also approved a hike to $12 an hour from $7.50 by 2020. Washington's minimum wage will rise to $13.50 an hour by 2020, from $9.47 presently.   
These states aren't alone in their tougher stance on the minimum wage. 
Earlier this year, California Gov. Jerry Brown signed a law raising the state's minimum wage to $15 an hour by 2022. The statewide minimum wage will increase to $10.50 an hour from $10 on Jan. 1, 2017, then up to $11 an hour on Jan. 1, 2018. From there it will increase by $1 annually until reaching $15 an hour on Jan. 1, 2022.
Last September, New York state approved a measure to increase the minimum wage for employees of fast-food restaurants to $15 an hour over the next few years. The law gradually raises the minimum wage to $15 in New York City by the end of 2018. On Long Island and in Westchester County, the wage would rise to $15 by the end of 2021. The minimum wage only would rise to $12.50 in the rest of the state by 2020, with further increases tied to inflation and other economic indicators.
Higher minimum wages likely will trickle back down to diners in the form of higher prices for hamburgers to steak dinners, possibly with detrimental effects to restaurant companies. 
"If a worker is now paid $8 an hour and the new minimum wage goes to $12 an hour, the increase in wage would mean the cost per full-time employee would increase about $9,000 per year. If the restaurant had 10 employees in this situation, the cost would increase by $90,000 per year," explained Stockton University professor of finance Michael Busler, who added that the higher costs may cause some operators to close their doors. After all, why run a chaotic business like a restaurant if the profit potential is virtually nonexistent?
The natural response to higher costs -- raise menu prices to compensate -- could be no magic elixir as it would likely cause consumers to pull back on their visits. Pointed out Busler, "Many fast food restaurants currently have a $1 menu, making it affordable for many lower-income earners to eat at these restaurants. The $1 menu would increase to the $1.39 menu, putting pressure on consumers. Many lower-income earners would not be able to afford to eat there." A McDonald's franchisee TheStreet talked with flat out admitted that a minimum wage of $15 an hour would be "catastrophic," as he would be unable to raises prices enough to offset the higher expenditure.
According to a study by Purdue University's School of Hospitality and Tourism Management, 1.54 million people working in food preparation and serving related occupations make at or below the federal minimum wage of $7.25 an hour. Raising their hourly wages to $15 -- a 107% increase -- would cause prices to rise an estimated 4.3%. That means a $3.99 Big Mac would cost around $4.16, and an average fast food meal costing $7 would go up to $7.31. Darden's (DRI) - Get Darden Restaurants, Inc. Report popular never-ending pasta bowl promotion, which is currently priced at $9.99, would break through the important $10 mark.   
If fast food workers received $22 an hour (an epic 203% pay raise) -- which is the average wage for Americans in the private industry, according to the Bureau of Labor Statistics -- restaurant prices would rise 25%.
To try to get out in front of the wage headwind, fast-food giant Dunkin' Brands (DNKN) - Get Dunkin' Brands Group, Inc. Report is working with franchisees on simplifying operations, finding supply-chain and energy-management cost savings and lowering capital investments for remodels.
But Dunkin' has seen mixed traffic since the New York City law was announced as scared franchisees hiked prices in advance of the wage increases. Further, some franchisees have been cautious to open new restaurants amid fear of lower returns on their investment.
"Clearly in our view it was discriminatory against our industry [New York City's minimum wage hike], and that affected franchisee sentiment. I did hear one franchisee comment which was, 'look, I've opened a store recently in New York. I'm about to think about another store somewhere else -- it was actually California -- but I've got to hold off on that because I want to see what happens in New York [with wages],'" Dunkin Brands Group CEO Nigel Travis explained to analysts on an Oct. 20 conference call.
Fortunately for the mostly East Coast-based Dunkin', it doesn't have a huge presence right now in Arizona, Colorado, Maine or Washington. Further, it franchises most of its restaurants so higher minimum wages won't directly punish its bottom line.
"We and our franchisees support conversations about reasonable increases to the minimum wage at the federal and state level," a Dunkin' Brands Group spokeswoman said via email to TheStreet when asked about the latest wage hikes. " Frequently, our franchisees offer the first job for many who are seeking to build the basic skills necessary to be successful in the workforce and which can ultimately propel them into the middle class and beyond. We don't support wage laws that unfairly single out the fast food industry or those that rise sharply over a short period of time for our franchisees, who are small business people." 
A source close to the matter at Domino's Pizza (DPZ) - Get Domino's Pizza, Inc. Report said the latest wage increases will only impact company-owned stores in one state. Like Dunkin', Domino's is mostly a franchisee-led business as it only directly operates 387 stores in the U.S. out of more than 5,000. Therefore its may not directly spiral out of control either.  
Meanwhile, struggling wing joint Buffalo Wild Wings is preparing to raise menu price increases in California to help counteract an expected minimum wage rise in 2017. "I do know certain areas, such as California, you've got a significant minimum wage price increase taking effect in the middle of next year. So I would anticipate in that scenario we'll look at taking some pricing," warned Buffalo Wild Wings Chief Operating Officer James Schmidt on an Oct. 26 conference call.
Similar to what happened to Dunkin' Donuts in New York City, the price increases driven by higher minimum wages may turn off customers. The same could happen at Buffalo Wild Wings' 62 combined locations in Arizona, Colorado, Maine and Washington should it adopt menu price increases in light of the new minimum wage laws that were passed.