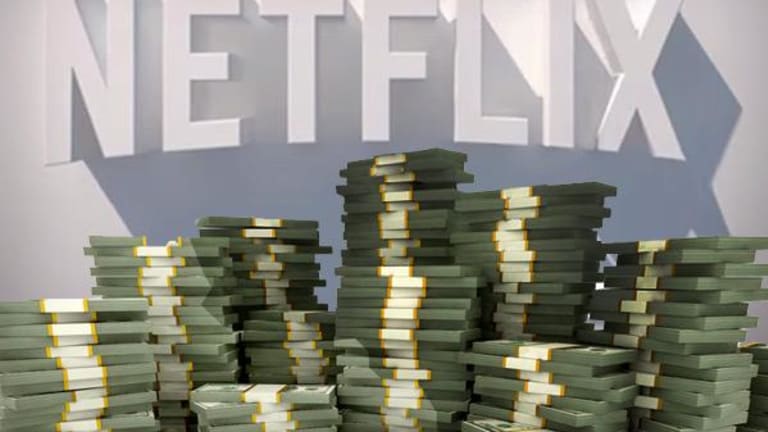 Why Netflix Isn't Worried That It's Overspending on Content
The company has a simple rationale for the billions of dollars it's spending on original shows and movies.
Is Netflix  (NFLX) - Get Netflix, Inc. Report  spending too much money on content?
For years, analysts have debated whether to judge Netflix's success on subscriber additions (an impressive 5.2 million this quarter), or on its increasing debt ($4.8 billion) and negative free cash flow (projected to be $2.5 billion for all of 2017). Wedbush analyst Michael Pachter has been notoriously bearish on the streaming giant, arguing that the latter metrics are a huge source of concern.
Pachter has also pointed to the fact that a lot of Netflix's shows are not actually owned by the company, but rather produced by other studios and streamed under a long-term lease.
"The fact of the matter is Netflix doesn't own a lot of its own shows," Pachter told TheStreet last week. "'Orange is the New Black' is produced by Lionsgate, 'House of Cards' is Media Rights Capital...Because Netflix doesn't actually own these shows, it has none of the leverage, and Amazon (AMZN) - Get Amazon.com, Inc. Report is right there to keep them honest."
However, worries about show ownership might be overblown. A Netflix spokesperson acknowledged that the company outsourced a lot of its original programming when it was first delving into the content field, but is increasingly funding its own shows as Netflix grows. The spokesperson did not seem worried about any 'Netflix Originals' leaving the streaming giant, citing the long-term lease and the complicated economics of finding another distributor.
When asked about concerns over Netflix's spending spree on content ($6 billion in this year alone), the Netflix spokesperson was unwavering.
More of What's Trending on TheStreet:
Sears Continues on Path to Close All Its Stores -- Here Are 50 Reasons the Company Is Dying
Honda Finally Makes a Cool-Looking Accord Sedan Because Everyone in America Is Buying SUVs
"It's served us well to use borrowed capital for our original shows," the spokesperson said. "Thanks to our subscribers we have a fairly consistent revenue base, and we are borrowing at a relatively low rate relative to our equity and earnings power."
Indeed, while the company's nearly $5 billion in debt is a large sum, its debt-to-market-cap ratio is less than 10%, lower than most industry peers. Netflix is borrowing a lot money, but it's not excessively leveraged.
"Netflix is borrowing at 3.6% and growing streaming revenue at a 30%+ rate, so we believe returns from these content investments will handily exceed Netflix's cost of capital in the coming years," noted Cantor Fitzgerald analyst Kip Paulson.
Also worth noting is the fact that the borrowed money is going toward evergreen content for Netflix. Whereas a traditional television studio can only fit so much programming on its slate, Netflix's vast platform ensures that shows produced for the streaming service will be accessible and valuable for years to come. Indeed, Netflix's deep bench of original content is what makes it stand out from its competitors, and the company plans to produce even more original shows and movies going forward.
"We've built a platform which works extraordinarily well," said the Netflix spokesperson. "Theoretically we could grow the business more slowly, but then the problem is you're not taking advantage of the momentum that you have. The opportunity cost would be too great."
Netflix certainly does have the momentum right now -- the streaming company's worldwide subscriber base has grown at a meteoric rate, rising from 28 million to 104 million subscribers in the past five years. Paulson estimates that the number will rise to a whopping 234 million by the end of 2024. That growth is expected to be spurred by steadily rising international broadband household penetration and an increasingly deep and diverse bench of content.
Indeed, diversity of content is an important priority for Netflix given the company's outstanding international subscriber growth. On Monday's Q2 earnings webcast, Netflix said it was putting more people "on the ground" in international markets to spur foreign subscriber growth. Just as Netflix has people developing content in Hollywood, the company wants to have people in places like Korea and India who know how to develop programming in those territories. 
Netflix's international strategy has worked thus far, developing local content that has appealed to global audiences. "3%," the streaming giant's Brazilian dystopian show that was released last fall, has done about half of its business outside of Brazil (one of Netflix's top markets). Similarly, recent South Korean release "Okja" has attracted members to the streaming service in Korea, but has also garnered plenty of attention outside of Asia. The strange and delightful film has become one of the streaming company's most popular original movies, proving that international content can translate in a big way worldwide.
"That's a fantastic story to make a great movie for Korea," said Sarandos on the earnings webcast. "It's even a bigger story that the movie is getting watched by millions around the world."
Netflix's upcoming slate makes it look like a safe bet that the company's content will continue to be popular around the world. In August, Netflix premieres its small screen "Avengers" equivalent, "Marvel's The Defenders." The superhero genre is globally popular and the team-up show -- the culmination of four stand-alone series already on Netflix -- will likely continue the hot streak.
Netflix also has big-budget fantasy movie "Bright" on the slate for a Christmas release. The film, which stars global superstar Will Smith, released its first trailer at Comic-Con on Thursday night.
Netflix shares were up 2.6% at $188.38 by Friday's close, near an all-time high. The stock is up more than 50% year to date.