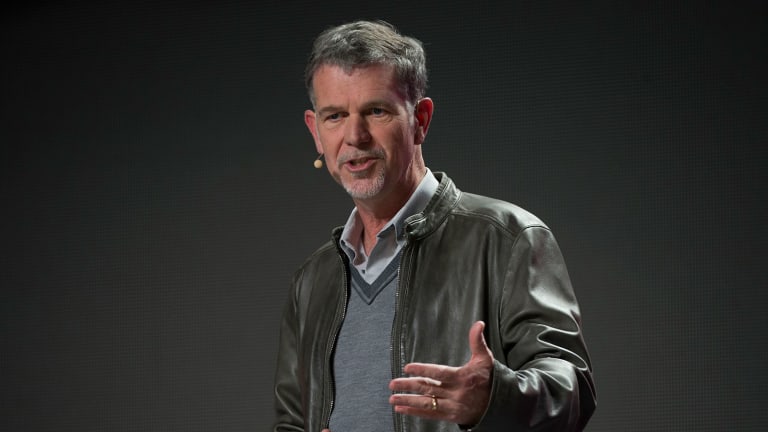 Why Netflix CEO Reed Hastings Is a Genius
Hastings has invested in all the right stuff -- artificial intelligence, artistry and original content, and smart pricing.
If TheStreet's Jim Cramer says it, you can bet he means it.
That's why investors ought to heed Cramer's message that Netflix Inc. (NFLX) - Get Netflix, Inc. Report CEO Reed Hastings "is a genius." TheStreet's founder praised Hastings at his Financial Success Strategies teach in on Oct. 28.
As cofounder and chief executive of the streaming service that boasts more than 109 million worldwide subscribers, Hastings has spent the last 20 years turning a movie rental service into a household name. Here are just a few of the ways Hastings has earned the brand genius.
Artificial Intelligence
"That artificial intelligence that Netflix has is the best in the world," Cramer said. That comes as little surprise, given Hastings received his master's degree in artificial intelligence from Stanford University in 1988.
Part of the allure of Netflix's artificial intelligence prowess is that it offers suggestions for streaming not just based on what you watched, but based on what you liked about what you watched. The company utilizes deep learning to ensure that its artificial intelligence technology can mimic how the human brain operates.
Beyond machine learning, Netflix uses high tech trends to make your viewing experience better. Netflix's AI algorithm, called Dynamic Optimizer, sifts through video frame-by-frame in real time to compress each scene down into high quality images when you're on a slow internet connection.
Dynamic Optimizer is even smart enough to know it has to work double time during an action flick with quick takes and a fast pace. That is a huge deal in the streaming age, when people expect to get what they ask for on demand without waiting. If a streaming service takes too long to buffer, it could mean lights out.
Artistry and Original Content
"Reed Hastings loves artistry," Cramer said. That means he can attract the brightest minds with a less bulky paycheck than some of the bigger institutional studios. For the up-and-coming Hollywood writers and producers, getting a chance to show off just how good you are on Netflix can mean more than getting a low-level position at Paramount or Universal.
Artistry is undoubtedly at the top of Hastings' list, as his company has plans to ramp up original content spending to $8 billion in order to ensure that half the shows and movies on its platform are original by 2018.
That increase in spending comes after four years of sustained success and critical acclaim for Netflix's original shows. Since it started unveiling original programming in 2013, Netflix has earned nine Primetime Emmy awards and four Golden Globe awards, plus a long list of nominations at the Oscars and other noteworthy accolades. That puts it on pace with competitors Hulu and Amazon.com Inc. (AMZN) - Get Amazon.com, Inc. Report Amazon Prime Video.
While it's wildly expensive to fund these lofty goals in original programming, the shows and films are often what keep Netflix users coming back for more. They've spawned cultural phenomenons including "Stranger Things," "Orange is The New Black" and "Narcos," a personal favorite of TheStreet's Jim Cramer.
Smart Pricing
When Hastings started Netflix in the '90s, it was a DVD rental service. It only started streaming in 2007, which is a relatively new development in Netflix's surge to super-stardom. But in that time, Hastings has found the magic number that people are willing to pay for Netflix services.
"The price point still works, people will pay more," Cramer said.
That's good news for Hastings' Netflix, as the company announced in October 7 that it would bump up prices for some of its premium subscriptions. The move was met with investor optimism, as Netflix stock jumped close to 2% that day.
But even the higher end of Netflix's pricing pyramid is less expensive than traditional cable subscription. Basic plans from Time Warner Inc. (TWX) run between $14 and $18 per month, and that doesn't get you premium content. Basic Netflix programs are just $7.99 per month and can be watched by several users at the same time.
Do you know where your favorite Netflix show was filmed? 
More of What's Trending on TheStreet: