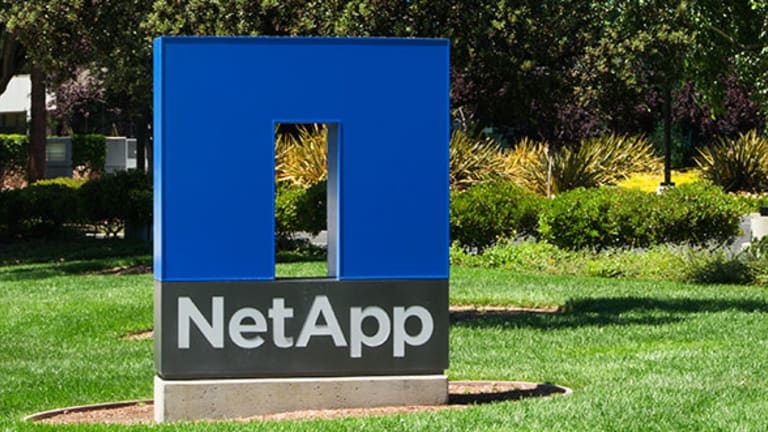 Why NetApp Is a Must-Own Stock Right Now
This rising tech star is a hot stock that you should grab before it gets too pricey.
Shares of NetApp (NTAP)  have gained more than 20% in the past five days, after the data storage company reported better-than-expected fiscal first-quarter results.
The company that's close to hitting a market value of $10 billion has been pulling off one success after another for a while now, surpassing earnings estimates in three out of the last four quarters. We think it's one of the best growth opportunities you'll find in this overbought and risky market.
On average, analysts expect NetApp's earnings to grow 12% a year over the next five years. That gives this stock a price/earnings-to-growth ratio of 1.23, making it a solid buy.
And before we dig into the details, let's also mention that NetApp pays an attractive 2.2% dividend, backed by strong free cash flow.
Let's begin by saying it out loud: Analysts got this stock absolutely wrong. If you followed their median 12-month price target of $24, then you wouldn't have enjoyed much of the stock's gains this year. Now's the time to buy this growth stock winner.
NetApp's business model of providing software, systems and services to manage and store customer data is crucial to our contemporary economy. In fact, there's a long road of gains ahead; only the surface has been scratched as far as growth of data is concerned.
Created as the world's first networked storage appliance, NetApp offers a portfolio of products and services that address a broad range of customer workloads across different data types and deployment structures.
Given this dynamic context, IT clients today are diverting spending towards transformational work and architectures like flash, hybrid cloud, converged infrastructure and software defined storage. In this vibrant and charged environment, NetApp's "Data Fabric strategy" is a surefire success story.
NetApp's multichannel distribution strategy is another boost, making it work with technology partners, value-added resellers, system integrators, OEMs, service providers and distributors.
Yes, the competition is pretty fierce in this segment. Cloud service providers, led by Amazon's AWS, offer customers storage as an operating cost.
NetApp has managed to craft relationships with an entirely new set of providers and has partnerships with Google parent Alphabet, IBM (SoftLayer) and Microsoft (Azure).
Alphabet is a holding in Jim Cramer's Action Alerts PLUS Charitable Trust Portfolio. See how Cramer rates the stock here. Want to be alerted before Cramer buys or sells GOOGL? Learn more now.
NetApp's main rivals include EMC, HP Enterprise, Nimble Storage and Violin Memory. Loss-makingPure Storage isn't a big threat yet.
If we look at earnings expectations, NetApp should rush past the competition. On average, analysts expect it to grow earnings per share 12% a year for the next five years. That's better than expectations for Violin Memory (7%), EMC (3%) and HP Enterprise (2.27%). The industry as a whole is expected to have 5.9% growth.
Analysts have been scrambling to revise their earnings estimates higher over the past seven days, and that just underscores why one should be bullish on NetApp. Eighteen analysts have hiked EPS estimates for the fiscal second quarter, and there have been 16 estimate increase for the fiscal third quarter. What's more, 29 analysts upgraded their estimates for this year, when NetApp is expected to deliver 10.3% year-over-year EPS growth.
While the data storage space is transforming at the speed of light, NetApp is expected to gain momentum in the flash-based solutions segment. Plus, the company's recent product launches and refurbishments will continue to drive top-line figures.
And cost reduction initiatives (like the comprehensive program to trim its cost base by $400 million by the end of fiscal 2017), should push margin expansion over the long run.
The savings, if invested properly, in stated goals like SolidFire, will clearly fuel growth over the long haul.
Trading at a price-to-earnings ratio of 13.15 based on estimates of earnings for the next 12 months, NetApp is a fabulous opportunity to delve into the vibrant and rich space of data storage.
---
Five Years From Now, You'll Probably Wish You'd Grabbed This Opportunity:As we've just explained, NetApp is a smart bet now. If you're looking for other growth opportunities, we've found a genius trader who turned $50,000 into $5 million by using his proprietary trading method. For a limited time, he's guaranteeing you $67,548 per year in profitable trades if you follow his simple step-by-step process. Click here now for details.
This article is commentary by an independent contributor. At the time of publication, the author held no positions in the stocks mentioned.