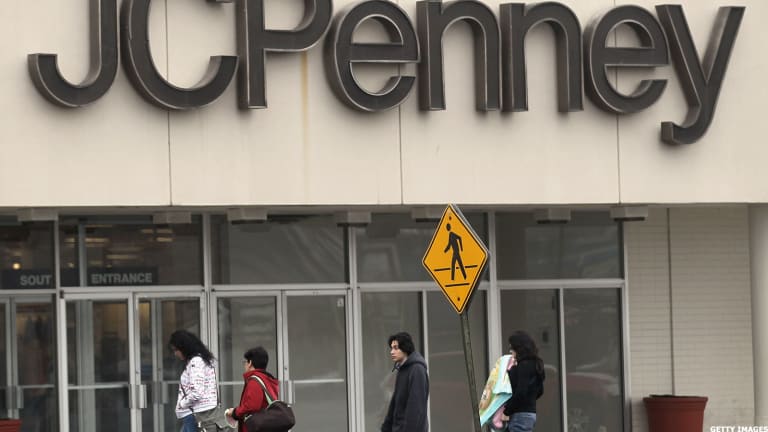 Why Neither Macy's Nor J.C.Penney Will Be the Next Sears
The retail fallout may be in full force, but, Macy's and J.C. Penney, two Cincinnati-based department store chains, plan to stick around.
If the demise of Sears Holdings Corp. (SHLD) is a great American tragedy, then, at a glance, it may seem that the legendary retailer has got at least two understudies waiting in the wings — Macy's Inc. (M) - Get Macy's Inc Report and J. C. Penney Company Inc. (JCP) - Get J. C. Penney Company, Inc. Report . 
Both Macy's and J.C. Penney, like Sears, are iconic American department store chains, which have lost their share of sweat, blood and tears — and earnings — in recent years. Like Sears, Macy's is one of the oldest department stores in the U.S., founded in 1858, to Sears' 1886 and Penney's 1902, and all three have sentimental value, particularly, for older American shoppers. A look at the balance sheets of Macy's and Penney proves that neither are close to Sears' near-bankruptcy status. 
"Neither Macy's nor J.C. Penney are currently trending toward being the next Sears," said Josh Blechman director of Exponential ETFs, an exchange-traded-fund provider. "There are hardly similarities." 
While store closures are certainly on the horizon — Macy's announced 11 closings just four days into the new year — bankruptcy is not, say industry experts. As of January, it operates 868 stores, compared to 888 at one point in 2016.
"Can Sears survive another year or two? That's uncertain," said Bill Dreher, an analyst at Susquehanna Financial Group LLP. Macy's isn't anywhere near bankruptcy status and J.C. Penney will be fine until its debt matures in 2023, he added. "Even then, I'm sure J.C. Penney can restructure."
Bankruptcy expert Brian Davidoff told TheStreet that 2018 is likely the year that Sears will file for Chapter 11. "Sears is at a break point. If there is a [bankruptcy] filing, that filing is likely to occur this year," said Davidoff, head of Greenberg Glusker's Bankruptcy and Financial Restructuring Group, who oversaw the bankruptcy of Bachrach Men's Store in 2017.
Macy's and J.C. Penney also have much higher credit ratings than Sears, which receiveda double whammy from credit agencies in January. First, S&P downgraded it to CCC- from CCC — deep into junk status. And on Tuesday, Jan. 23, Fitch also brought its Sears rating down a notch to C from CC. 
Macy's holds a BBB- from S&P, and J.C. Penney, a B+. Macy's BBB rating from Fitch is even higher on the investment-grade scale, while the ratings agency gave Penney a B+. 
"You always have the macro factors, like the overall threat of e-commerce to brick-and-mortar retail, but from an underlying basis, the Sears situation is way different than that of Macy's and J.C. Penney" and the ratings say it all, said Monica Aggarwal, managing director at Fitch, told TheStreet.
Sears 'Disses' Bricks-and-Mortar
Unlike Macy's and J.C. Penney, Sears more or less has deliberately turned its back on its bricks-and-mortar operations under CEO and Chairman Eddie Lampert, by generally neglecting store upkeep.
"Sears made the decision to be a real estate company years ago, relying on the value of the property [it owns] as opposed to the retail [it sells]," Blechman said.
Lampert's 2015 creation of Seritage, the Sears-affiliated REIT, did, in fact, mark the last time the Sears stock went up in shares. The idea was to maximize the value of Sears' most expensive real estate holdings by forming a separate corporate entity that would collect rent from Sears at below-market rates, while redeveloping vacant storefronts and leasing them to third-party tenants for more than quadruple what Sears itself pays.
In theory, the setup would generate cash for Sears' main operations and deliver dividends. Meanwhile, the main Sears corporation would continue closing stores and liquidating the properties as sales slip. So far, its real estate strategy has failed to offset its retail shortcomings.
"Sears is not even attempting to invest in their [retail] operations," Dreher said. "It's not really clear what the end game will be."
Some of the remaining stores show wear and tear. "The tiles are cracked, the light bulbs are out, everything is out of stock," added Dreher, "Everything that is important in the retail experience is broken." 
Sears' monetization of its assets, in other words, has been a long game of strip poker with its creditors, according to bankruptcy consultant Ted Gavin. "Macy's and Penney have not had to head in that direction." Their store closures have more to do with "rightsizing" operations than with balance sheet obligations.
Aggarwal points out that Macy's is closing stores that are cash flow positive, not just the unprofitable ones. "They're investing pretty hard into omnichannel, and closing stores is part of that [equation]," she said. "Macy's is profitable. They're positioning themselves to grow market share."
The Magic of Macy's (Is Real Estate) 
And while J.C. Penney has posted growth of late — comparable sales increased 3.4% this past holiday season — Macy's is in a league of its own. It maintained an EBITDA (earnings before interest, taxes, depreciation and amortization) margin of 12.5% in 2017, compared with Sears' negative 0.1% and J.C. Penney's 9%, according to SEC filings. 
Macy's real honey pot? Real estate.
In 2016, activist firm Starboard Value estimated that Macy's real estate assets are worth $21 billion. A more recent analysis from Cowen approximates those assets to be in the ballpark of $16 billion — still twice the size of its market cap of $8 billion.
"One of the most unique things about Macy's is its flagship stores in downtown metropolitan locations," Dreher said. Its Herald Square flagship store in Manhattan, for instance, is worth upward of $3.3 billion alone.
These estimates, Dreher said, are highly discretionary. One thing is certain, though: Macy's real estate assets are prodigious. This means that Macy's will have more than enough cash to fend off a prospective bankruptcy — at least, in the foreseeable future. "Real estate value is what provides a lifeline, a source of cash, for retailers to continue operations. It's exactly what Lampert is doing now," Dreher explained. "That's why retailers — especially department stores — tend to have tremendous longevity."
If Lampert has been able to pull off what's been called the "greatest liquidation in history," Macy's would have an even greater run if ever in that position. Next to both Sears, whose Seritage bought its best properties for $2.7 billion, and J.C. Penney, Macy's has, by far, the most valuable real estate portfolio.
Turnarounds Ahead
Macy's, nonetheless, rejected the real estate play when it defeated Starboard's activist campaign in 2016 to spin off its holdings into two or more joint ventures. Starboard sold its 1% stake in the company in May 2017. In March, Jeff Gennette took the reins as Macy's CEO and began a major turnaround by investing in beauty through Bluemercury and in discount, with Macy's Backstage.
"Unlike Sears, Macy's is still figuring out its role in this evolving retail space. They still have brand value, with higher-end names like Bloomingdale's," Blechman said, as well as a profitable brick-and-mortar model. 
Even J.C. Penney, which was stunted by a failed rebranding campaign under former CEO Ron Johnson in 2012, is now reining in its sales decline. The chain posted a 2% growth rate in third-quarter comp sales in November, the highest in the retail sector. As Sears' appliances sales dwindled, Penney wised up and expanded its home and appliances section, which became a top-selling category in its third quarter. 
"Yes, Macy's is seeing sales go down a billion a year and, yes, JCP was hobbled by predecessor management in an ill-fated attempt to reposition the business, and yes, they have large debt loads and limited sales growth," Dreher said. "But they're trying. They're carving out a space for themselves in retail. And Sears is not pursuing any realistic strategy."
More of What's Trending on TheStreet: