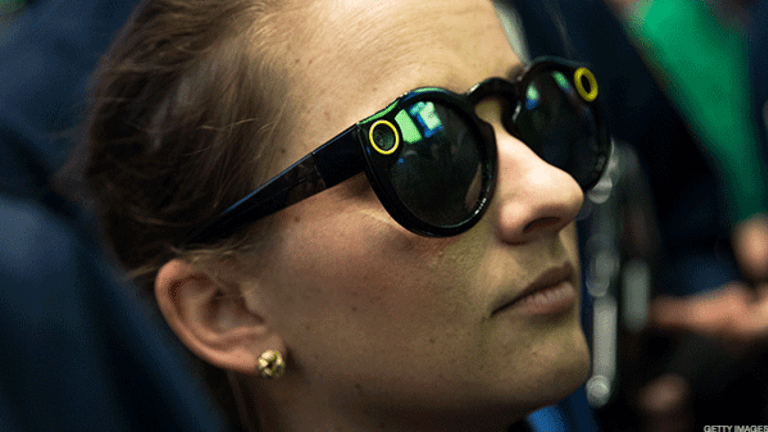 Millennials Just Can't Stop Buying Shares of Plunging Snap -- Here's the Biggest Reason Why
The social media upstart's stock has shed nearly half of its value since going public, but that hasn't discouraged some of its fans.
Millennials have been known to approach the stock market with caution, but that hasn't stopped some from investing in one of this year's riskiest stocks, Snap Inc. (SNAP) - Get Snap, Inc. Class A Report .
The Snapchat parent company is the third most popular stock among millennial users on Robinhood, an online brokerage app with more than two million users, the company said. Apple Inc. (AAPL) - Get Apple Inc. Report claims the number one spot, while chipmaker Advanced Micro Devices Inc. (AMD) - Get Advanced Micro Devices, Inc. Report ranks second. The median age of Snap shareholders on the app is 26 -- the same age as the company's CEO and co-founder, Evan Spiegel.
Those millennials can probably claim something most Snap investors can't -- they knew about the disappearing message app long before it made plans to go public. But while they may have been die-hard fans of Snap before the IPO, their loyalty has certainly been tested in the months since.
Zac Caldwell, a 29-year-old who works for AmeriCorps Vista, said he continues to buy and sell Snap's stock on the Robinhood app, adding that 40% of his portfolio is invested in the social media upstart. Caldwell said he's holding out hope for Snap to post a modest beat on second-quarter earnings when it reports earnings on Thursday, and perhaps offer more details or guidance about future plans, given the stock's decline.
"I believe it's a good investment for a simple reason: the market seems to be wrong on this," Caldwell said by email. "I work with teenagers and I hang out with millennials and they all use Snapchat far more than Facebook and at least equally to Instagram. I'm a many-times-daily user."
Snap was seen as a Wall Street darling when it went public in March, but a lot has changed since then. Shares of Snap have fallen 46% since its IPO, as concerns continue to grow surrounding its ability to grow revenue, users and its advertising business in the face of mounting competition from Facebook Inc. (FB) - Get Meta Platforms Inc. Class A Report . More recently, the stock has come under pressure as the company's 150-day lockup period expired on July 31, and its 180-day lockup expiration is due later this month.
All eyes will be on the stock on Thursday after the close when Snap reports its second quarterly earnings as a public company. Snap missed expectations on all three of Wall Street's most-watched metrics last quarter (earnings, revenue and user growth) sending the stock tumbling more than 20%. For the second quarter, analysts are projecting Snap's top and bottom line will increase and that it will add roughly nine million new monthly active users.
Apple and Facebookare holdings in Jim Cramer'sAction Alerts PLUS Charitable Trust Portfolio. Want to be alerted before Cramer buys or sells AAPLor FB? Learn more now.
Many millennial investors piled into the shares around the time of its IPO because of their enthusiasm for Snapchat, but Snap is still attracting buyers despite the stock's decline, said JJ Kinahan, chief strategist at TD Ameritrade. Snap was one of the most popular stocks for the month of July among all investors, not just millennials, he noted.
"I think what people are saying is that 'We think there is some value in this company that it hasn't yet figured out how to monetize, but that there is something there,'" Kinahan said. "These people still believe in the stock and acknowledge it might take longer to realize that value."
By and large, millennials have not warmed to the stock market as much as previous generations, said Greg McBride, chief financial analyst at Bankrate.com. One reason for that is because millennials had a "front row seat" for the financial crisis of the 2000s, which generated a greater aversion to risk, as well asa preference for other preferred methods of saving, like cash and other safe haven investments, he noted.
Given the stock's poor post-IPO performance, it seems counter-intuitive that risk-averse millennials would still be investing in Snap. Kinahan believes Snap may have enticed otherwise wary millennials to invest in the stock market because they love the app and think it can grow to become something bigger. Kinahan cautioned, however, that that strategy doesn't always work out.
"Just because you love the product doesn't mean you love the stock," Kinahan explained. "Twitter as a product I think is amazing, but Twitter as a stock, I might not necessarily love." 
Quiz: Who Did It First, Facebook Or Snapchat?
Watch More with TheStreet:
Mike Compton, 24, said he bought into Snap at the time of its IPO, when people still were optimistic about the stock. "However, it's gone down, down, down since I've gotten in," Compton said by email. "I'll probably hold onto it for a little while longer, but I don't see it going above its IPO price anytime soon. All the millennials nowadays seem to prefer Instagram over Snapchat."
Tal Zaiet, 23, said he's also been disappointed with his investment in Snap since it went public. 
"I definitely bought into Snap pretty early on and sold pretty quickly thereafter," Zaiet said by email. "I don't plan on introducing Snap back into my portfolio any time soon."  
Zaiet said he was initially drawn to Snap's mission of becoming a camera company -- a vision that was laid out in its prospectus -- because it showed that the company might be able to pivot away from being a competitor with "the behemoth that is Facebook." 
"Nobody can compete with Facebook and I thought to myself that Snapchat's position is only getting worse," Zaiet explained. "I found out that was the wrong decision almost immediately. I lost a couple of bucks, but nothing too drastic as I managed to jump ship early on." 
For his part, Caldwell said that millennials seem to appreciate Snap's less invasive approach to advertising, and that he's comfortable with watching the price of Snap's stock drop.
"I see a young company, and I'm going to try to buy low and sell high," Caldwell explained. "I think all but bankruptcy has been priced in at this point and even a [weak second quarter] doesn't lose me much money."
Don't miss these top stories on TheStreet:
The Once Hot Trend of Wearing Yoga Pants All Day Has Died
50 Reasons Dying Sears Had No Choice But to Strike a Deal With the Ruthless Amazon