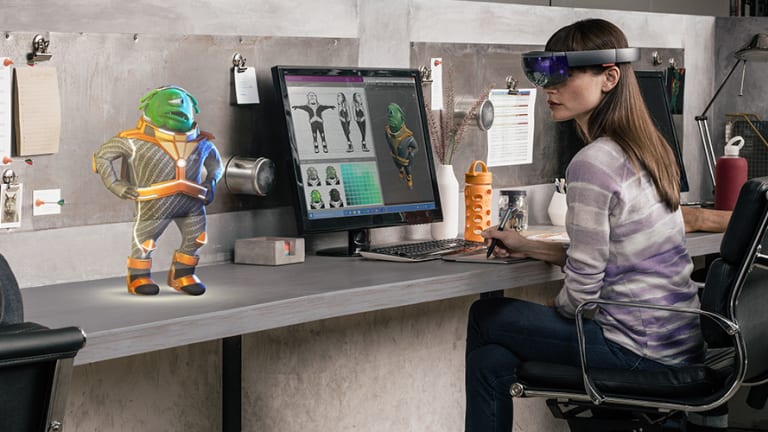 Publish date:
Why Microsoft Is Betting on a 'Mixed Reality' Future
The software giant is gambling that its new virtual and augmented reality platform can help it capture a wide range of end markets and customers, including enterprises.
The software giant is gambling that its new virtual and augmented reality platform can help it capture a wide range of end markets and customers, including enterprises.
2017 is expected to be a big year for virtual and augmented reality, and Microsoft (MSFT) - Get Report is hedging its bets on the full spectrum of experiences, including mixed reality, which combines aspects of both VR and AR.
In Q1, Microsoft partners Asus, Acer, HP (HPQ) - Get Report, Lenovo and Dell plan to launch a line of $300 Windows 10 headsets that will enable both virtual reality and mixed reality experiences and run on PCs costing as little as $500. At the other end of the spectrum are devices such as Microsoft's $3,000 HoloLens Development Edition goggles, which are for companies and software developers to test and build apps for. 
The key to Microsoft's approach is its launch sometime in 2017 (the company has not said exactly when) of Windows Holographic, a version of Windows 10 built for mixed reality applications, via a free online update (it's available right now, though, on the HoloLens Development Edition). Companies such as Volvo and Thyssenkrupp Elevators, and institutions such as Case Western Reserve University and NASA's Jet Propulsion Laboratory are actively using HoloLens.
Craig Cincotta from the mixed reality team at Microsoft told TheStreet that Windows 10 is the first platform to support virtual reality and holographic computing that enable gaze, gesture, voice and environmental understanding.
"Windows Holographic enables something no other platform can -- shared experiences in mixed reality across a range of devices from a host of device makers through a singular shell, consistent user interface and standardized input," Cincotta said. "We see developers creating a range of holographic applications, from gaming and entertainment to education and enterprise line of business apps."
Cincotta said developers can target mixed reality experiences destined for a range of VR, AR and mixed reality devices, and not just for the HoloLens.
According to Alexis Macklin, VR analyst at research firm Greenlight Insights, Microsoft's approach is different from what top VR and AR companies are doing. Microsoft is starting to position its VR and AR product suites as business tools that help deliver digital transformation for enterprises.
"For these emerging technologies to solve complex enterprise problems, they cannot work in isolation," Macklin said. "Instead, Microsoft will need to integrate new AR displays, operations technology and cloud-based intelligence systems."
Microsoft's approach is similar to that of Alphabet's (GOOGL) - Get Report Google, which is investing across VR with Cardboard and Daybreak and has also explored AR with Google Glass. By contrast, Sony (SNE) - Get Report has put all of its resources behind VR with PlayStation VR, which launched in October for PlayStation 4.
According to SuperData Research, the enterprise market for virtual reality and augmented reality business-to-business and business custom services will grow from $16 million and $17 million in 2016 to over $1.6 billion and over $3 billion by 2020, respectively.
"We expect a transition to significant revenues will start in a five- to seven-year timeframe," Greenlight's Macklin said. "AR is already a legitimate market through several industrial use-cases and numerous large vendors, but we think the current momentum of virtual reality will pave the way for augmented reality to be accepted among consumers and new enterprises."
Microsoft will be in a unique position when Windows 10 headsets begin shipping because those devices will support the full spectrum of mixed reality. Cincotta said it's up to each company how it designs its headset to take advantage of these emerging technologies. The headsets are expected to debut at the Consumer Electronics Show (CES) in Las Vegas next week, when consumer launch dates will also be revealed.
Alphabet is a holding in Jim Cramer'sAction Alerts PLUS Charitable Trust Portfolio. Want to be alerted before Cramer buys or sells GOOGL? Learn more now.
One reason this evolving industry is so important is because interacting with 3D environments and objects is something fundamental to humans, according to Cincotta.
"While we've made incredible advances as an industry in the way in which we interact with computers, we are still constrained by the need to conform to the ways computers recognize our commands through mouse clicks or by touching a screen," Cincotta said. "Using holograms, you can pin your digital content, such as apps, information and even multi-dimensional videos, in the physical space around you, so you can interact with them in the same ways that you interact with other physical objects."
Microsoft also has another business that can benefit from virtual reality. The company's Xbox division generated $1.9 billion for Microsoft in its first fiscal quarter of 2017, which ended Sept. 30. Phil Spencer, head of Xbox, announced at the E3 trade show in June that Project Scorpio, a new enhanced Xbox One console launching in fall 2017, will support VR.
Macklin believes Project Scorpio will most likely have more VR titles at release than PlayStation VR (which has 50) because developers are already creating for experiences that run on Windows.
"There is no news yet if the newly announced headsets or HoloLens will be compatible with Project Scorpio, so the market will have to continue to wait and see," Macklin said.