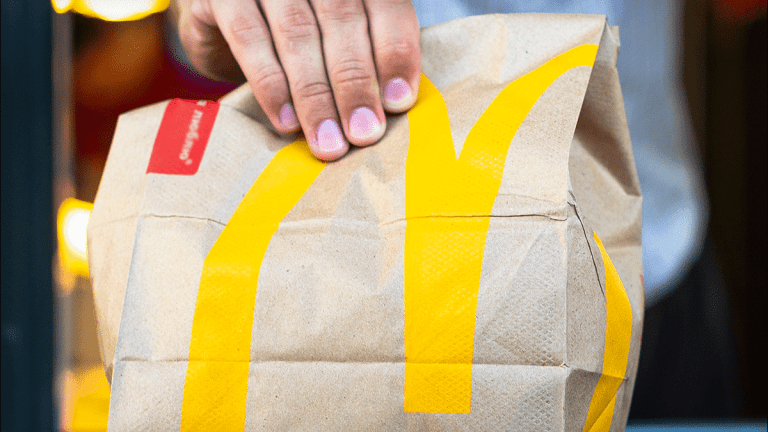 Why McDonald's Franchisees May Have to Retrofit New Ordering Kiosks
Recently departed CEO Steve Easterbrook had been one of the driving forces behind McDonald's push toward more ordering kiosks.
McDonald's (MCD) has hit a snag in its push to make electronic ordering kiosks ubiquitous in its stores: A significant portion of its clientele still use cash to purchase food. 
The kiosks are available in about 9,000 domestic McDonald's locations, according to Bloomberg, as part of a store improvement push from corporate that is costing as much as $750,000 per store. 
However, the kiosks don't feature a cash payment option, which makes buying McDonald's food at the machines impossible for the estimated 8.4 million American households that don't have a bank account or a debit or credit card. McDonald's itself estimated that between 40% and 60% of its global clientele uses cash. 
The company responded to Bloomberg's report by stating that it was testing kiosks that accept cash in a "small handful of U.S. restaurants." 
The kiosk push was a favorite of recently ousted CEO Steve Easterbrook, but franchisees, who make up about 93% of the 38,000 McDonald's restaurants globally, bristled due to the cost of the upgrades. 
Last November, franchisees were successful in forcing the company to slow down the implementation of upgrades tied to home delivery and touchscreen kiosks in the U.S. by two years. 
McDonald's was the subject of a bullish upgrade at Longbow Research last week following the Easterbrook departure. 
The firm upgraded McDonald's stock to buy from neutral with a $227 price target, noting that while McDonald's will face more challenging same-store sales growth comparisons next year new CEO Chris Kempczinski's leadership, as well as more locations offering delivery, recent and upcoming mobile technology improvements and additional remodels can drive comparable growth of between 3.5% and 4% in 2020.
McDonald's shares were up 0.68% on Wednesday to $194.61.