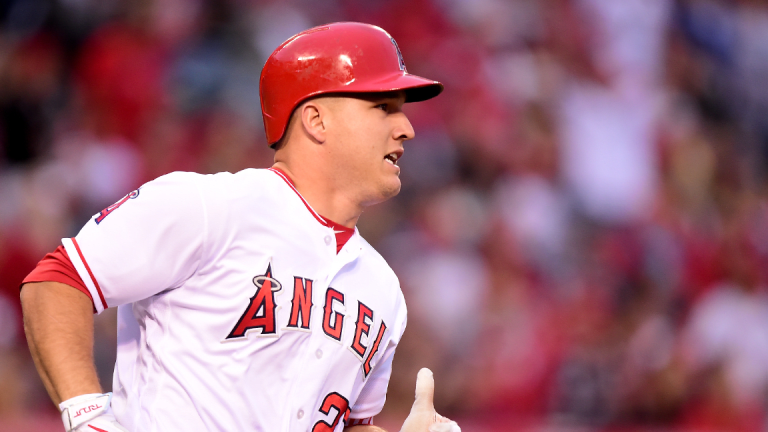 Why Major League Baseball Star Mike Trout Is Invested in This New Gatorade Foe
Look over your shoulder, Gatorade. TheStreet talks with BodyArmor founder Mike Repole and investor/baseball star Mike Trout.
Let the sports drink wars truly begin.
"In the 1970s and 1980s I was drinking Gatorade -- I can't believe 40 years later the same drink I drank in the 1970s and 1980s is the same sports drink I am supposed to give my kid today -- it makes no sense," Mike Repole, the high-energy founder of upstart sports drink brand BodyArmor, told TheStreet. The data hint that others of Repole's age (49) may be starting to ask the same question before reaching for PepsiCo's (PEP) - Get PepsiCo Inc. Report Gatorade or Coca-Cola's (KO) - Get Coca-Cola Company (The) Report Powerade after a few hours in the gym. 
PepsiCo is a holding in Jim Cramer's Action Alerts PLUS.
BodyArmor was launched in 2011 by VitaminWater/Smartwater founder Repole as a better-for-you sports drink. Each of the brand's flavors boast coconut water, more electrolytes than traditional sports drinks and are lower in sodium.
The perception of being healthier compared with other sugary sports drinks has been key in aiding BodyArmor's momentum.
Repole said the brand is tracking toward $400 million in sales this year, up from $235 million in 2017. Also helping to push the brand forward has been high-profile investors/athlete sponsors such as Kobe Bryant (who holds a 10% equity stake) and Los Angeles Angels star Mike Trout.
"The company has invested in distribution at a time when athletes and exercisers want to try new drinks and ingredients," said Beverage Digest executive Editor Duane Stanford. 
BodyArmor's sales growth could be coming at the expense of its formidable rivals. According to Beverage Digest, volume for Gatorade and Powerade were down 0.5% and 1.5%, respectively, in the first quarter. Volume for private label sports drink brands plunged 25%.  
Despite the high growth, BodyArmor is still up against it when challenging its bigger foes.
Beverage Digest estimated BodyArmor currently has a 2% market share of the sports drink category, well off the 75% held by Gatorade and 15% or so for Powerade. Repole said he thinks BodyArmor's market share will hit 5% by year-end.
Given its new distribution outlets, Repole believes the drink could notch 25% market share within four years. BodyArmor's newest distribution wins (literally this week, according to Repole): 4,700 Walmart (WMT) - Get Walmart Inc. Report U.S. stores and 600 Sam's Club locations. It's also fresh off a win to be available in 9,000 7-11 convenience stores, a destination dominated for years by Gatorade and Powerade.
Gatorade and Powerade, however, remain prominent fixtures in the sporting scene and aren't going away anytime soon. For instance, Gatorade is the key sports drink partner of the NFL, NBA, WNBA, MLB, and NHL. Bryce Harper, Serena Williams and Cam Newton are some of the athletes out there promoting the Gatorade brand.
Powerade is the official sports drink of the Olympics. 
Trout is doing his part to bring the BodyArmor brand to his fellow ballplayers.  
"A lot of athletes are switching to BodyArmor," Trout told TheStreet, adding that for him it's all about the drink's ingredients. Full disclosure: Trout has a small equity stake in BodyArmor and markets the brand. BodyArmor will launch its largest marketing campaign ever on Wednesday, April 18. 
When asked about the threat of Gatorade's new organic sports drink, Repole scoffed.
"Next there will be organic cigarettes," Repole said. "Let's be honest, it's organic sugar with the same high sodium and no nutritional value. It makes no sense that they came out with Gatorade organic; it was sort of a desperate move."
War on.