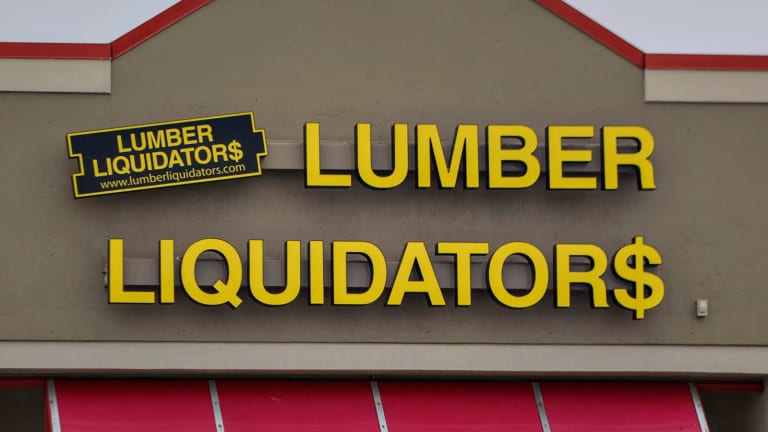 Why Lumber Liquidators Quarter Wasn't as Shiny as a Newly Installed Hardwood Floor
Earnings missed estimates, too.
Earnings missed estimates, too.
Lumber Liquidators (LL) - Get Report latest results weren't as shiny as a newly installed hardwood floor. 
On Tuesday, North America's largest retailer of hardwood flooring reported net sales at $248.4 million, up 6.4% for the first quarter, and ahead of Wall Street estimates for $247.3 million. Excluding one-time items, Lumber Liquidators delivered a net loss of 21 cents a share, worse than analyst estimates for a loss of 19 cents a share. 
Shares of Lumber Liquidators crashed 13.8 percent to $21.05 on Tuesday. 
"We continue to be pleased with our top-line sales performance, as we move from negative to low single-digit growth in comparable store sales," said the company's CEO Dennis Knowles in a statement. "Our investments in a broader assortment and trend-right products are providing returns in sales and margin. We continue to take steps to resolve legacy legal and regulatory issues and optimize our cost structure."
The company recorded a charge of $18 million tied to its outstanding formaldehyde-related (formaldehyde is a known cancer-causing agent) hardwood flooring issue that led to an uproar among consumers last year. 
Even though the company is all about hardwood flooring, it's now expanding into other materials. Knowles said during the earnings call on Tuesday, that its sales of ceramic tiles are a small but growing sector and that its sales of engineered bamboo is doing well.
The lumber business has found itself in the cross hairs of President Trump recently, when he decided to impose tariffs on Canadian softwood lumber imports. The Commerce Department's International Trade Administration (ITA) will put import taxes ranging from 3.02% to 24.12% on Canfor Corporation, J.D. Irving, Resolute FP Canada, Toko Marketing and Sales Ltd. and Tolko Industries, and West Fraser Mills and has established a preliminary subsidy rate of 19.88% for all other producers and exporters in Canada.
While most of the companies directly affected are listed on the Toronto Stock Exchange, a handful of U.S.-listed companies have exposure as well. Among them, Washington-based lumber company Weyerhaeuser (WY) - Get Reportand timber real estate investment trusts Rayonier (RYN) - Get Reportand Potlach (PCH) - Get Report.
Lumber Liquidators sources its products from many different countries, but could indirectly be hurt should lumber manufacturers push through price increases.
The company added two new stores in this quarter, bringing the total number to 385. Knowles said during the earnings call that the company plans to add stores in New York City and on Long Island, N.Y., in the second quarter.