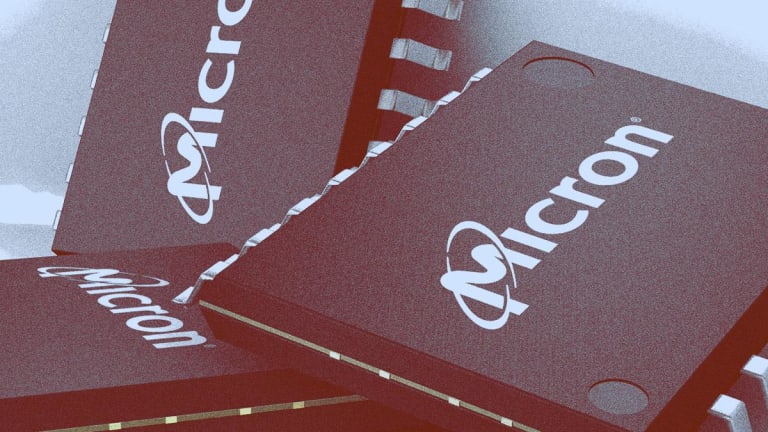 Micron Stock Is Tanking, but Could Soon Bottom Out
MU fell another 2.7% Tuesday and is off about 35% since last May, but we see the stock stabilizing in the near future.
By KC Rajkumar and Jahanara Nissar, Lynx Equity Strategies
The memory-chip market is in one of its cyclical downturns. DRAM prices have slid sharply from a high set last year, as have shares of Micron Technology (MU) - Get Micron Technology Inc. Report  , which fell another 2.7% Tuesday. Is there more pain to come ... or is this the darkness before the dawn?
We feel it's the latter, and we see nascent signs of suppliers trying to regain the upper hand. We also see the possibility of data-center demand returning if new server CPUs from Intel (INTC) - Get Intel Corporation Report and Advanced Micro Devices (AMD) - Get Advanced Micro Devices Inc. Report gain traction.
Here's how we view things:
Memory-Chip Prices Have Long Been Hurting (and So Have Memory-Chip Stocks)
Following several years of a strong uptrend, DRAM prices have been sliding for the better part of the past three quarters.
Just the other day, Samsung -- the world's largest DRAM supplier -- announced that its current quarter would likely miss forecasts due to larger-than-expected memory-price declines. Similarly, Micron recently reported a weak fiscal second quarter ended Feb. 28 -- a period that saw DRAM prices industrywide fall nearly 30% compared to the three months prior. That's one of the worst showings in years.
In fact, Micron used last week's earnings call to say that while memory-chip unit sales should rise during the current quarter, overall revenues look likely to come in nearly 40% below a peak set just three quarters ago. That's also nearly 20% below fiscal second-quarter revenues. Additionally, management acknowledged that MU has excess supply amid weak demand.
At its worst back in December, Micron's stock price was down nearly 50% from the 18-year high it had set just six months earlier. And while MU has partly rebounded since then, the stock is still off some 35% from its May 2018 peak.
The partial rebound has been due in part to investor expectations of a turnaround in DRAM's fortunes (although no evidence exists if all that you're watching is the commodity-price trend for company chips).
Now, the most recent up-cycle in Micron's fortunes lasted from mid-2016 through mid-2018. That coincided with a period in which so-called "hyperscale" cloud-service providers like Alphabet/Google (GOOG) - Get Alphabet Inc. Report , (GOOGL) - Get Alphabet Inc. Report , Facebook (FB) - Get Meta Platforms Inc. Report and Amazon (AMZN) - Get Amazon.com Inc. Report went on a spending spree to better serve their growing user base's data demand.
Wall Street expected this cycle to last a long time, because hey, aren't we in a data economy? With no end in sight for data-center demand, Micron stock surged early last year, and many sell-side analysts foresaw MU's price doubling to around $100 a share -- a level not seen since the dot-com boom.
But we began to warn investors as early as April 2018 of softening data-center demand. Our research showed that some of the hyperscale centers were finally cutting back on expansion. Going into Micron's 2018 Investor Day last May, we cautioned that while Wall Street's expectations were running high, we foresaw Micron stock possibly coming under pressure.
Sure enough, the stock topped out within a month and entered a long descent as it began to dawn on investors that data-center demand had indeed topped out. Prices continued to decline for 2018's remainder as data-center demand fell and macro uncertainties piled on.
But Now, Micron's Risk/Reward Looks Good
Fast forward to last week's earnings report and even Micron bulls felt less sure about a second-half upturn heading into the company's earnings call. Few were looking for a turnaround any time soon.
However, we felt the stock's risk-vs.-reward quotient was finally favoring the upside -- and not just because of overarching negative sentiment. Instead, we pointed to two items that are buoying Micron's fundamentals.
First, chipmakers are planning to roll out new server CPUs in 2019's second half. Intel is set to launch its 48-core Cascade Lake chip, while AMD plans to unveil its 60-core Epyc-2 chip.
Both categories of server CPUs are packed with nearly twice as many cores vs. what the companies' current generation of chips offer. Each CPU is also capable of supporting many more memory modules.
As a result, Intel and AMD expect a hefty pickup in their server sales during the second half. And if that happens, it could ignite a cycle of DRAM demand from data centers.
CPUs with higher core counts, DRAM modules with higher memory density based on 1X/1Y/1Z process technologies and 3D NAND flash storage that's based on the novel NVMe interface? Those all give data centers good reason to consider upgrading their existing infrastructure.
Meanwhile, while commodity chip prices continue to mostly fall, we've begun to detect nascent signs that Samsung (the world's No. 1 DRAM supplier, as noted above) might be finally pushing back against further price declines.
We speculated ahead of last week's Micron earnings call that some large DRAM suppliers might consider cutting supplies in a bid to prevent further price declines. Then, Micron management surprised many analysts during last week's earnings call by saying that, in fact, it is looking to reduce its memory-chip inventory. Many market watchers think that MU will be the only chipmaker to cut supply, but we think that other manufacturers could soon follow suit -- potentially leading to price stabilization.
If memory-chip prices finally do turn around, that plus the increased unit volume that Micron management guided to last week could help the company's revenues bottom out during the current quarter.
Add it all up and our expectation is that Micron stock pulls out of its funk in the near term.
Rajkumar currently serves as an analyst and Nissar as a tech strategist at Lynx Equity Strategies, where they publish research for active managers of tech-heavy funds. The pair both also previously worked at bulge-bracket Wall Street firms on Wall Street. Rajkumar has a Ph.D in materials science from the University of Southern California, Los Angeles and a CFA designation. Nissar holds an MBA from the University of Chicago and B.S. in mathematics and computer science from Mount Union College. They can be contacted at lynxeq@lynxeq.com.