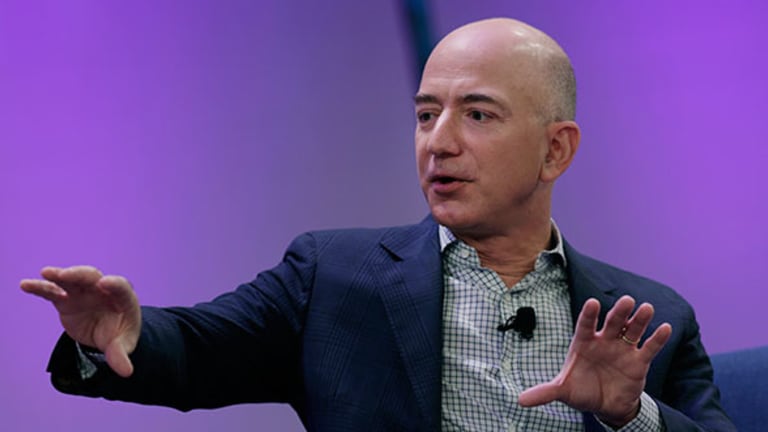 Why Live Nation Should Be Wary of Partnering With Amazon
BTIG analyst Brian Ross says that cooperating with Amazon would bring near-term financial benefits, but also longer-term consequences.
BTIG analyst Brian Ross says that cooperating with Amazon would bring near-term financial benefits, but also longer-term consequences.
Accepting help from Amazon (AMZN) - Get Report  is sometimes like a fish offering help to a whale, and Live Nation Entertainment (LYV) - Get Report should remember that when considering linking up with the e-commerce giant to sell more entertainment tickets, BTIG analyst Brandon Ross wrote in a note this week. 
Six years ago, BTIG predicted that giving Netflix (NFLX) - Get Report access to content may end up hurting the overall industry in the end. "We wonder if Live Nation would be making a similar mistake in helping Amazon into its own backyard," Ross claimed. 
Live Nation Entertainment, which was formed from the merger of Live Nation and Ticketmaster in 2010, has been partnering with a number of companies, including Spotify, Facebook (FB) - Get Report , Groupon (GRPN) - Get Report , Costco (COST) - Get Report and mobile app Bandsintown, in order to extend its reach. According to a presentation from Ticketmaster, 10% of its tickets were sold through partners in 2016. At the same time, Amazon has been expanding its ticketing footprint in the UK, offering presales, lounges and premium seating exclusively to its Prime members. 
Now Amazon is looking to start the same ticketing offerings in the U.S. -- but it won't be as easy, Ross claimed. In the U.S., tickets are usually distributed through deals between just the venues and ticketing companies, mainly Live Nation/Ticketmaster. The firm thought Amazon would need to find venues not affiliated with Ticketmaster in order to proceed with its plan, but it seems to have taken a more forceful approach.
"Our understanding is Amazon is trying to move much more aggressively than we anticipated," he wrote. "We believe Amazon has been meeting with sports teams and promoters affiliated with Ticketmaster exclusive venues (and the venues themselves), attempting to get access to Ticketmaster controlled tickets."
Rather than claiming loyalty to Live Nation, the sports teams are thrilled at the idea of partnering with Amazon because they believe the tech giant can help them get rid of the empty seats at arenas. "There is a lot of revenue being left on the table in the form of unsold tickets," Ross explained. However, due to contracts, the venues and Amazon will need Ticketmaster's approval. 
This puts Live Nation in a powerful position. In BTIG's opinion, cooperating with Amazon would bring near-term financial benefits, but longer-term consequences. The company currently seems focused on the short-term benefits that will come from partnering with a powerhouse like Amazon, which will help sell out arenas and only take a referral fee for ticket sales initiated on its site. Live Nation CEO Michael Rapino's interview on CNBC's "Mad Money" revealed the company's enthusiasm at the idea.  
"We think that having more retailers that we are driving allocation to is great for the business," he said. "80% of tickets are not sold out. . . we believe that retailers like Amazon can help us sell incremental tickets much like Bandsintown and Spotify have done. We look at Amazon as an additional retail point and don't consider them a competitor at the enterprise level and we think they can help sell incremental tickets to concerts and sporting events. And more tickets sold helps our bottom line."
But Live Nation needs to consider the fact that Amazon wants to be a ticketing destination, unlike its previous partners, who were just discounters and content platforms, Ross argued. When you buy a ticket on Spotify or Bandsintown, you still have to go through Ticketmaster which means the customer still sees Ticketmaster as the actual seller. But Amazon seems to want to have control over the whole process except for the venue enterprise software component. 
That means if Live Nation opens its ticket sales to Amazon, then it might as well open them up to Stubhub too, he argued. Besides, Amazon will most likely not give Ticketmaster access to consumer and transaction data, he added. 
If you need more evidence that Live Nation could ultimately be hurt by partnering with Amazon, just look at Amazon's history in other sectors. Amazon Video started off with meager offerings and grew into a multi-billion dollar budget business. Amazon Music is also growing into a bigger story, with the company looking to "dramatically improve" music festival experiences for people in the U.S., according to a job posting. A year ago, Amazon was just a discounter in terms of ticket sales and now it wants to be in a similar position as Live Nation. 
"It is unclear what role ticketing will play in Amazon's longer term ambitions," Ross wrote. "But, we would be cautious in assuming that they would never become "a competitor at the enterprise level" - especially as despite its market share, Ticketmaster still has its own problems."