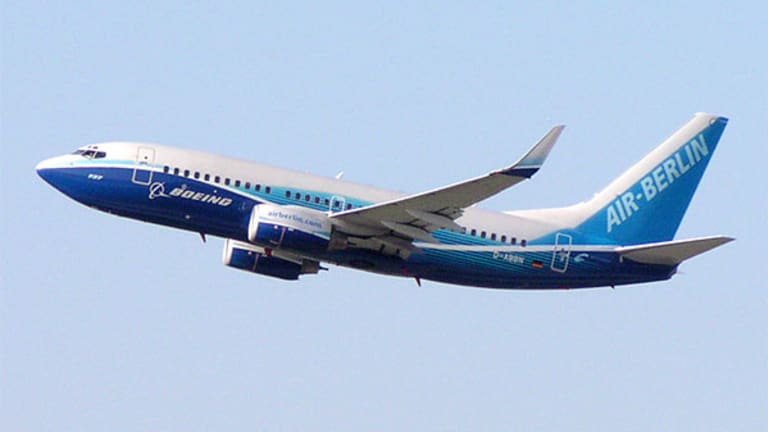 Why Layoffs at Boeing Won't End Its Bumpy Flight
Boeing's announcement that it's cutting 4,500 workers this year won't be the end of the airplane maker's bumpy flight.
Boeing's (BA) - Get The Boeing Company Report announcement that it's cutting 4,500 workers this year won't be the end of the airplane maker's bumpy flight.
The news on Wednesday came one day after Goldman Sachs published an extensive list of problems in the Chicago aerospace giant's commercial aircraft business, covering the workhorse 737 line as well as the 757. The Seattle Times was already reporting that job cuts at Boeing, mostly through attrition, will be as much as 10% of the company, which employs more than 160,000 people. Goldman suggested that the company will need years to get needed new models into the market, complicating things for a company that has seen its shares fall 12% since Dec. 30.
Goldman analyst Noah Poponak pointed to several signs of trouble, including:
Airlines have been able to get near-term delivery slots for 737s in a business that normally has much longer lead times.
Boeing is selling some 737s for as much as 75% off list price, especially in a recent deal with United Airlines, which Goldman said would make Boeing lose money.
The company has already said 737 deliveries this year will fall short of last year.
Airbus' A321 line appears to be technically superior to its Boeing rivals in the 737 and 757 lines and the company may have to spend billions to develop a competing offering in the middle-market for larger narrow-body planes.
"Recent developments have us increasingly concerned about demand for the 737, which may not be as solid as we think many investors believe,'' Poponak and his colleagues wrote.
The 737 has at least two problems. First, Boeing is transitioning the line to a more fuel-efficient model set to begin deliveries to Southwest Airlines next year. But Airbus appears to be ahead in that product transition, delivering a new A321 line that has established a total-cost-of-ownership edge over Boeing, reported Airways News. In the meantime, Boeing is losing pricing power because of cheaper small jets from rival Bombardier as well as Airbus, selling older-model 737s to United for as little as $22 million each - half what they normally command even in volume transactions.
Goldman doubts Boeing can make money at these prices. And the low price of fuel may be undercutting one obvious solution -- to transition to the new 737 line sooner than planned, Poponak said.
Airbus and Bombardier may also be using the strong dollar to undercut Boeing in global deals.
"The result of Airbus' market share grab is apparent in the order gap, where Airbus has pulled ahead since the euro weakened, particularly on narrow-body aircraft," Goldman said. "But both Boeing and Airbus recently announced production rate hikes, to 58/month and 60/month respectively, which means the fierce competitive environment is unlikely to ease any time soon as each attempts to support these lofty production goals."
The situation looks even tougher in the 757 market, Goldman said it believes. There, the company has no real mid-market competitor for the A321 Neo, which has 1,100 orders. The closest newer plane from Boeing is the 737 Max-9, which has 200 orders.
Developing a 757 '' clean sheet" replacement could cost as much as $10 billion and the plane would be years behind, letting Airbus replace much of the aging 757 fleet before Boeing gets to market as long as seven years from now.
Boeing shares have been rising this month are trading around $128 on Wednesday, but Poponak sees them going to $100 within a year. Earnings estimates across Wall Street are stable lately, but have been drifting lower since December. With the average price target only about $5 higher than where shares are now, the risk-reward on Boeing looks iffy.
This article is commentary by an independent contributor. At the time of publication, the author held no positions in the stocks mentioned.