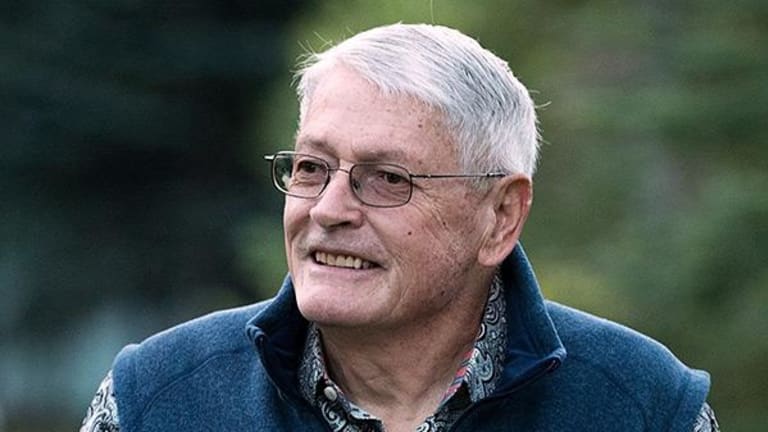 Why John Malone Is a More Likely Sprint Backer Than Warren Buffett
The cable cowboy could see the appeal of pairing his media portfolio with a stake in a wireless company.
In the latest iteration of wireless industry musical chairs, Warren Buffett and John Malone reportedly engaged in talks with Sprint Corp. (S) Chairman Masayoshi Son about a potential investment.
Shares of Sprint gained 4.3% to $8.55 on Friday on the reports. 
Merger speculation has driven Sprint's stock price. Several weeks ago it was Comcast Corp. (CMCSA) and Charter Communications Inc. (CHTR) that were reportedly in deal talks with Sprint, although it turns out the discussions regarded reviving a dormant wireless resale agreement that the companies struck years ago.
"I don't think Sprint 'needs' any money," Drexel Hamilton LLC analyst Barry Sine said, despite its high levels of debt. The telecom has a subsidiary that uses its wireless spectrum holdings as collateral to borrow at low interest rates. It can also tap parent Softbank Corp., which invested $21.6 billion in Sprint for a controlling stake in 2013. 
The group may not have been discussing Sprint at all, Sine suggested. Son could have brought up investing in his Vision fund, which aims to raise $100 billion to use in global technology investments, or setting up a different vehicle. "There are a lot of things you might discuss with Masayoshi Son that do not involve Sprint," Sine said.
During a May earnings call, Son told Softbank investors that Sprint can manage its debt load. 
"[T]here was one point of time when Sprint was having a lot of debt and there were lots of rumors. And we would say, our market was also concerned that Sprint may not be able to pay all its debts," Son said. "The interest rate is going to cost us. Sure, try to go steadily, safely is good, but interest rate is going to be a cost. In other words, we currently are really almost cash heavy."
Between Malone and Buffett, Malone is the more likely to be interested in investing in Sprint. 
Malone is on the board of Charter, which has wireless resale agreements with Sprint and Verizon Communications Inc. (VZ)  . And he has publicly floated the possibility of cable operators jointly buying T-Mobile USA.
"Malone might be more likely [than Buffett] perhaps leveraging some of his other media holdings," Sine said, suggesting that AT&T Inc.'s (T) pending acquisition of Time Warner Inc. (TWX)  could mark a larger industry shift bringing together media and wireless telecommunication.
Through various companies, Malone has positions in film studio Lions Gate Entertainment Corp. (LGF) , satellite radio operator SiriusXM Holdings Inc. (SIRI) , home shopping networks HSN Inc. (HSNI) and QVC Inc. undefined , Formula 1 car racing, the Atlanta Braves Major League Baseball team and other media and entertainment assets.
"If you believe AT&T buying Time Warner is the wave of the future, you probably do want to look at wireless distribution," Sine said.
Buffett seems an unlikely investor in Sprint, though Berkshire Hathaway has a stake in Apple Inc. (AAPL) and Buffett did invest in Level 3 Communications Inc. (LVLT) back in 2002 to 2003.
Apart from his oft-stated avoidance of technology companies, Buffett is a value investor.
Sprint stock has gained 36% since the election on speculation that a Trump administration would allow the telecom to merge with T-Mobile USA Inc. (TMUS) -- and not because its service is better than its rivals. The carrier's $50-a-month unlimited service undercuts Verizon and AT&T, going after the low end of the market.
"That doesn't seem to me that kind of company that Buffett would want to invest in," Sine said.