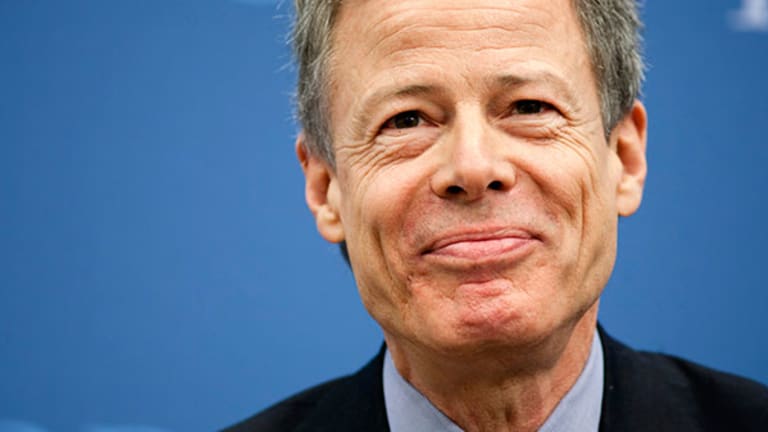 Why Jeff Bewkes Can't Stop Himself
Time Warner CEO Bewkes is unlike most button-up executives. He'll actually acknowledge when something isn't going right.
NEW YORK (TheStreet) -- Time Warner (TWX)  CEO Jeff Bewkes must drive his handlers crazy. Unlike many overpaid media executives, Bewkes will actually let on when something isn't quite right at his employer, Time Warner, the world's second-largest entertainment company.
The topic on Wednesday's conference call with investors (Wall Street analysts are allowed to ask questions on the call; reporters are to speak only when spoken to, which is never) was TruTV and TNT, both of which Bewkes said need to skew younger. They need  "edgier programming," he said repeatedly.
Though first-quarter revenue at Turner Broadcasting, the unit that includes TNT along with TBS, CNN and HBO, grew 5% in the quarter, ratings at TNT have been sluggish. Bewkes was quick to acknowledge this reality, exclaiming that "we can and will do better."
Indeed, TNT ratings among the critical 18 to 49-year-old demographic dropped 18% in March compared to the same period in 2013, according to Nielsen. More generally, viewing of Time Warner's cable-TV programming was down by 13%. Conversely, Disney (DIS) - Get Free Report reported an 8% gain for the same period while 21st Century Fox's (FOXA) - Get Free Report cable-TV networks were little changed.
TNT's focus, the Time Warner CEO said, has largely been on a somewhat older audience. That strategy, he said, has been working for many years. TNT was Time Warner's "broadcast network replacement," Bewkes stated, a network for talks accustomed to mainstream programming. Shows such as The Closer starring Kyra Sedgwick, did quite well for TNT.
But times have changed, and changed quickly over the past two years. Advertisers are keen to capture the attention of younger consumers who in turn are keen to spend their time entertained by "edgier" shows along the lines of AMC Network's (AMCX) - Get Free ReportBreaking Bad.
"The younger viewership has become more important, and the advertiser interest in more younger skewing, a little edgier programming than what they wanted to buy a couple of years ago has become pretty pronounced," Bewkes said on the conference call. "Some of that is probably because there have been some very good series that showed up on some basic networks that were like that. Breaking Bad is a good example."
Bewkes said TNT as well as TruTV are in the midst of resetting their programming, and that "we think we have all the pieces to have very strong programming strength over there over time."
Over time.
Even if Time Warner doesn't land the next "Breaking Bad," Bewkes has secured many additional millions for shows like the The Sopranos, Six Feet Under, The Wire and other HBO hits that longtime premium pay-TV subscribers saw years ago.  Time Warner made headlines earlier this month when Amazon (AMZN) - Get Free Report CEO Jeff Bezos agreed to pay time Warner for a catalog of HBO shows to air on its Prime Instant Video service. Time Warner CFO Howard Averill wouldn't talk numbers, though the fee is widely presumed to be somewhere in the cavernous expanse of $200 million to $400 million, according to the media monitoring agency, MediaMorph.
Proceeds from the Amazon deal, Bewkes said, will be reinvested into HBO, presumably to find the next Game of Thrones. That's Bewkes' plan anyway.
Leon Lazaroff is TheStreet's deputy managing editor.