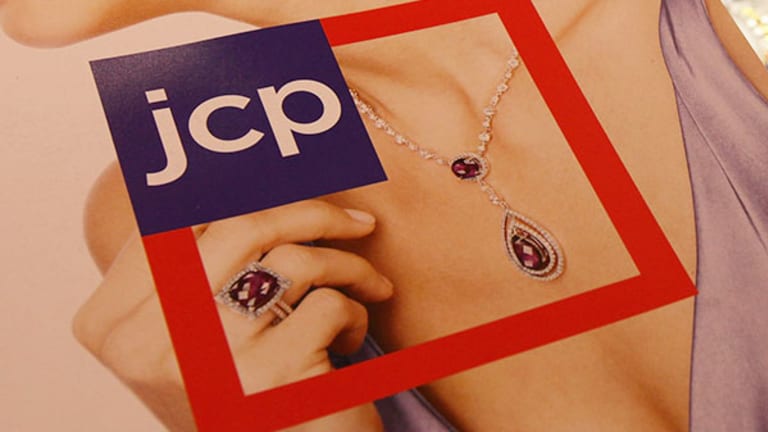 Why JCP's Online Strategy Is Not That Bad
J.C. Penney is inching back to respectability as comparable sales grew 6.2% in the first quarter above the same period a year earlier, beating analysts forecasts. But as the department store works through its turnaround, questions remain about its mobile strategy.
J.C. Penney is inching back to respectability as comparable sales grew 6.2% in the first quarter above the same period a year earlier, beating analysts forecasts. But as the department store works through its turnaround, questions remain about its mobile strategy.
NEW YORK (TheStreet) - J.C. Penney (JCP) - Get Report is getting it operations back into neutral as evidenced by comparable sales growth of 6.2% in the first quarter, ahead of what analysts were predicting. Yet, as the department store works through its turnaround, is the company placing enough emphasis on its e-commerce and mobile strategies?
J.C. Penney said last night that online sales rose 25.7% in the first quarter over the same period last year, yet didn't report a specific dollar amount. For all of 2013, jcp.com sales rose 5.8% to $1.08 billion, about 9.1% of the retailer's total sales for the year.
Yet analysts and observers are scratching their heads as to what exactly is J.C. Penney's e-retail strategy, especially as consumers seek online and mobile purchasing options to both supplement and replace traditional ways of shopping.
"I don't think they have one," says Maglan Capital's David Tawil, when asked about J.C. Penney's online and mobile strategy. "I would like to know how they think about how bricks-and-mortar shopping is changing and how mobile shopping is developing, and how J.C. Penney is going to be relevant in 10 years. [Also] is their mobile strategy just going to be a battle against attrition or do they have thoughts about how to turn mobile into a gainer?"
In March, Wells Fargo Securities analysts took a closer look at the mobile offerings by the retailers it covers. Of the analysts' coverage list, 43 of the 62 companies had discussed mobile offerings over the past 12 months, meaning the other 19 companies were silent on their efforts. Those companies included Ann Taylor (ANN) , Burlington Stores (BURL) - Get Report, Five Below (FIVE) - Get Report and J.C. Penney.
"While most of these names are not surprising given their minimal e-commerce penetration (some don't even have e-commerce sites), we were surprised to hear no mention of mobile from JCP and ANN over the past year (perhaps they are keeping their initiatives tight-lipped)," the analysts said in the research note.
"While J.C. Penney has made great strides in the store, the fact is that those strides have come at the expense of developing some key platforms to thrive in the mobile commerce era," said Brian Sozzi, CEO of Belus Capital Advisors and a contributor to TheStreet in an interview. "Macy's (M) - Get Report remains the King Daddy of this geeky on the lips 'omnichannel' retailing movement well underway."
The Plano, Texas-based J.C. Penney may be seen as a laggard when it comes to its e-commerce and mobile strategies, but J.C. Penney says that's not the case.
"We are looking to enhance our overall omnichannel experience, and we are committed to offering a seamless shopping experience for our customers," according to an email sent to TheStreet by the company on Friday to share details regarding its e-commerce strategy "Mike Rodgers just joined the company a few months ago, and is working on the next phase of our omnichannel strategy. We will certainly share more details soon."
In February, J.C. Penney hired Rodgers, the former Saks CIO, for a newly created position of senior vice president of omnichannel strategy and execution. J.C. Penney also has a senior vice president of e-commerce, Liz Asay, according to its Web site. Asay also heads up the Sephora mini-stores within roughly 400 of the department chain's stores.
Rodgers had been at Saks since 1993, but was named executive vice president and CIO in 2007. In that position, Rodgers "enabled a state-of-the-art fulfillment center based on advanced robotics to support omnichannel strategy for the rapidly growing Saks Direct business," a J.C. Penney spokesperson had told Internet Retailer at the time of hiring.
Saks was acquired by Hudson Bay Co. in November 2013. For all of 2012, Saks e-commerce unit, Saks Direct generated an estimated $899 million in online sales in 2012, the last full year before the acquisition and up 20.1% from 2011, according to Internet Retailer.
J.C. Penney declined a request by TheStreet to speak with Rodgers on Friday. That said, the company did answer several questions regarding the strategy via the same email.
"We do not break out online sales dollars in our reporting, but we can share that all of our stores are online and connected to JCPenney.com," the email said. "In fact, our [point-of-sale] POS registers have been online and capable of placing jcpenney.com orders for many years."
The spokesperson said stores also have mobile POS capability in stores to supplement our traditional registers during busy shopping times. "Customers are, indeed, able to pay for merchandise right on the spot with these devices. Our mobile POS devices also allow our associates to connect to jcpenney.com, where they can help customers 'find more' by ordering sizes and colors not available in the store. These orders can be shipped to store or to a customer's home," the email stated.
One specific mobile example J.C. Penney's spokesperson pointed out is the company's wedding registry experience. Customers can use the J.C. Penney app (available via Apple's (AAPL) - Get Report App Store as well as Google (GOOG) - Get Report Play for Android) to scan items in store and add, edit and manage their registry using their smartphone. The company also offers iPads in store to create registries. J.C. Penney will be expanding the capability to a baby registry in the fall, the spokesperson stated.
J.C. Penney was actually a pioneer when it came to e-commerce and started offering customers the ability to purchase online back in 1995, as an expansion of its catalog business, and long before most people likely even were familiar with the Internet, according to a February article by Reuters.
J.C. Penney's online sales reached $1.52 billion 2011, but dropped precipitously the following year, the article says. By then, former CEO Ron Johnson was focusing more on transforming the chain's merchandise offering to hipper, fresh items and more expensive items, especially in the home department, instead of catering to its core customer demographic of Middle America moms, which turned out to be disastrous for sales.
Johnson was subsequently removed in April 2012, ultimately being replaced ironically by his predecessor, Myron 'Mike' Ullman. The company has been working on a turnaround for the past year and plans to be completed by the end of this year. As part of his opening comments during last night's earnings call, Ullman said the company is "focused on being a leader on the channel of retailing."
"In the end, the customer experience from marketing to browsing to checkout has to be seamless across all channels and mobile devices, and that's what we're working toward," Ullman said.
--Written by Laurie Kulikowski in New York.
>>Read More:
Amazon and Netflix Are Going After Your Kids
Google Glass Goes on Sale Again!
Mobile Commerce Expected to Surpass $100B in 2014. But Are Retailers Ready?
Disclosure: TheStreet's editorial policy prohibits staff editors, reporters and analysts from holding positions in any individual stocks.