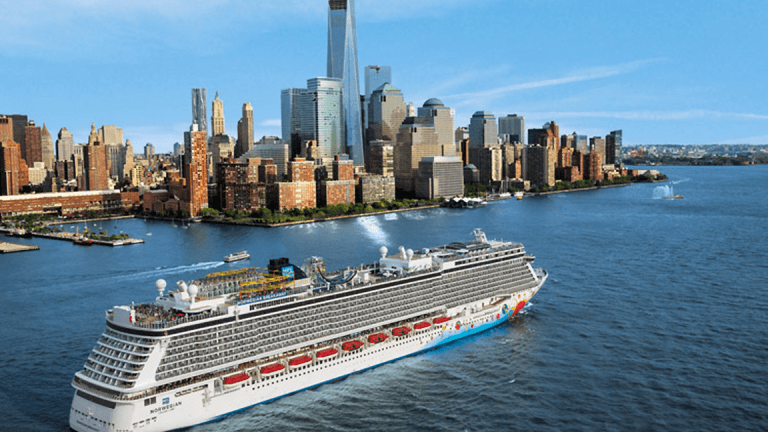 Babyboomers to Unlock a Cruise Line Industry Boom That Sends 3 Stocks Higher
Current trends within various generations are proving to be beneficial to the cruise line industry.
The cruise line business is booming.
Analysts at investment research firm CFRA contend that current economic and demographic trends will provide a boost to the cruise line industry, and have selected Norwegian Cruise Lines (NCLH) - Get Norwegian Cruise Line Holdings Ltd. Report , Royal Caribbean (RCL) - Get Royal Caribbean Group Report , and Carnival Cruise Lines (CCL) - Get Carnival Corporation Report as their top stocks within the space poised to benefit the most from these trends.

1. Baby Boomer Generation
The cruise line industry has increasingly taken steps to cater to those within the Baby Boomer generation, persons born between 1948 and 1966.
The average age of today's cruise passenger is over 50 years old with a median household income of $109,000, according to the American Association of Port Authorities. CFRA found that those within in this particular demographic enjoy facets of cruises including ports and destinations, the itinerary, and sight-seeing opportunities.
In response, the firm notes that cruise companies have designed their offerings to satisfy those demands.
"The major cruise operators are meeting the demands with longer river cruises to more exotic locations and more upscale trips on smaller boats. Also, the large ocean ships typically have amenities like child care and family oriented shows and activities," CFRA noted.

Generation Y, aka Millenials
Make no mistake about it: Cruise lines are not forgetting about what appears to be the most talked about group of people, the Millenials, or those in generation Y born between 1982 and 1998.
Among people in this generation, the top priority when booking a cruise is cost, as the average household income among this group is $40,581, according to the Federal Reserve.
But as CFRA notes, they are not lost among the cruise companies. "The cruise industry is working to attract more passengers from the Gen Y and Millennial groups.The Industry is introducing new large ocean ships with cutting-edge technologies and shorter, less expensive itineraries to attract younger passengers. We believe young generations will increasingly pick cruises over other land-based travel."
Additionally, 46% of persons within this generation select a cruise as a top vacation option, according to a J.D. Power survey.
"We believe the leading cruise companies will benefit as younger generations continue to slowly build household wealth and increasingly decide to take cruises," CFRA said.
3. CLIA Data
The Cruise Line International Association is the world's largest cruise industry trade association, and recent data from the organization suggest smooth sailing ahead for top cruise line companies.
This year, 5.9 million passengers are expected to take cruises, that is an increase of 45% from 2009, the CLIA found. The body also discovered that between 2005 and 2015, demand for cruising has increased 62%.
"The industry has responded to this growth by introducing new ships and destinations in an effort to appeal to a wider range of age groups and income levels," CFRA noted.
According to the CLIA, a total of 26 new ships will be launched this year, 13 of which will be riverboats meant to appeal to older passengers. But, as the industry grows cruise companies will invest more heavily in ocean-going vessels which attract younger generations. In the next nine years, investment into riverboats is expected to fall to nearly zero.

More of What's Trending on TheStreet: