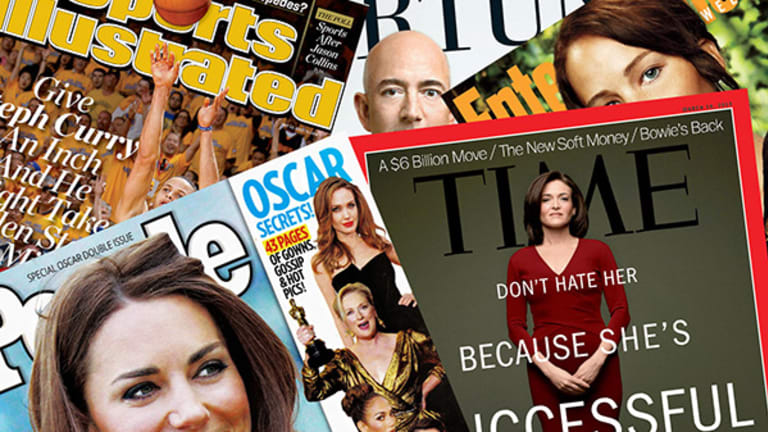 Why It Might Be Time for Time Inc. to Sell Itself
The storied publisher has reportedly been fielding takeover offers, and one potential acquirer could be Meredith, which previously tried to buy Time Inc's titles back in 2013.
Is it time for Time Inc. (TIME) to sell? The publisher has reportedly been fielding takeover interest this week.
On Monday, the New York-based company reportedly rejected a $18-per-share bid from billionaires Edgar Bronfman Jr. and Ynon Kreiz, as well as Len Blavatnik's Access Industries, sources told the New York Post. Their offer represented a roughly 30% premium over Time Inc.'s closing price on Friday of $13.80 per share.
Wells Fargo's Eric Katz said in a note that Time Inc.'s board likely turned down the offer because they see more long-term value in the company, with upside to about $23 per share.
Time Inc., which declined to comment for this story, publishes titles such as Time, People, InStyle and Sports Illustrated. But the company has been struggling amid declining print revenues. In the 2016 third quarter, print and other advertising revenues slid 10% year-over-year to $288 million, while total revenue fell 3% over last year to $750 million.
Shares of Time Inc. were up 0.2% to $16.33 late Wednesday afternoon, and have climbed about 18% since Friday. The stock is up roughly 5% year-to-date.
Gabelli's Barry Lucas said in a note that the bid speculation is likely true, given recent changes at the company. Time Inc. could have been "opening the door for a suitor" after replacing former CEO Joe Ripp with Rich Battista in September, Lucas said. He has a "buy" rating on the stock.
Additionally, activist investor Jana Partners revealed a stake of five million shares in the company in August. Since then, the firm has reportedly been pushing the company to consolidate in order to boost shareholder value, sources told the Post.
Lucas also contended that Bronfman, Kreiz and Blavatnik's offer was reasonable. "In light of the more than 6x multiple that we believe Gannett (GCI) - Get Gannett Co. Inc. Reportoffered for Troncundefined , a 6x multiple for Time would seem reasonable in view of what we consider to be a better business model," he said.
Katz, who has a "market perform" rating on Time Inc., disagrees. "While the offer itself of 6x our 2017E OIBDA [operating income before depreciation and amortization] doesn't sound like a particularly aggressive multiple for a publisher, we actually think it's a more opportunistic play by the PE consortium as the stock slid (-21%) thru 11/25, from a high of $17.61 on 6/23," Katz added. "So while the 6x multiple seems reasonable on the surface, it's on an OIBDA guide that was reset significantly lower by the new management team."
Following Bronfman, Kreiz and Blavatnik's bid, the analysts suspect that media company Meredith (MDP) - Get Meredith Corporation Reportcould make a competing offer.
Katz said he "wouldn't be shocked" if Meredith jumped into negotiations, and Lucas added that a deal with Meredith could bring "cost savings and other synergies" to Time Inc.
Meredith stock was up 0.1% to $55.60 Wednesday afternoon. The stock is up roughly 29% year-to-date.
What might be in a Time Inc. deal for Meredith, the Des Moines, Iowa-based media company that owns several TV stations and publishes magazines such as Family Circle, Parents, and Better Homes and Gardens?
In 2013, Meredith and Time Inc.'s former owner, Time Warner (TWX) , had been in negotiations to join both companies' publishing units into a separate company. Talks ended that March, however, with Time Warner ultimately deciding to spin off its Time Inc. publishing unit anyway.
Since then, Meredith entered -- and later terminated, in January 2016 -- merger talks with Media General (MEG) - Get Montrose Environmental Group Inc. Report, a media company that operates local TV stations. Telecom company Nexstar Broadcasting (NXST) - Get Nexstar Media Group Inc. Reportthen swooped in to buy Media General for $4.6 billion. The companies are currently awaiting regulatory approval for their deal.
Meredith holds assets in both TV and publishing. Katz noted that anyone who bids for Time Inc., however, would have to consider which of the company's titles to retain.
"Any potential acquirers may have to find buyers for brands it would want to divest, or be willing to shut down brands that don't fit in their portfolio," Katz noted, "which may be easier said than done."
Both Katz and Lucas have "hold"-equivalent ratings on Meredith stock.
If Meredith ultimately declines to make an offer, Time Inc. could still have other suitors waiting in the wings. "We wouldn't rule out other [private equity] bidders as they have a longer threshold for a turnaround and would favor Time's FCF [free cash flow] generation," Katz noted.
A spokesperson from Meredith did not immediately return a request for comment.