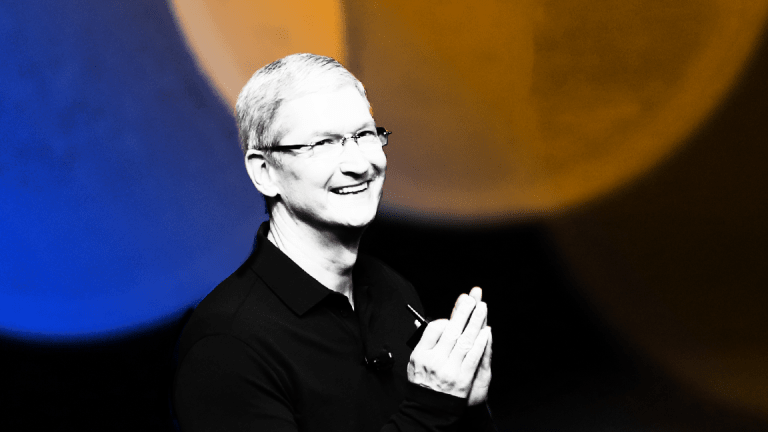 Why It's Vital to See What Apple CEO Tim Cook Does With His Stock
Apple CEO Tim Cook is in focus; the market says cannabis play Tilray's first earnings report as a public company is smoking hot; respect the market risks even as stocks continue to climb.
Oh to be Apple (AAPL) - Get Report CEO Tim Cook.
He's 6-foot-3 and in great physical shape, is a rock-solid public speaker armed with CEO-type inspirational messages, and he has the ability to get anyone on the phone almost on command. Also, Apple's stock is a long-time holding in Jim Cramer's Action Alerts PLUS member club (selection here doesn't come easily), and, Cook, of course, leads one of the most successful companies on the planet. Not bad.
On Friday, Cook earned a cool 560,000 shares of Apple valued at about $120 million. Recall that Cook was given the restricted stock award when he assumed the CEO position from Steve Jobs in 2011. Cook then sold off a slug worth about $58 million. 
One can easily debate whether a CEO deserves this type of payday, but the bottom line is that Cook has earned the reward by keeping Apple focused on Jobs' mission (which has helped him hit the award's targets).
Investors must now closely watch what Cook does with his remaining Apple holdings (878,425, according to Bloomberg data). He could seek to further diversify his personal portfolio and sell the stock in steady chunks. Doing so, though, may send a negative signal to the market on a peak in the Apple story.
Hey, sometimes it's tough being the person at the top.  
Data Dump
This time of the year (Wall Street's slow season) is a good time to reflect on your investing life. Are you positioned correctly for the September trading rush? Do your investment theses on companies and the markets still hold true? These are but a few questions to ponder.
Jefferies chief markets strategist Sean Darby offered up several added things to think about.
"It should be pointed out that this is the first time in over 50 years in which the U.S. is both raising short rates and also running down its balance sheet," Darby said. The market has ignored this risk, but it will probably swing back into focus before year-end as a negative to stocks. In this case, any "hot" reads on inflation could hit the market.
Darby shared two courses of action to those seeking to get a little defensive here: "Investors not wishing to take a strong view on macro should 1) buy U.S. gold miners. On the previous three occasions when the gold short was close to the current position return the NYSE ARCA gold miners index returned 42% on average six months hence; (2). Don't short the S&P 500 I:GSPC . When the second highest Treasury short position reversed (January 2017), the S&P 500 returned 7% six months hence."
Around TheStreet
Do this long enough, you see a lot of things. The response to cannabis play Tilray's (TLRY) - Get Report earnings after the close on Tuesday offered up yet another learning lesson for investors. The company smoked analysts' estimates on sales by $700,000 but its loss per share came in wider than estimates. Even backing out a one-time charge, the bottom line would have been mixed vs. estimates at best.
Yet, Tilray shares surged 20%, and that's despite the stock going up in a straight line since the successful initial public offering in July.
The lesson to average investors: Respect the belief of influential insiders. Tilray's CEO Brendan Kennedy pointed out to me in July that 70% of the company's investor base is in the U.S. and are mostly first-time cannabis investors. If these investors believed in the vision during the roadshow, and knew the losses were coming, it's unlikely the second-quarter earnings report would be a shock.
Yours truly and @KatherineRoss debated the bull vs. bear case on Tilray in this video. Give it a watch.
One more watch from my interview with 115-year-axle maker Dana (DAN) - Get Report . CEO Jim Kamsickas hinted the company could (or has) raise prices to combat rising costs for steel, aluminum and other commodities. The reason for the increases? Primarily the U.S. trade global trade war.
Straightforward wisdom on the market right now from TheStreet's founder @JimCramer in his latest Real Money piece: "You need a reason to sell. There has to be some sort of imperative to do so." The inevitable reason people may find to lighten the load on stocks in early September: valuations on the hottest stocks in the market.
@JacobSonenshine hopped on the phone with DuPont spinoff Chemours Co (CC) - Get Report . "The company is firing on all cylinders," Chemours Chief Financial Officer Mark Newman told TheStreet. "The biggest single difference is the level of focus on execution and essentially getting the most out of our portfolio of businesses." The stock has more than doubled from the point of the July 2015 spinoff. 
Interested in cannabis investing? You won't want to miss the 'Green Market Summit on the Economics of Cannabis' on Sept. 14. Quickly register here.