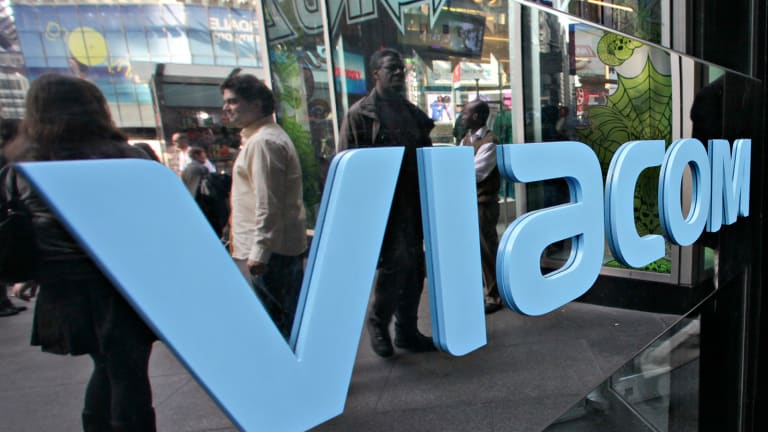 Viacom: Why Now Is a Good Time to Invest
Viacom is dirt-cheap compared to other entertainment companies. What will get the stock jumping higher?
For months, shares of Viacom (VIAB) - Get Report  have seemed set to underperform those of its entertainment rivals. Walt Disney (DIS) - Get Report shares have soared by around 20% so far in 2019 while Comcast (CMCSA) - Get Report  has risen 25%.
But in the last month, Viacom managed to bounce from a "double bottom" at the $25 level. Markets liked that the company re-negotiated a content contract with AT&T (T) - Get Report , and speculators are once again betting that the deeply under-valued firm will merge with CBS Corporation (CBS) - Get Report .
With Viacom's stock at an 8.6 times P/E after trading recently at about $30.61, should investors buy shares now?
Merger Opportunity
For at least the last two to three years, markets speculated that Viacom management would come to its senses and merge with CBS. Yet the resistance to merging the two firms does not come from the company. The Redstone family, which has a controlling interest in both firms, is not supporting a deal just yet to unlock value in the two firms, although there are reports that talks are back on.
The merger resistance is creating a discount in VIAB stock. Shares trade at 8.6 times earnings, as noted, while the forward P/E is 6.8 times. CBS stock is also at somewhat of a discount, with a P/E of 10 times and a forward P/E of 7.9 times.
Content Deals
T-Mobile announced a content deal with Viacom on April 3. This is a big win for both firms. Viacom gets its brands -- MTV, Comedy Central, BET, Paramount, and Nickelodeon -- on the mobile channel, while live feeds and on-demand content will benefit from the 80 million customer base on T-Mobile.
On March 25, Viacom renewed its contract with AT&T, avoiding a blackout that would have hurt Viacom more than it would the carrier. Viacom did not provide any details to the renewal but the markets rewarded the stock that day anyhow. Shares rose 5% in pre-market after the news. Still, AT&T could have lost content that appealed to the teen market with the MTV channel. Parents would be less happy if toddlers lost access to Nickelodeon.
Jim Cramer's Action Alerts Plus Portfolio recently increased its position in Viacom, writing of the AT&T contract renewal that "we viewed this successful renegotiation as a clearing event for the stock as it removed a key overhang without sacrificed guidance per a regulatory filing. Since that time, Viacom has also announced a really neat content deal with T-Mobile that will further promote the media company's mobile push."
Opportunity
Now that Viacom's rebound reflects the latest positive developments and embeds some premium over the potential for a merger, the company has more positive drivers ahead. In its first quarter (Q1/2019), Viacom reported revenue grew 4%, 6% growth in adjusted operating income, and 13% growth in adjusted diluted earnings per share. Domestic affiliate revenue grew 5%, a second straight quarter of year-on-year growth. With this positive momentum, expect Viacom to at least hold this growth rate.
AMS (Advanced Marketing Solutions) growth accelerated in Q1 and will likely help the company achieve even better overall growth over the next few quarters. Y/Y growth topped 54% in the period, up from 32% in FQ4/2018. AMS contributed to more than 10% of the domestic ad sales.
Viacom forecasts AMS revenue doubling this fiscal year, as it represents 15-20% of domestic advertising sales.
Strong Filmed Entertainment Unit
One of the larger aspects of Viacom's business -- Studio Production -- continues to do very well. Viacom management forecasts the business making $1 billion in 2020. In Q1, Paramount grew by 14% in revenue, while operating income added $40 million. And the movie Bumblebee has reported over $450 million in worldwide box office so far.
February's What Men Want will likely add to the company's adjusted operating income for the current quarter.
Improving Balance Sheet
Positive cash flow and de-levering, through a tender for $1.1 billion of outstanding debt, will help Viacom work down its debt/equity ratio of 1.17 times.
Valuation
At least two analysts have issued "buy" calls on Viacom stock in the last month. Based on six analysts providing a price target, the average price target is $34, according to Tipranks. That implies an upside of 12%.
Simplywall.st thinks VIAB stock is worth over $45, based on future cash flow. I prefer a more conservative model -- a revenue multiples model (also known as comparable companies analysis), which compares operating metrics and valuation multiples of similar public companies. Assuming an Enterprise Value/Last 12 Months Revenue multiple of 1.6 times, Viacom currently trades at fair value.
The Takeaway
Viacom is one of the cheapest entertainment-diversified stocks out there. Investors could start a position, knowing a merger deal may not happen for a while. But if the Redstone family considers a deal to unlock value, this stock could jump to the $35-$40 range.
Viacom, Disney and Comcast are holdings in Jim Cramer'sAction Alerts PLUS Charitable Trust Portfolio. Want to be alerted before Cramer buys or sells these stocks? Learn more now.
Disclosure: The author does not hold a position in any of the securities mentioned in this article.