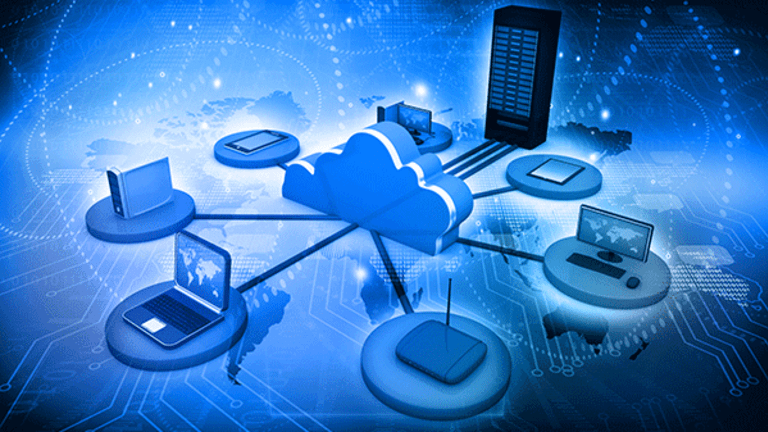 Why Intel, Nvidia and Others Are Seeing Their Sales to Cloud Giants Soar
Supporting the cloud needs of millions of businesses and billions of consumers doesn't come cheap.
As Internet giants spend breathtaking amounts of money to build new data centers and upgrade the hardware within existing ones, some publicly-traded hardware and chip suppliers are seeing the web giants account for a big portion of their total sales. And two big trends -- enterprise adoption of cloud infrastructures and consumer adoption of online video -- are likely to keep cloud-related capital spending growing at a brisk pace.
In its Q2 report, Amazon.com Inc.  (AMZN) - Get Amazon.com, Inc. Report disclosed that its spending on property and equipment acquired under capital leases, much of which is related to Amazon Web Services (AWS), grew 92% annually to $2.7 billion. Alphabet Inc./Google (GOOGL) - Get Alphabet Inc. Class A Report , meanwhile, saw its capital spending grow 33% to $2.8 billion.
Microsoft Corp. (MSFT) - Get Microsoft Corporation (MSFT) Report  spent $3.3 billion on capex in its June quarter after factoring capital leases, up from $3.1 billion a year ago. Facebook Inc. (FB) - Get Facebook, Inc. Class A Report has forecast its capex will rise to around $7 billion in 2017 from $4.5 billion in 2016. And with the caveat that this spending is partly directed towards things like retail stores and manufacturing investments, Apple Inc.  (AAPL) - Get Apple Inc. (AAPL) Report forecasts its fiscal 2017 (ends in September) capex will total $17 billion, up from fiscal 2016's $12.8 billion.
Jim Cramer and the AAP team hold positions in Alphabet, Facebook and Apple for their Action Alerts PLUS Charitable Trust Portfolio. Want to be alerted before Cramer buys or sells GOOGL, FB or AAPL? Learn more now.
As businesses get more and more comfortable relying on cloud infrastructures for both new and existing software workloads -- IDC sees public cloud infrastructure (IaaS) spending growing at a 30% compound annual rate from 2015 to 2020 -- Amazon, Microsoft and Google have been spending heavily not only on the equipment needed to run these workloads, but also in expanding their geographic reach to meet enterprise needs related to redundancy and compliance with government regulations about where data can be stored.
AWS now has 44 global "availability zones" -- each contains at least one data center -- spread out over 8 geographic regions, and plans to launch 5 more regions soon. Back in 2014, when AWS had just 28 availability zones, IT analyst Timothy Prickett Morgan estimated (using some back-of-the-envelope math) that AWS "probably has somewhere between 2.8 million and 5.6 million servers across its infrastructure." It might be closer to 10 million today.
And when it comes to consumer cloud services, supporting popular video services at a large scale is no mean feat. Snap Inc. (SNAP) - Get Snap, Inc. Class A Report , whose 173 million daily active users (DAUs) are a small fraction of Facebook or Google's, recently committed to spending $3 billion on Google and Amazon's cloud infrastructures over a 5-year span. Netflix Inc.  (NFLX) - Get Netflix, Inc. (NFLX) Report handles over a billion hours per week of streaming with the help of AWS and a content delivery network (CDN) that had 233 sites as of August 2016.
Facebook and Google's YouTube haven't shared a lot of details about their video-related infrastructure spending. But with Facebook now claiming over 1.3 billion DAUs and YouTube claiming over 1.5 billion monthly logged-in users and more than a billion hours of daily streaming, it's safe to assume the numbers are staggering. And for Facebook, growing use of the company's Live streaming platform presents additional strain on its infrastructure -- both due to the server resources needed to process live streams on the fly, and the challenges involved in handling traffic spikes related to popular streams.
Supporting popular non-video consumer services can also, of course, be pretty taxing. Google undoubtedly has to spend a lot to support its billion-plus Search and Maps users, and it can't be easy for Facebook to handle the hundreds of millions of photos uploaded each day to its servers. And Spotify incurs big infrastructure costs related to supporting the 140 million-plus users of its music services.
More of What's Trending on TheStreet:
Which publicly-traded suppliers have gotten the biggest lift from all this spending? Here are some of the standouts:
Intel Corp. (INTC) - Get Intel Corporation (INTC) Report - Though Google and others have flirted with alternate server CPU suppliers, Intel's Xeon processors are still found inside the overwhelming majority of cloud servers. Intel's Data Center Group (DCG) saw its sales to cloud providers rise 35% annually in Q2. That, along with a 17% increase in sales to telecom carriers, offset an 11% drop in sales to enterprise and government clients. DCG's second-half orders will get a boost from the recent launch of Intel's Xeon Scalable CPU line.
Nvidia Corp. (NVDA) - Get NVIDIA Corporation Report - Thanks to both their horsepower and strong developer ecosystem, Nvidia's Tesla server GPUs remain by far the most popular platform for training neural networks. This has led Tesla sales to cloud giants to take off as the giants both dial up the AI-related investments made for services (voice assistant platforms, photo/video object-tagging, etc.) that can be provided to hundreds of millions of consumers, and also begin offering GPU resources to enterprise looking to do their own AI work. The company's total data center-related sales grew 175% annually in its July quarter.
Nvidia is a holding in Jim Cramer's Action Alerts PLUS Charitable Trust Portfolio. Want to be alerted before Cramer buys or sells NVDA? Learn more now.
It's possible that Nvidia's sales to Google could be hit by Google's recent launch of a second-gen Tensor Processing Unit (TPU) that can handle training. On the other hand, the company's new Tesla V100 flagship GPU is set to be widely adopted.
Arista Networks Inc.  (ANET) - Get Arista Networks, Inc. Report and Juniper Networks Inc.  (JNPR) - Get Juniper Networks, Inc. (JNPR) Report - Though some cloud giants rely heavily on internally-developed Ethernet switches, both Arista and Juniper have seen their switch sales to cloud providers take off. Arista's product revenue rose 50% in Q2, and Juniper's switching revenue grew 32%. Juniper has also seen its cloud-related router sales pick up.
Broadcom Ltd. - Arista and to a lesser extent Juniper use Broadcom's switching chips, and the chips are also frequently used in the cloud giants' home-grown switches. Broadcom also supplies controller chips used in hard drives and solid-state drives (SSDs) going into cloud servers, as well as Ethernet and optical transceivers.
And though the company hasn't named who it's providing them to, cloud firms appear to be among the buyers of Broadcom ASICs used for AI projects. Some analysts think Broadcom is the supplier of Google's TPU. Strong cloud demand is helping Broadcom's Wired Infrastructure and Enterprise businesses, which together account for over 60% of its revenue, offset enterprise pressures.
Optical component/module vendors - Many of these firms have seen their shares hammered in recent months, partly due to worries about soft orders related to Chinese carrier investments. But their sales to cloud giants generally remain strong, with growing usage of 100-gig transceivers within cloud data center switches and in some cases even servers acting as a major growth driver. Down the line, adoption of 200-gig and 400-gig transceivers will likely be common.
Vendors with strong exposure include Acacia Communications Inc. (ACIA) - Get Acacia Communications, Inc. Report , Applied Optoelectronics Inc. (AAOI) - Get Applied Optoelectronics, Inc. Report , Oclaro Inc.  (OCLR) - Get Oclaro, Inc. Report and NeoPhotonics Inc. (NPTN) - Get NeoPhotonics Corporation Report . With many of these suppliers subject to the whims of just a handful of big cloud and OEM clients, taking a "basket" approach to investing in them could be safer than trying to pick just one winner.