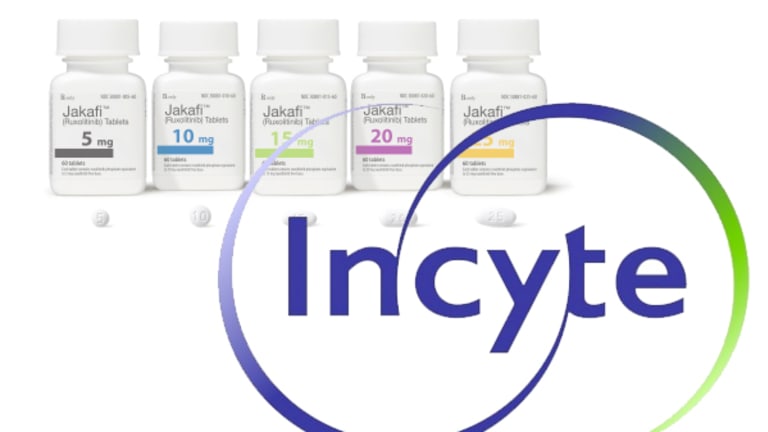 Why Incyte's Shares Could Soon Hit $100
The drug company reported strong earnings.
Incyte (INCY) - Get Incyte Corporation (INCY) Report  reported very strong third-quarter results thanks to the company's therapy for certain types of blood cancers, which is being used by more patients. Although the stock, which closed at $90 Tuesday, is down 4% in the pre-market, here's why I see the stock hitting $100.
Incyte reported third-quarter earnings of 19 cents per share, 17 cents better than the consensus. Revenue rose 43.7% to $269.5 million versus the $261.4 million estimate.
Incyte has one Food and Drug Administration-approved therapy called Jakafi (Jakavi in Europe) for the treatment of polycythemia vera and myelofibrosis. Primary myelofibrosis (MF) is a chronic blood cancer in which excessive scar tissue forms in the bone marrow and impairs its ability to produce normal blood cells.
Polycythemia vera (PV) is a rare type of blood cancer that starts in the bone marrow. This disorder causes the bone marrow to produce too many red blood cells. This causes the blood to thicken and blood clots to form. Jakafi is known as a JAK2 inhibitor. It targets the JAK2 gene mutations to prevent clotting. Jakafi is often given to patients who cannot tolerate Hydroxyurea. Hydroxyurea prevents bone marrow from creating new cells without stopping. Hydroxyurea is often the first line of defense for patients with PV.
The company also markets Iclusig, an oral treatment for chronic myeloid leukemia that was developed by Ariad Pharmaceuticals (ARIA) . The company sells Iclusig in Europe.
Management raised full-year 2016 guidance on Jakafi product revenue to $850 million to $855 million from $825 million to $835 million. The company now expects Iclusig to produce between $25 million and $30 million in product revenue. The company will also receive a milestone payment of $40 million from Novartis (NVS) - Get Novartis AG Sponsored ADR Report  for its work on Jakavi in Europe.
Management also provided an update of its ECHO-202 trail of epacadostat plus pembrolizumab. The treatment showed a "durable response" in patients with advanced or metastatic melanoma, and a well-tolerated safety profile. Researchers also saw "preliminary activity" in non-small cell lung cancer. The results have encouraged the company to move forward with its ongoing ECHO-301 Phase 3 trial for patients with advanced or metastatic melanoma.
Management also reported its treatment, Baricitinib, a JAK1/JAK2 inhibitor licensed to Eli Lilly (LLY) - Get Eli Lilly and Company (LLY) Report , is under global regulatory review for the treatment of patients with rheumatoid arthritis. If approved, Incyte will become eligible to earn regulatory and commercial milestone payments as well as royalties on global net sales.
Finally, Novartis anticipates submitting an NDA (new drug application) for Capmatinib, Incyte's potent and selective c-MET inhibitor, in 2018. Capmatinib is being studied in certain types of cancers.
In my opinion, INCY should go higher. Jakafi has been very successful. Just this quarter, Jakafi sales grew 39% to $224 million. Assuming Baricitinib receives FDA approval as early next year, total 2017 revenue would climb another 40% to $1.5 billion and earnings per share would be up over 100% ($3.05).
With that kind of product momentum and earnings power, Incyte should easily go over $100 per share. 
This article is commentary by an independent contributor. At the time of publication, the author held no positions in the stocks mentioned.