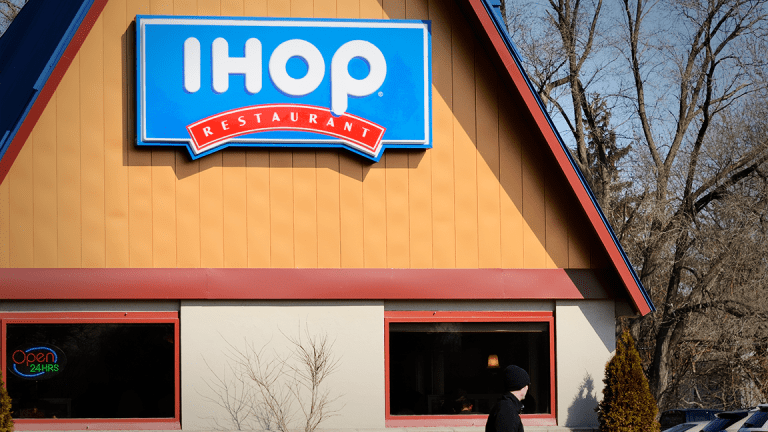 Why IHOB Makes Perfect Sense
IHOP is making a foray into the land of burgers. Here's why it makes perfect sense.
IHOP may not be changing its name, but the pivot towards burgers makes sense. 
The casual dining chain known for its pancake stacks said Monday it's rolling out a new burger menu after setting social media ablaze last week with talk of a name change. For the record, the IHOP name will live on -- it was just a clever dose of marketing for Dine Brands DIN amid a new CEO in Steve Joyce that is known for his marketing prowess.
But the pivot towards burgers, a millennial favorite, is logical given Dine Brands' customer base and economics of doing so. 
Joyce told TheStreet in May that Applebee's and IHOP locations are being viewed as an "oasis" for time-starved, stressed out consumers. They are searching for comfort food, Joyce said. What's better than massive burgers as a means to de-stress? Joyce added that the chain's customer base is skewed heavily toward millennials, eschewing the notion casual dining is on its deathbed.
Meanwhile, beef prices are down sharply from their highs hit in early February. Hence, the profit margins on burgers could prove juicy for Dine Brands franchisees.  
Thanks to a heavy dose of value-based marketing under Joyce, both Applebee's and IHOP posted solid same-store sales growth in the first quarter. Applebee's in particular notched its highest same-store sales growth rate since the first quarter of 2011.