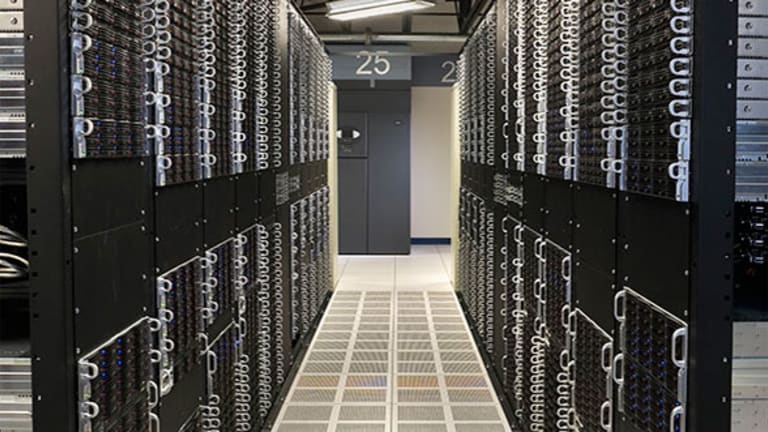 IBM Must Be Perfect, or Else
IBM is up nearly 44% in a year. But can the stock sustain these levels?
In the past year period, shares of IBM (IBM) - Get Free Report are up nearly 44%. In July, I was bullish on IBM. Despite a string of lousy quarters, the company looked like it was headed in the right direction.
Last week, IBM reported fourth-quarter fiscal 2016 earnings of $5.01 per share, 13 cents better than the consensus estimate. Approximately 30 cents came from a lower tax rate. IBM paid a 12% tax rate, down from 17% last quarter. Revenue fell 1.3% to $21.77 billion. Free cash flow was flat at $4.7 billion, which was better than expected. Gross margins were 51%, down 177 basis points. Operating margin was 24.9%.
IBM has lots of moving parts, and each segment contains dozens of business units. The company now reports in five business segments. Cognitive solutions revenue was up 1.4% to $5.3 billion (or 24% of total revenue). Gross margins for the unit fell 300 basis points to 82.7%. Solution software sales were up 5%, while transaction processing was down 2%.
Global business services revenue was down 4.1% to $4.1 billion. Gross margin for the unit was 26.9%, down 130 basis points as consulting revenue fell 5%. Technology services and cloud platform revenue was $9.3 billion, up 1.7%. IBM completed 16 deals with more than $100 million in revenue. Gross margin for the tech and cloud division declined 140 basis points to 42.9%. Systems revenue was down 12.5% to $2.5 billion. Gross margin in the systems segment rose 110 basis points to 56.9%.
Analysts are looking for fiscal 2017 revenue of $78.75 billion, down 1.5%, and revenue of $78.7 billion for 2018. Flat revenue growth is an improvement over what IBM has been reporting over the last few years. In 2015, revenue fell 11.9% to $81.7 billion.
To find any revenue growth, analysts have looked toward 2019. Meanwhile, earnings are growing because of better operating margins. This year earnings are expected to be $13.79, up 2% this year and up 6% next year. Operating margin of 19.9% this year and 21% next year will be back to 2015 levels. Net income will be flat this year and up 3% next. Of course, earnings are also growing because of large share buybacks. From 2013 to 2018, the company is expected to have reduced the number of shares outstanding by 18%. 
Turning around IBM is like turning around a battleship. It takes miles and miles to turn the thing around. Investors piled into the shares anticipating the turn, and the good news is largely priced in.
At the current quote, the stock is trading at a little over 12 times forward estimates. For the stock to move much higher, the company has to post better operating margins or higher-than-expected growth. In the company's guidance, management already assumed Congress would lower taxes, so a lower tax rate shouldn't help that much. (IBM already pays a quite low 12% rate.)
While the stock has had a good run, IBM has underperformed the S&P 500 for the past five years. While I'm still positive on the company, I would sit on the sidelines and wait for a better price. Right now, the stock is priced for perfection.
This article is commentary by an independent contributor. At the time of publication, the author held no positions in the stocks mentioned.