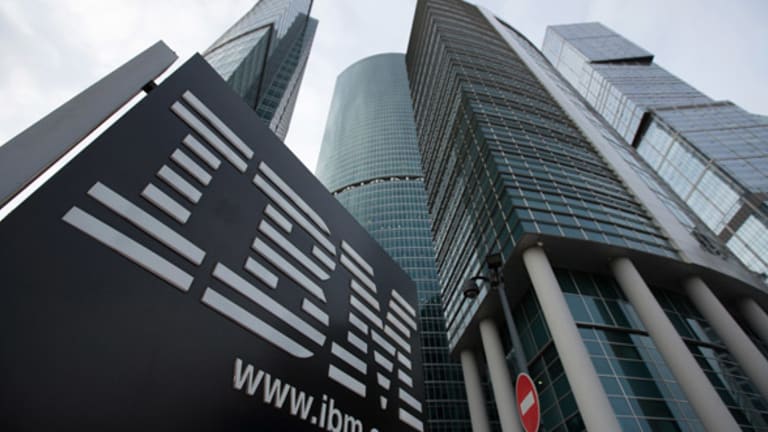 Why IBM Should -- and Shouldn't -- Break Itself Up
Either way, the status quo may not be able to be maintained.
In spite of massive stock buybacks, IBM Corp.'s (IBM) - Get International Business Machines Corporation Report  shares have delivered a negative 14%, dividend-adjusted return over the last four years, compared with a 59% return for the S&P 500 and an 87% return for the Nasdaq. Meanwhile, as sales declined one quarter after the next, Big Blue's free cash flow (FCF) fell to $11.6 billion in 2016 from a 2012 peak of $18.2 billion, and is expected to be near 2016 levels this year.
Given that track record, and the fact that Big Blue delivered yet another disappointing set of quarterly results last week, the question of whether it's worth breaking up IBM -- explored from time to time in the past -- is probably worth revisiting. There are three intriguing arguments in favor of breaking up IBM, and two good arguments against doing so, at least to any extensive degree.
One argument for a breakup: IBM units might execute better as parts of smaller companies with dedicated management teams. Though secular trends have contributed to IBM's recent struggles -- the big ones include cloud services adoption, share gains for Intel Corp.-powered (INTC) - Get Intel Corporation Report servers relative to proprietary systems and a shift in IT services contracts towards smaller, more focused deals -- share losses to rivals facing some of the same challenges are also clearly an issue.
One only has to compare IBM's revenue growth in recent quarters with that of rivals such as Microsoft Corp. (MSFT) - Get Microsoft Corporation Report , SAP SE (SAP) - Get SAP SE Report , Accenture Plc  (ACN) - Get Accenture Plc Class A Report and Infosys Ltd (INFY) - Get Infosys Ltd. Report to see the extent to which subpar execution has contributed to its recent woes. Creating a slew of smaller companies focused on taking on such rivals, and whose management teams have the flexibility to make large strategic acquisitions in their particular fields, could help change things.
The second argument: IBM may be worth more on a sum-of-the-parts basis than as an integrated company. This is tough to estimate with any high degree of accuracy, since gauging the valuations public markets or potential acquirers would grant to various IBM units is pure guesswork. But with IBM valued at less than 12 times its current (depressed) FCF, it's not far-fetched to see certain key businesses sporting higher multiples as independent companies.
In particular, IBM's software franchises, which collectively appear to account for around half of its operating profits, could easily merit a higher valuation in light of peer multiples. Though Big Blue's software assets include pressured businesses such as databases and systems management software, they also include faster-growing franchises in fields such as analytics, security, storage and mobile software that would appeal to investors.
The third argument: Some IBM units could perform better as a result of no longer being tied to other IBM businesses that compete with potential partners. Just as PayPal Holdings Inc.'s (PYPL) - Get PayPal Holdings, Inc. Report  split from eBay Inc.  (EBAY) - Get eBay Inc. Report has given it openings with online merchants competing with eBay, IBM's software businesses could, for example, find it easier to partner with the likes of Dell Technologies Inc.  (DVMT) or Hewlett-Packard Enterprise Co. (HPE) - Get Hewlett Packard Enterprise Co. Report if they weren't tied to IBM's hardware unit. Likewise, IBM's services businesses could find software alliances with the likes of Microsoft and SAP easier if they were part of an independent company.
It should be noted that IBM does already partner at times with rivals. However, these deals are often focused on products and services that IBM doesn't currently offer. A breakup should meaningfully expand partnership opportunities.
One strong argument for keeping Big Blue together: There would be major up-front and recurring costs related to a breakup, as IBM units that rely on the same corporate departments, real estate and IT assets are no longer able to do so. The old HP incurred over $2 billion worth of separation costs related to splitting its PC and printing businesses from its enterprise IT businesses. Given IBM's size, it's easy to imagine its breakup costs being even larger.
There could also be tax consequences related to a breakup. IBM recorded just a 9.6% effective tax rate last year, and not counting "discrete tax benefits" recorded in Q2, expects a 15% effective 2017 rate. There's a good chance that rate would rise if individual IBM units weren't able to lower their tax bills by leveraging the accounting "assets" an integrated IBM has at its disposal.
The second argument against a breakup isn't hard to guess, and one that management would doubtlessly make if stating its opposition to such a move: IBM does a lot of business selling integrated solutions that feature some mixture of hardware, software and services, and standalone IBM units would have a harder time striking such deals. However, such synergies might not be quite as large as is generally presumed.
Of the nearly $83 billion in revenue that IBM's four main products and services reporting segments collectively delivered in 2016, only about $4.5 billion consisted of "internal" revenue -- sales of a product or service to another IBM unit that provided it to a client as part of a deal. This figure doesn't show the full value of IBM's cross-selling synergies, since there are also projects in which units sell to clients on their own, but does raise the possibility that any lost synergies on this front could be offset by an expanded set of partnerships. Especially if one assumes that different IBM units will still be partnering with each other.
HP's multi-stage breakup over the last couple of years -- comprising not only a late-2015 PC/printing split, but also the spinoff of HP Enterprise's large Enterprises Services arm and a pending deal to spin off many of its software assets -- highlights both the potential and costs of an IBM breakup. The PC/printing unit, now known as HP Inc. (HPQ) - Get HP Inc. Report, has seen its shares rise over 35% since splitting from the rest of HP, as its management team has driven both PC and printing share gains without badly sacrificing margins.
On the other hand, HPE is trading close to where it did at the time of the breakup. Any enthusiasm over HPE's spinoffs, and its related attempt to focus more strongly on enterprise hardware, has been offset by worries about continued server and storage sales declines amid major secular pressures.
One compromise solution for IBM would be to explore asset sales and spinoffs for select businesses that carry low margins, face major long-term challenges and/or have limited synergies with the rest of the company. It would also make sense to look at businesses whose divestiture would free management to focus on differentiated software and services businesses, while possibly opening the door to new partnerships.
IBM's app outsourcing and database businesses are among the possibilities here. The long-struggling Systems (hardware) unit, which might do better under dedicated management ready to make big acquisitions to fill product holes, is another.
Others might disagree about the merits of unloading such businesses, and even moreso about a large-scale breakup. And they certainly would have some arguments to back up their views.
Regardless, at this point, those arguing that the status quo can't go on have some pretty strong talking points as well. If IBM's shares continue performing the way they have in recent years, look for calls for a major business overhaul -- including possibly from activist investors -- to grow markedly.
IBM's shares fell 0.7% to $146 by Monday's close.