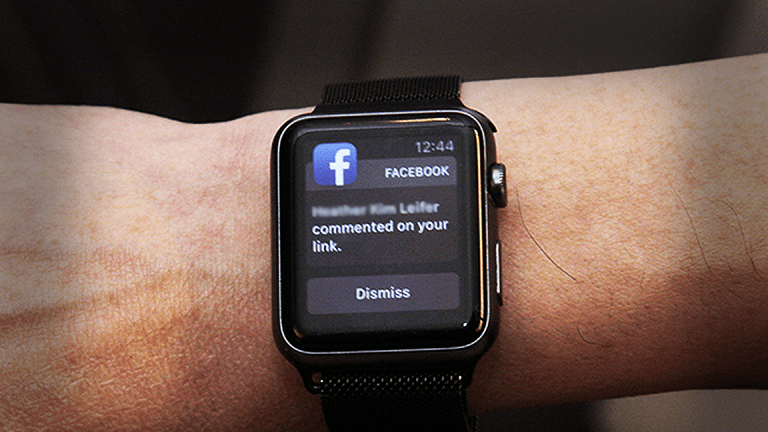 Why I Stopped Wearing My Apple Watch — and What That Means for Apple
An inveterate early adopter explains why he's soured on Apple's flagship wearable, and isn't even considering getting an Apple Watch 3.
Go to the Dictionary.com entry for "early adopter" and you're likely to see a picture of me. I love playing with new gadgets, and my job as tech stocks editor at TheStreet gives me an excuse to spend even more money on the latest gizmo ("It's for work," I tell my wife).
I bought the first iPhone as soon as Apple Inc. (AAPL) - Get Report dropped the price $200 shortly after its launch, the iPad the day it came out, Amazon's (AMZN) - Get Report very first Kindle in 2007 and the Echo (relatively early) in 2016. Needless to say, I can't wait for the iPhone X to come out.
So it was a pretty safe bet that I would get an Apple Watch, the company's first major new product since the death of Steve Jobs, soon after it debuted in 2015. Sure enough, my colleague Brian Sozzi and I went to visit an Apple Store in Soho one night to try out the new devices, and we both wound up ordering Apple Sport Watches on the spot -- Brian even got multiple bands.
In the two-and-change years since then, I've been a bit underwhelmed by the Watch -- as many have noted, there doesn't seem to be any killer app for it yet, nor much you can do with it that you can't with your phone. But, I did like being able to quickly glance at texts and other notifications without having to take my phone out of my pocket. And I've been optimistic that Apple would continue to improve the Watch (and eventually find that killer app) in that inimitable Apple way.
As a result, I've been watching the Apple Watch 3, which has its own cellular connection, with great interest. Maybe adding connectivity and untethering the Watch from the phone would open up a whole new set of possibilities and somehow make the former as indispensable as the latter, I thought.
But a funny thing happened on my way to the Apple Store. After a recent trip to China, I misplaced my Apple Watch somewhere in my bags. Heading into work my first day back, I needed something to put on my wrist, so I rifled through my drawer and found the old, analog Burberry watch that my wife had bought for me ten years ago as a gift -- and the watch I used to wear most often before getting the Apple Watch. Using the clever butterfly clasp to secure it, I was immediately reminded how much I liked the elegance and weight of the silver watch. Off to the office I went.
During the day, I realized I could keep up with various notifications as well as I needed to with just my iPhone in my pocket or otherwise close-by. And not having the Apple Watch on kept me from being too easily distracted by all the buzzing and information being sent to my wrist. Fairly quickly, I realized I was more relaxed and focused without the Apple Watch on, and I liked the way that felt.
That evening, I unpacked the rest of my bags and found my Apple Watch, as I was pretty sure I would. But the next day, instead of putting it on, I decided to wear my old Burberry watch again. I experienced the same sense of increased calm and focus as I did the day before, and I've kept up the analog habit ever since. For more than a month now, I've only worn my Apple Watch a handful of times, usually when going for a run or other exercise.
I wondered how typical my experience with the Watch was, as well as what it might mean for Apple and other gadget makers, so I spoke to Dr. Larry Rosen, a professor emeritus of psychology at California State University, Dominguez Hills who's done extensive research on the perils of digital distraction. He said he wasn't surprised, and that what happened to me is typical when new technologies are introduced.
Early adopters such as myself will always try them out, but whether they stick or not and are able to reach a mass audience depends on their utility and just as significantly, their effect on our mood and happiness. What happens with every notification you get, Dr. Rosen explained, is that a tiny amount of cortisol, a hormone that regulates stress, is released into your bloodstream. While essential and beneficial in small amounts, cortisol can make you highly anxious as it builds up in your system.
"Part of what people have been telling us is that the constant notifications are overwhelming," Dr. Rosen said of devices like the Apple Watch. "I think that's what happened to you." 
What this means is that the Apple Watch may be running up against the limits of how much people really want, or need, to stay connected. But this doesn't, in turn, mean that Apple is in any kind of  trouble. The Apple Watch is only a small percentage of Apple's sales -- the company doesn't even break its result out yet -- and the iPhone continues to be a sales and earnings juggernaut for Apple. Moreover, Rosen said it's unlikely the smartphone will lose its hold over us anytime soon.
"The phone has literally become an appendage -- you see more and more people holding it in their hands all the time or just inches away, which is the definition of an appendage," Dr. Rosen said. "And as an appendage, we're not going to cut it off."
In addition, the Apple Watch also seems to be selling reasonably well (Tim Cook boasted that it's become the world's best-selling watch at Apple's big Sept. 12 product launch event)and maybe some killer app for it will come along (my guess is it'll be something health-related).
The problem, as Dr. Rosen points out, is that for people like me getting messages and notifications on my Watch, in addition to the copious amount of alerts I get on my phone, is just too much. The phone is plenty, and I'm happier without also getting distracted by the Watch (I could always turn off notifications for my Watch, of course, but that's really the most useful feature of it for me so I'm in a bit of a bind).
The question for the Apple Watch 3, Dr. Rosen suggested, could be whether people utilize its separate cellular connection as a way to essentially replace their phone, as opposed to simply adding another device on top of it. But that seems fairly unlikely given how small the Watch's screen is and how much computing power would need to be packed in to such a small space (Apple declined to comment for this piece).
So while my experience doesn't spell doom for Apple, it does hold some lessons for the future of wearables and other devices/platforms that Apple and others are developing to succeed the smartphone. Whatever that ends up being, whether augmented reality glasses or hardware implanted into our bodies or something else as yet undreamed of, those devices and platforms will need to not only add something of value to our lives, but also, reduce our stress and not add to it. Otherwise, they're not likely to attain anywhere near the level of adoption as devices like the smartphone have.
Makers and creators of all new devices and technologies, from Amazon, Facebook (FB) - Get Report , Alphabet (GOOGL) - Get Report and Snap (SNAP) - Get Report to the start-ups looking to usurp them, would do well to keep this in mind.
Apple, Facebook and Alphabet are holdings in Jim Cramer'sAction Alerts PLUS Charitable Trust Portfolio. Want to be alerted before Cramer buys or sells AAPL, FB and GOOGL? Learn more now.
Don't miss these top stories on TheStreet: