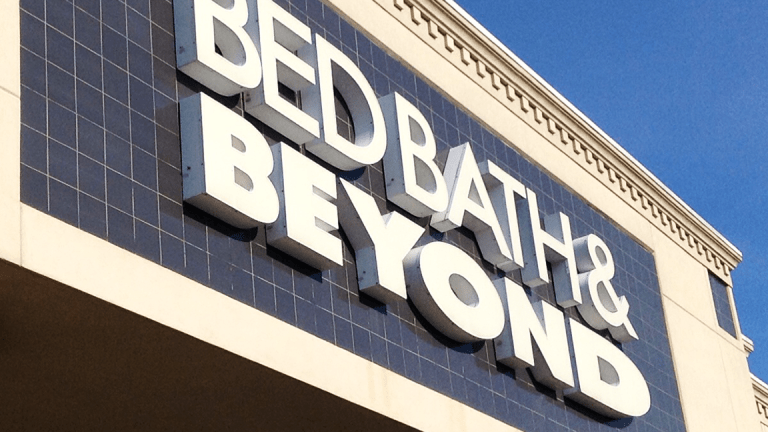 Why Hasn't Bed Bath & Beyond Been Attacked by an Activist Investor?
Dwindling sales and a plummeting stock, and still no activist in sight — at least for now.
All the ingredients are there: slowing growth, declining operating margins, an underperforming stock and an entirely stagnant board of directors.
For the past four or so years, Wall Street has chattered about the prospect of Bed Bath & Beyond Inc. (BBBY) - Get Report  as a possible activist target. Aside from recent rumors that Jana Partners LLC may be accumulating shares, the home products chain has hardly piqued the interest of an activist player, let alone attracted a whole campaign.
Since going public in 1992, the extent of its corporate activism has been ethically driven shareholder proposals from New York City Retirement Systems and not-for-profit organization As You Sow.
"It boggles my mind that an activist hasn't gotten involved with Bed Bath already," said Anthony Chukumba, an analyst and the senior vice president at Loop Capital. Chukumba publishes a regular "Activist Attractiveness Framework" report, and each time, Bed Bath & Beyond is at the top of the list, he told The Deal, a sister publication of TheStreet.
Attracting Activists
"Bed Bath & Beyond's long string of financial struggles, stock underperformance, insular senior management, and lack of investor transparency could attract activist investors," Chukumba wrote in his most recent report in July, also highlighting the chain's "repeated history of self-dealing," in which its two latest acquisitions — buybuy BABY and Chef Central — are owned by the two co-chairmen's family members.
So after three years of falling stock value, why hasn't there been an activist contender to salvage the ailing company? It could have something to do with Bed Bath's "deep rooted structural problems" that would render any activist campaign futile, noted KeyBanc analyst Brad Thomas. "BBBY is between a rock and a hard place," he said. "Even if an activist pushes them to make better investments in their business, we think the returns will yield lower than its legacy margins."
That's to say, Bed Bath & Beyond is already spending lots of money on share buybacks and dividends. In the past five years, the company has spent over $6 billion in repurchasing shares, and recently announced that its next quarterly dividend will be paid on April 17 at $0.15 per share. Activists often seek hikes to capital distribution programs, but that doesn't seem to be an option at Bed Bath & Beyond. 
"There are two questions to it. One is, if an activist investor were to emerge, would they be able to take control of this company? The answer is yes, probably pretty easily," Thomas said. "But the other question is, if you had control of this company, what changes could you make that wouldn't drive money away from shareholders?"
All the things that the store isn't investing in — an everyday low price strategy, a best in class omnichannel experience, better digital capabilities, enhancing the in-store experience — would result in higher SG&A spending and put pressure on margins, according to Thomas. "That's cash out of the hands of shareholders."
Saving Graces
Chukumba, nonetheless, points to the buybacks and dividends as the company's only "saving graces."
An activist could push Bed Bath & Beyond to divest noncore assets so it could focus on its core business. Certain investment in business operations, he added could be offset by divesting noncore concepts such as buybuy BABY and aggressively closing stores and cutting costs. The big changes, Chukumba said, wouldn't necessarily have to cost a lot of money right off the bat.
Another strategy in the activist playbook targeting companies that have over-tenured directors that may have been around too long to provide adequate oversight of the C-suite. Such could be the case for BBBY's chairmen, Chukumba said. "The co-chairmen of the board, [Warren Eisenberg and Leonard Feinstein], I think both are in their late 70s and early 80s. It's unclear what value they're providing."
Bed Bath & Beyond could not be reached for comment. Its shares were down 5% mid-morning Friday, Jan. 26, trading at $21.83. Jana Partners' most recent campaign is urging Bloomin' Brands Inc. (BLMN) - Get Report  to consider selling itself. The Barry Rosenstein-backed hedge fund is also urging Apple Inc. (AAPL) - Get Report  to address smartphone addiction.
More of What's Trending on TheStreet: