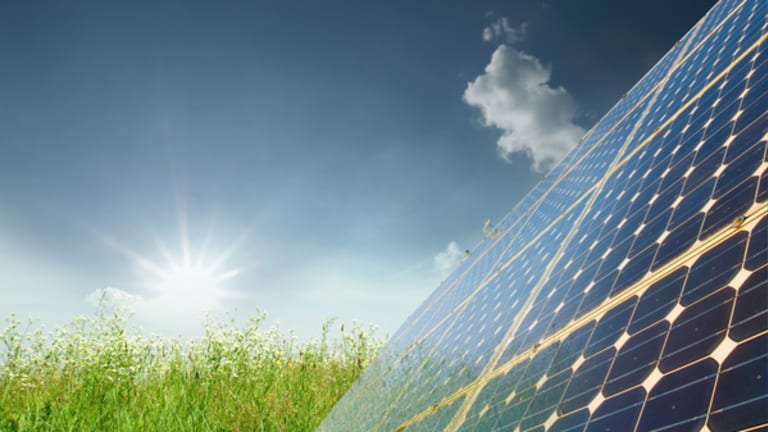 Why Halliburton Shares Can't Find a Bottom
The stock may be a value play but it could be a long while before the market rewards it.
NEW YORK (
) -- Sometimes a good defense isn't much of an offense at all.
Halliburton
(HAL)
did an admirable job of putting down the idea that North American margins were going to collapse because of low natural gas prices during its quarterly conference call Monday but that was about all it was able to accomplish.
Even though the biggest bears on the oil service stock think it's worth more than where it currently trades, value is likely to remain trapped, and investors hoping to tap Halliburton as a value play will need patience.
It probably didn't help matters that before Halliburton even got on the phone with analysts and investors to talk down the North American pressure pumping business from the edge of a cliff
where investors believe it to be positioned, two major U.S. natural gas drillers, including the biggest
Chesapeake Energy
(CHK)
, announced
plans to cut production because of the pricing environment.
Halliburton's stock price may reflect a worst-case scenario that's worse than reality, but any upside will be delayed, according to bearish analysts.
Headed into earnings it was believed that
a "clear the decks" call was required from Halliburton management, which is the most reliant of the large-cap oil service companies on the North American pressure pumping business for excess return. That didn't really happen Monday and the market continues to read the situation as a worsening one for Halliburton.
North American operating margins at the company fell in the fourth quarter to 27.2% from 29.3%, a clear signal to investors that margins are likely to continue down as the natural gas drilling boom ends and excess supply goes chasing the oil drilling regions of the North American land market.
Halliburton guided margins down, but wouldn't comment on conditions beyond the first quarter. It said margins would normalize, but didn't define what it meant by that, and therefore, implied that margins could fall in every quarter in 2012 and that would still be consistent with the outlook it provided.
When Halliburton shares bottomed in the last quarter of 2011, it seemed as if the stock was
priced for disaster. Now, it seems as if Halliburton is best defined this way: A great company, with industry standard-setting execution, but a stock that's caught in a value trap for at least a few quarters.
Consider that the two analysts with the lowest 2012 earnings estimates for Halliburton -- Michael LaMotte of Guggenheim Partners ($3.49) and Michael Marino of Stephens ($3.50) -- both believe fair value on Halliburton shares is around $45. However, neither is inclined to recommend the stock, even though it's currently trading at a 20% discount to $45 after Monday's 3% decline.
"HAL put up a good argument as to why they'll continue to work in a market that is moving towards balance and even over-supply," LaMotte wrote in an email to
TheStreet
.
"However, pricing for all players should come down, with relative margin differentials dictated by scale, supply chain management, operating efficiency, etc. In these areas HAL has a big competitive advantage. But in price alone, they are just as vulnerable to the market as everyone else. The fact that they were not willing to comment on margin beyond 1Q suggests to me that they do not know themselves where market pricing is going."
Lacking that longer-term knowledge of where margins normalize makes Halliburton a difficult stock to budge.
Stephens' analyst Marino compared the situation to 2007, when the last cyclical shift occurred in the North American market. Halliburton margins went from 32.2% in 2006 to 27.8% in 2007. After the 200 basis point drop in the fourth quarter of 2011, Marino expects another 200 to 300 basis points to be shaved off before the erosion stops.
He estimates margins could drop as low as 23.5% by the fourth quarter of 2012, and that's the basis for his $3.50 per share earnings model. Even though Marino believes Halliburton merits the 13 times valuation that it traded at back in 2007 when its margins dropped (which on $3.50 earnings would make it a $45), he doesn't expect the market to move to that 13 times valuation any time soon.
Put it this way: For an investor willing to put Halliburton in its pocket and not look at the share value for another 12 to 18 months, it might be a buy today.
"I think Halliburton can still work from here as North America eventually gets better, but it has to fight headwinds, and in international it will get better but I don't know if it moves up as much as Schlumberger," Marino said. "I wrestle with this call, and North America may not be as bad as people think, but you have to think about in the context of other options."
Marino also noted that investors need to contend with the fact that timing favors
Schlumberger
(SLB)
, which is more
levered to the international drilling story.
He said back in 2007 -- the same point of comparison he uses for Halliburton when the North American market last turned -- Schlumberger traded at 19 times earnings. He doesn't think investors will have to wait as long for that value to be realized, which takes him to an $88 price target.
Argus Research analyst Phil Weiss, who maintained a buy on Halliburton, thinks the market is wrong. He said that even in a flat natural gas rig count environment Halliburton has laid out its transition to the oil basins, where higher service intensity should support pricing.
Halliburton is also moving to international markets, Weiss said, though unconventional drilling infrastructure overseas will take time. The Gulf of Mexico is recovering and its share is growing there, and its client base is becoming more national oil company (NOC) and large independent in nature. Yet even Weiss said that amid his more optimistic view of the Halliburton transition from a period of excess return in North American pressure pumping, he expected "the naysaying to continue."
Since the issues with Halliburton all circle back around to natural gas pricing, LaMotte put the current bearish view of Halliburton in natural gas pricing terms.
"Think of HAL's current contract backlog as equivalent to an E&P company hedge. If I'm an E&P company hedged at $4
natural gas spot pricing for this year, I'm pretty happy. But if the market believes that $2 is the new marginal cost of gas, and that gas prices will remain $2 in 2013 and beyond -- the market will not put a multiple on the value of my hedge because it's "non-recurring". Though my 2012 multiple may look very depressed...the market is appropriately valuing the cash flows I'll be generating when those hedges roll off. "
Marino, even at $3.50 in earnings versus Wall Street consensus at $4.13, maintained his buy rating on the stock (he thinks all the margin downside is already priced into shares in his model), and he pegged upside at 20%. Using the same 2007 cyclical shift example from which he made the case for Halliburton moving up to 13 times earnings, Marino noted that even though Halliburton was "more frustrating" than some more international levered peers in that time period, Halliburton shares were up 22% in that year.
"It's in no man's land now. I see the value and agree with the longer-term North American story being attractive, but I just don't see it as a near term catalyst," Marino said.
-- Written by Eric Rosenbaum from New York.
RELATED STORIES:
>>7 Reasons Why Oil Service Stocks May Survive 2012 Pricing Shocks
>>5 Catalysts for Chesapeake Energy in 2012
>To contact the writer of this article, click here:
Eric Rosenbaum
.