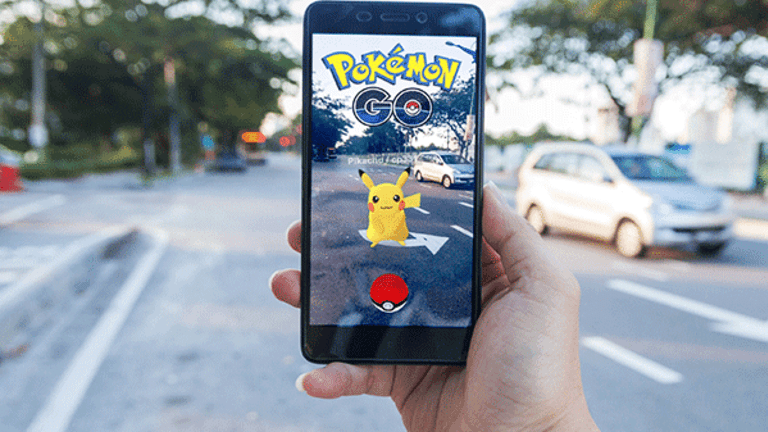 Why Apple, Snap and Other Big Names in Tech Are Poised to Make Huge Bets on Augmented Reality
Many feel that AR could become the world's next big platform.
More and more of Silicon Valley's biggest tech firms are blurring the line between what's virtual and what's real. 
Alphabet's (GOOGL) - Get Alphabet Inc. Class A Report Google, Apple (AAPL) - Get Apple Inc. (AAPL) Report, Facebook (FB) - Get Facebook, Inc. Class A Reportand Snap (SNAP) - Get Snap, Inc. Class A Reportare just a few of the tech juggernauts that are poised to make big bets on augmented reality, a technology that involves layering computer-generated graphics, sounds or GPS data onto real-world environments, like live video. It's become the tech du jour ever since  Nintendo  (NTDOY) released Pokémon Go last July, after which consumers began to clamor for more mass-market AR applications beyond just game play. 
The rise of AR comes as another, similar technology is generating just as much buzz, but is likely to take much longer to bring to the masses -- virtual reality. Tech companies are also jockeying with the rapid rise of digital assistants, which despite being somewhat separate from AR, uses some of the same machine learning software applied in AR. 
Unlike AR, virtual reality involves life-like simulations or experiences that, for now, can only be viewed using a headset, most of which are priced out of reach for the average consumer. That's part of the reason why AR seems to be overtaking VR, said Tim Bajarin, president of tech research firm Creative Strategies. Aside from Google's $15 cardboard VR headset, the cheapest VR goggles are Facebook's Oculus Rift, which costs $599. 
"Even though virtual reality has a lot of promise, the problem is that to deliver VR, you have to have a set of goggles," Bajarin said. "On the other hand, you have a platform within this platform that you can already deliver in existing user platforms and that's AR." 
Pokémon Go was the tipping point that made mobile phone vendors and the software community realize that instead of waiting around to bring VR to the masses -- something that Bajarin thinks will take at least a decade -- tech companies can move ahead with AR.
Apple,Alphabet and Facebook are holdings in Jim Cramer'sAction Alerts PLUS Charitable Trust Portfolio. Want to be alerted before Cramer buys or sells AAPL, GOOGL or FB? Learn more now.
Google was one of the first to bring the technology to smartphones, integrating its Tango AR platform into Lenovo's Phab 2 Pro smartphone last year. Johnny Lee, the head of Tango, toldThe Verge at the time that while Pokémon Go didn't spur the creation of Tango, it "made the conversation a lot easier with partners." That's probably why Google said at its I/O developers conference on Wednesday that it would be bringing Tango to more phones and, eventually, to computerized glasses that could replace the smartphone.
But perhaps the most interesting news to come out of I/O was the announcement of Google Lens, an AR tool that uses machine learning technology to analyze a person's surroundings and provide suggestions based on what's around them, all with just a smartphone camera. When a user points their camera at a restaurant location, for example, Lens will superimpose graphics with information about the place on the smartphone screen, such as how many stars a restaurant has been rated on Yelp, store hours and other helpful details. For now, Lens is only accessible using the Google Photos or Google Assistant apps, but Google said it plans to introduce it on other platforms in the future. 
Google is far from the only company with ambitions of bringing AR to the smartphone. Apple is expected to debut similar technology in its upcoming iPhone 8, which is likely to come in the fall. Similar to Google Lens, analysts believe that the iPhone 8 will be able to generate maps and other information using a phone's camera, as well as translate words on-screen.
Loup Ventures analyst Gene Munster echoed beliefs that Apple, too, is preparing for a future where wearables and AR devices will replace the smartphone. Munster noted that Apple CEO Tim Cook, who is usually tight-lipped about the company's plans, has made six separate comments about his interest in pursuing AR. It's unclear what Apple has in the works beyond (possibly) releasing an AR-powered iPhone, but Munster said he expects the iPhone 8 to have a 3D mapping chip to complement the phone's dual cameras and to better understand the depth of environment.
"Apple is in a unique position when it comes to AR," Munster explained. "They'll have the attention of developers who have been successful building iOS apps in the past and will want to build for AR, but the company must manage replacing the iPhone over time with some form on an AR wearable." 
Bajarin went even further, saying that he believes Apple will emerge as the leader of the pack in AR technology. 
"If you look at Apple's history, what Apple does really well is they create a very strong set of case studies and examples as far as what this tech can do...and more importantly, they tie it to a mechanism that allows developers to make money through apps and other services," Bajarin said. "When Apple does something, they tend to do it right." 
Facebook and Snap are also trying to make AR more accessible. Snap first allowed users to add AR-like lenses and filters to their photos and videos, like the puppy filter which detects a human face and adds cartoonish, playful dog ears and a nose. The company has also filed severalAR-related patents that are quite imaginative. Facebook has quickly moved to replicate Snap's lenses and filters on Instagram, but also has other plans in store. At Facebook's F8 conference in April, CEO Mark Zuckerberg announced a new feature called Camera Effects, which uses augmented reality technology to create filters and lenses that can be added to selfies, but unlike Snapchat, Effects will be open to outside developers. 
Despite both their efforts, experts say the AR race is likely to largely be between Google and Apple. While Apple will excel in AR hardware, Google has treasure troves of data, gleaned through its Search, Maps and other properties, that are essential to AR and currently unmatched by anyone else, Munster said. 
The excitement around AR has generated lofty growth predictions, including one estimate that the AR market will grow to be worth more than $100 billion by 2024, according to market research firm Grand View Research. It means there's room in the AR market for more than a few players, as tech giants discover new uses for the technology.  
"You have to call [AR] a nascent market," Bajarin said. "I don't think it's come anywhere close to hitting critical mass or where a significant leader is emerging."
Click here for the latest business headlines.
Editors' pick: Originally published May 19.