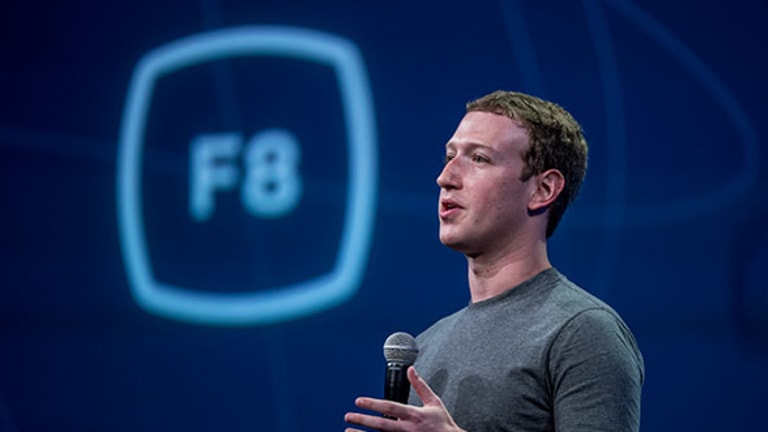 Why Google and Facebook Dominate the Digital Ad Market
Thanks to their very popular mobile services and superior data and targeting abilities, Google and Facebook continue grabbing online ad share.
As many others have pointed out, the rise of the smartphone (and to a lesser extent, the tablet) has turned a handful of tech giants into digital gatekeepers to a degree that they never were when the PC reigned supreme. The shift in online activity from web browsers to mobile apps distributed through a pair of giant app stores, and the massive share of smartphone usage claimed by a handful of apps, has given Apple (AAPL) - Get Apple Inc. (AAPL) Report, Alphabet/Google (GOOGL) - Get Alphabet Inc. Class A Report and Facebook (FB) - Get Facebook, Inc. Class A Report an incredible amount of influence over the digital content that consumers in much of the world end up seeing every day.
Over the last couple of years, another shoe has begun to drop: Two of those "gatekeepers," Google and Facebook, have been leveraging the incredible popularity of their mobile apps/services, along with their data, to rapidly take share from smaller online ad players. The trend doesn't show any signs of letting up.
Research firm eMarketer just estimated the U.S. digital (online/mobile) ad market, which accounts for close to half of Google and Facebook's ad sales, will grow 15.9% this year to $83 billion. That's down a bit from the 20% growth eMarketer previously estimated for 2016, but still far above the 3% to 4% 2017 growth forecast by ad agencies for total U.S. ad spend, as ad dollars keep shifting from print, radio and to a lesser degree TV to digital channels.
Google, previously forecast to control 30.9% of the global digital ad market in 2016, is expected to claim 40.7% of the U.S. market in 2017. That's largely due to a 78% share of a $36 billion-plus search ad market; Google's U.S. search ad revenue is expected to grow 16.1% to $28.6 billion, outpacing the roughly 10% growth forecast for the market overall as share is taken from Yahoo! (YHOO) and Microsoft's (MSFT) - Get Microsoft Corporation (MSFT) ReportBing.
Facebook is expected to have slightly less than 20% of the U.S. digital ad market, taking share as its display ad sales (i.e. news feed, video and banner ads) grow 32.1% to $16.3 billion. The social media giant is expected to claim 39.1% of the display ad market, after being previously forecast to claim 34.5% of the market in 2016. Google's display ad sales are expected to rise about 7% to $5.2 billion, leading its share to drop to 12.5%.
Jim Cramer and the AAP team hold positions in Alphabet and Facebook for their Action Alerts PLUS Charitable Trust Portfolio. Want to be alerted before Cramer buys or sells GOOGL or FB? Learn more now.
Notably, eMarketer cut its U.S. ad revenue forecast for Snap Inc. (SNAP) - Get Snap, Inc. Class A Report by $30 million to $770 million, due to higher-than-expected revenue-sharing payments with ad partners. The revised figure still represents 158% annual growth, but it's worth noting Snap only began seriously monetizing its app last year. The company, whose ad sales depend heavily on the U.S. for now, reportedly has a goal of producing over $1 billion in global ad revenue this year. Shares fell 2.8% to $20.51 on Tuesday, making new post-IPO lows.
When looking at the factors behind Google/Facebook's dominance, one has to start with the fact that the companies dominate mobile app rankings -- Nielsen believes Google and Facebook had all eight of the most popular U.S. smartphone apps last year in terms of unique users. Next, consider that smartphone apps and browsing now account for over half of all the time spent online, with U.S. consumers spending about 5 hours per day on their phones.
The desire among many brand advertisers to direct the lion's share of their online ad platforms with massive scale also works in Google and Facebook's benefit. And so does each company's healthy exposure to a fast-growing online video ad market -- Google via YouTube, which is now responsible for one billion daily hours of global video viewing, Facebook via its news feed and Instagram video ads. Facebook just added support for ads that appear in the middle of videos, and is getting serious about making TV show-like programming available through its core app.
Facebook's ad sales boom also has much to do with how its user data and ad targeting/measurement abilities put those of many display ad rivals (including, in some instances, Google's) to shame. Users constantly share their demographic info, employment data and likes/preferences with the company, and Facebook has created powerful tools such as Custom Audiences and Lookalike Audiences to help advertisers leverage it. It has also done a good job of creating compelling ad formats, such as its immersive Canvas Ads and its shopping-focused Dynamic Product Ads.
Google Search, meanwhile, remains unmatched when it comes to knowing what someone is interested in buying at a particular moment, which in many cases is different than what his or her demographic info and likes might suggest an interest in. And while the rise of popular e-commerce apps remains a threat, since users might go directly to an app rather than search for a product, this has been partly offset by the integration of Google Search with Android, Chrome and Apple's Mobile Safari browser.
Google has also benefited from how growing smartphone usage has increased the total amount of time spent online, rather than merely cannibalizing PC browsing activity. Its aggressive efforts to monetize mobile searches, via things such as Expanded Text Ads and local business ads that leverage a user's location, have also paid off. Thanks to YouTube and mobile search, Google's total paid ad impressions/clicks rose 36% annually in the fourth quarter.
In addition, both Google and Facebook have limited exposure (as a percentage of revenue) to traditional display ad formats such as banner ads, which have been pressured due to weak returns on investment and the rise of PC browser ad-blockers. Facebook launched a largely successful campaign last year to keep its PC news feed ads from being removed by ad-blockers, while Google's search ads are "whitelisted" by the popular AdBlock Plus ad-blocker.
And going forward, the companies should see their ad scale further grow thanks to rising sales for their mobile ad networks, and greater monetization of secondary platforms such as Instagram, Facebook Messenger, WhatsApp, Google Maps and Gmail. Google and Facebook each provide tools for running ad campaigns across multiple services.
Markets certainly aren't oblivious to Google/Facebook's growing online ad dominance: Shares of both companies have soared over the last two years, while those of many independent ad tech firms, such as Rocket Fuel (FUEL) , Tremor Video (TRMR) and The Rubicon Project (RUBI) - Get Rubicon Project, Inc. Report, have sputtered. But given the power of the trends driving it, this story is far from played-out.
Editors' pick: Originally published March 15.