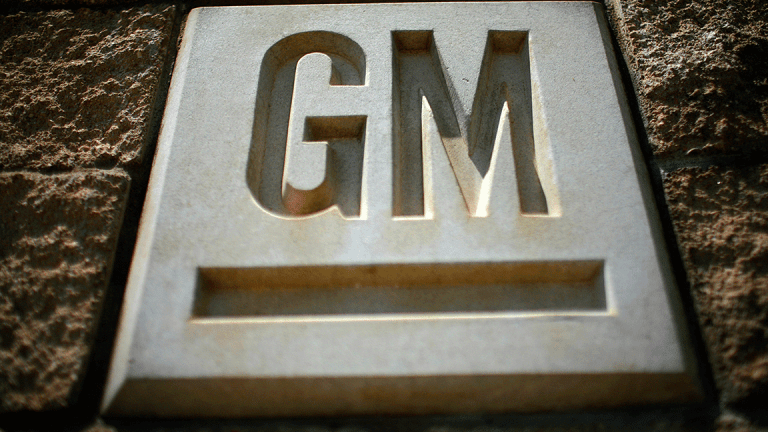 Why GM's Claim to Use 90% U.S. Steel Might Not Hold Water
The company's largest driver to use U.S. steel on the exterior of its cars is likely logistics, not patriotism. Meanwhile, the company uses various parts on the interiors of its vehicles that are made using steel from across the globe.
President Donald Trump has received backlash from dozens of companies and trade organizations this week after announcing his intention to impose tariffs on both aluminum and steel imports, but one U.S. company is brushing off the news: General Motors Corp. (GM) - Get General Motors Company Report , the nation's largest automobile manufacturer.
"We need to better understand the details around the announcement today, but the bottom line is we support trade policies that enable U.S. manufacturers to win and grow jobs in the U.S., and at the same time succeed in global markets," the company said in a statement on Thursday, March 1. "Over the last several years, we have shown we are a disciplined company with the ability to adjust and adapt to a variety of market changes around the world, and we'll do that again as needed."
Analysts weren't so convinced the consequences of the tariffs will be so easily mitigated for GM and other automakers, however. 
"This is a clear headwind for autos," RBC Capital Markets' Joseph Spak wrote Friday, March 2. "This is without even considering unintended consequences/potential trade-war."
Steel is the biggest input by weight into vehicles, Spak added. Citing Ward's data, Spak said in 2015 the average vehicle weighed 3,991 lbs. and 53.6% of that, or 2,138 lbs., was steel — 33.3% regular steel, 17.6% high and medium strength steel, 1.9% stainless steel and 0.8% other steels.
"This means the U.S. automotive industry purchases [about] 15% of all the steel consumed in the United States including 14% of all alloy steel and 21% of all stainless steel," Spak explained. "Aluminum makes up another ~10% of vehicle weight."
But the U.S. is a net importer of steel, having brought in 34.5 million metric tons of steel mill products in 2017, or 1.5 million metric tons more than exported, according to the U.S. Department of Commerce.   
Steel actually produced today in the U.S. is made in one of two ways: Either through large integrated steel mills, also called blast-furnace mills, which reduce metallic iron from ore (iron oxide) and turn it into pig iron and steel; or via a specialty steel mill, often called a mini-mill, which produces new steel products by melting steel scrap largely found in junk yards.
The latter process has largely replaced the former through the past several decades and produces the majority of steel in the U.S. today. In fact, there were just nine operating integrated steel mills in the U.S. in 2017, one owned by AK Steel Holding Corp. (AKS) - Get AK Steel Holding Corporation Report , five owned by U.S. Steel Corp. (X) - Get United States Steel Corporation Report and three owned by ArcelorMittal SA (MT) - Get Arcelor Mittal NY Registry Shares NEW Report , a Luxembourg-based multinational.
U.S. Steel has promised to bring back online its idled Granite City, Illinois, plant, if tariffs on steel imports were imposed, though analysts have asserted the facility was created shortly after World War II and is extremely inefficient. Notable mini-mill operators include Action Alerts Plus holding Nucor Corp. (NUE) - Get Nucor Corporation Report , Steel Dynamics Inc. (STLD) - Get Steel Dynamics Inc. Report and Allegheny Technologies Inc. (ATI) - Get Allegheny Technologies Incorporated Report .
GM specifically said Thursday it purchases more than "90% of its steel from U.S. production from U.S. suppliers" but that statement may be misleading for a number of reasons.
For one, it is likely a product of logistics, not patriotism, that Detroit-based GM uses mainly U.S. steel in its products, given the majority of its U.S. manufacturing facilities are in the Midwest where all nine active blast-furnace steel mills are located, Gabelli & Co. analyst Justin Bergner pointed out in an interview with TheStreet. Conversely, car companies with manufacturing facilities in the South may be more inclined to purchase imported steel because of transportation costs alone. 
Moreover, while the company claims its biggest raw material buys are steel, aluminum and resin, and a vast majority of those purchases are within the U.S., GM also purchases various parts for its vehicles that are put together by other companies using steel and aluminum that may be imported. 
Neither of the major U.S. blast-furnace steel makers -- AK Steel and U.S. Steel Corp. -- were among a list of 489 disclosed suppliers to GM compiled by FactSet Research Systems Inc.
One of the companies included on the list of 147 U.S. suppliers to GM, however, is TimkenSteel Corp. (TMST) - Get TimkenSteel Corporation Report . TimskenSteel is a mini-mill steel producer that produces alloy and carbon steel from scrap steel that is more often used on the interior of structures, including automobiles, versus the exterior structures blast-furnace steel is mainly used for, such as the body of a car. 
TimkenSteel's Chairman and CEO Tim Timken was at the White House meeting Thursday in which Trump announced his intentions for steel and aluminum tariffs, and said in an emailed statement that the measures "will help restore fair trade and strengthen not only the U.S. steel industry, but also America's national security." 
Another one of GM's top disclosed suppliers is American Axle & Manufacturing Holdings Inc. (AXL) - Get American Axle & Manufacturing Holdings Inc. Report , which produces numerous steel components for automobiles, including axles, transmission valve bodies and all wheel drive levers and gears. American Axle's products makes up 3.6% of GM's cost of goods sold, according to FactSet. The two companies have a relationship worth almost $4.2 billion, with GM making up 67% of American Axle's revenue. 
Of American Axle's 15 disclosed suppliers, three are U.S. companies, one of which is Lake Forest, Calif.-based aluminum producer Kaiser Aluminum Corp. (KALU) - Get Kaiser Aluminum Corporation Report . None, however, are steel manufacturers, with American Axle's only listed steel supplier being Mexico's Industrias CH SA de CV. 
The other notable U.S. supplier to American Axle is a metal fabrication company called Shiloh Industries Inc. (SHLO) - Get Shiloh Industries, Inc. Report , which itself takes unfinished steel, aluminum and other metals and components and produces chassis and powertrain systems for automobiles.
While Shiloh Industries' disclosed steel suppliers include U.S. companies Nucor, AK Steel, Steel Dynamics, U.S. Steel and Kenwai Steel Corp., they also include Indian steel company Tata Steel Ltd., Swedish steel maker SSAB AB, Anglo-Australian metals miner Rio Tinto Group and ArcelorMittal, according to FactSet.
In other words, tracing the path of all 3,991 lbs. of steel used in your average GM vehicle back to U.S. suppliers is far more complicated than it would seem. Because while GM may acquire 90% of its raw steel products from U.S. companies, various steel and aluminum components of its vehicles are actually produced using steel supplied from across the globe.  
GM did not return a request for comment Friday. 
WATCH Why the market is scared of the steel tariffs.