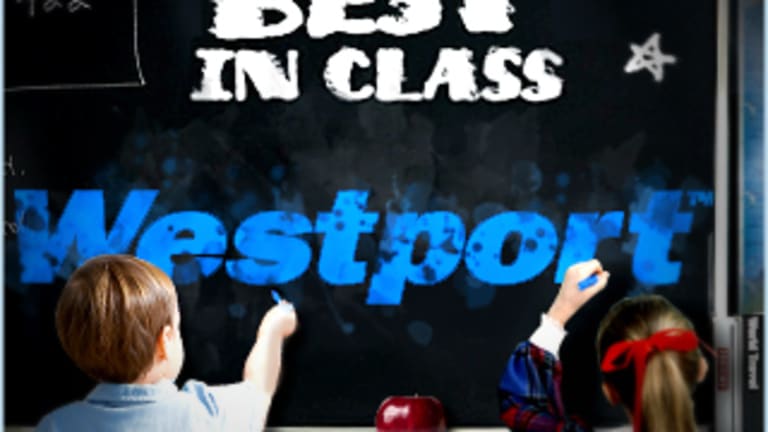 Why George Soros Is Buying Westport Innovations
Westport Innovations nabs a major investor in the first quarter: George Soros.
(Westport Innovations story updated for Senate stall on energy, Westport earnings results)
VANCOUVER, B.C. (TheStreet) -- Wind and solar stocks may get most of the trading attention from alternative energy investors, but natural-gas vehicle stock plays are attracting interest from high profile investors who are in the alternative energy story for the long run.
Westport Innovations (WPRT) is one example of a natural gas vehicle play that has lined up some notable institutions among its major shareholders.
The biggest bet on Westport Innovations occurred in the first quarter, when it was revealed by Soros Fund Management, the hedge fund group of famed investor George Soros, that it had taken a stake of near-5% in Westport shares, to become the natural-gas vehicle stock's largest shareholder.
The latest quarterly filings made by Soros and other closely watched investors, like John Paulson of Paulson & Co. and Warren Buffett of Berkshire Hathaway (BRK.B) , were revealed last week. There were plenty of energy plays from among this cadre of billionaire investors, but the Soros first quarter bet on Westport was the only stand-out bet on alternative energy.
Paulson's first quarter moves showed a bulking up in shares of oil and mining companies, like XTO Energy( XTO) and NovaGold Resources (NG) , which is nothing new for the hedge fund manager. Soros, too, has major stakes in mining companies like NovaGold and oil giants like Brazil's Petrobras (PBR) which he was increasing in the most recent quarter.
Warren Buffett, while supporting operating subsidiary MidAmerican Energy's move into wind energy, also has the distinction of being a major shareholder in Nalco( NLC) , the manufacturer of the toxic chemical dispersant that has become a point of controversy in BP's (BP) efforts to clean up the oil spill in the Gulf of Mexico.
Alternative energy stocks are notoriously volatile investments, and so it's no surprise that long-term investors have often shied away from these stocks. It can be argued that in the short history of the alternative energy sector, the stocks have done more for short-term trader profits than they have for the planet. Retail investors, hoping to make their fortunes in the next great energy solution, have been failed by these high-flying, quick to crash investments, too.
Regardless, a notable footnote in the most recent quarterly portfolio update from Soros was that while the hedge fund manager was amassing his big stake in the natural gas vehicle stock, he was closing out a 60,000 share stake in a volatile U.S. wind energy stock, Broadwind Energy (BWEN) .
Soros continues to dabble in solar stocks, too, with a minor 3,600 share stake reported in U.S. solar stock bellwether First Solar (FSLR) at the end of the first quarter. Yet even that small First Solar stake represented half of the First Solar shares that Soros hedge funds had held at the end of 2009.
"Institutional investors have become much more aware of the fact that there are lots of ways to play the evolving energy efficiency story, and it is not just solar," says ThinkEquity analyst Shawn Severson.
Westport Innovations is a small-cap stock -- and like its alternative energy peers, Westport shares can be up or down 30% in a heartbeat -- but a look at its top shareholders indicates that some brand-name growth investors believe in the natural gas vehicle story as more than a quick-flip profit, or a fingers-crossed retail investor gamble on the most volatile edge of the stock market.
Equity fund managers Lord Abbett & Co. and Driehaus Capital Management are also among the top five shareholders of Westport Innovations, and the only managers joining Soros with more than one million Westport shares owned. Lord Abbett and Driehaus Capital are also among the top ten shareholders in natural gas vehicle play Clean Energy Fuels (CLNE) .
Westport Innovations operates in two key markets within the natural gas space, and it has some well-known partners joining in its bet that the migration of the trucking industry away from diesel and toward natural gas is going to be a major transportation trend.
Westport has a 50-50 joint venture to develop natural-gas vehicle engines with Cummins (CMI) for the medium-sized truck market, Cummins Westport. Cummins is the fourth-largest truck engine manufacturer in the world.
Westport also has a patented technology to convert heavy duty (HD) diesel truck engines to natural gas as a fuel source, the Westport HD division. Last November, Westport inked a deal with Volvo (VOLVY) to supply the second-largest truck and truck-engine producer in the world with its HD truck natural gas engine technology.
In April, Westport announced a deal with Delphi Automotive Systems to supply its HD natural gas fuel injectors to the global auto supplier spun off from General Motors last year.
It's the Westport patented technology for the heavy duty truck market that sets it apart from peers in the natural gas vehicle stock space, according to analysts who cover the sector. And it's important to remember that Westport's technology for heavy duty trucks is more proprietary than other natural gas conversion kits, from players like Clean Energy Fuels and Italian company Landi Renzo( LR) , said Shawn Severson, analyst at ThinkEquity.
"These companies don't compete with Westport in heavy duty trucks. Westport has that game wrapped up," the ThinkEquity analyst said.
Nevertheless, the critical question is, When this game that the analyst refers to will actually begin?
The natural gas vehicle stocks received a big -- albeit "iffy" -- endorsement, when the climate bill recently introduced by the Senate included a provision from the T. Boone Pickens-supported Natural Gas Act to double the size of the current federal subsidy for trucking fleet operators, including the long-haul truckers and shipping companies, to purchase natural gas powered vehicles.
Stocks like Clean Energy Fuels spiked on the introduction of the climate bill. Yet given the uncertain fate of the climate bill -- some analysts believe it may never see the light of "legislative passage" day in 2010 -- these natural gas vehicle stocks remain extremely volatile.
>>Green Stock Losers: Westport, Clean Energy
A telling example of the difficulty in timing entry into a stock like Westport is the fact that Jefferies recently downgraded Westport to market perform from outperform, based on the fact that the Jefferies analyst believes it might take until 2011 or 2012 until the federal climate mandate passes.
Ultimately, it's still a moving target as to how long it will take for the long-term natural gas story to play out in terms of profitability returned to shareholders.
In fact, now that the Senate has again delayed introduction of the bill, some analysts believe that long haul trucking companies and other likely purchasers of natural-gas trucks will delay capital spending until the federal government makes the doubling of the natural-gas vehicle subsidy law.
The Jefferies analyst is expecting a breakeven year in 2011. However, the price target of $20 to which Jefferies lowered Westport is still well above its current share price of $15.
Westport revenue and gross margin both increased in the most recent quarter, but the company is still striving to reach the stage of true commercialization of its technology.
Westport's just reported first fiscal quarter of 2011 was not a game-changer: a small miss on revenue and an in line earnings per share loss of 21 cents. The revenue miss was attributed to a delay in shipping some product that will show up in the next two quarters, so it won't impact the full year revenue picture.
The Westport earnings didn't provide much incremental information, and the Street maintains its position that the recent trading on the political hopes has to be separated from the multi-year time horizon.
>>Natural Gas Vehicle Stocks to Watch: Earning Outlook
There is a reason why Westport has the least short interest of the three leading natural gas vehicle plays in the U.S. When the energy legislation passes is less important to the bullish Westport view than the conviction that earnings momentum will be generated in the second half of 2011 and 2012. Therefore, if Westport shares continue to slip after having reached a 52-week high in late July -- the shares were down 2% on Thursday morning -- bullish investors may want to add to long-term positions.
ThinkEquity's Severson says that when an investor looks at stocks like Westport or Clean Energy Fuels, it's still hard to apply fundamentals in terms of valuation for companies that don't make any money. These are volatile names, very much caught up in sentiment trading, whether it is oil prices or legislation. Nevertheless, the ThinkEquity analyst thinks that the long-term fundamentals are a separate issue, and all the short-term volatility doesn't impact the strategy of a long-term investor like Lord Abbett.
The ThinkEquity analyst cautions investors that with Westport the investor is still making a singular bet on natural gas as a fuel technology, and for those interested in the natural-gas vehicle theme, it will still be a waiting game. An investor can trade any of these alternative energy names, without a good management team in place and without profits, and make money, but that is not the point for a long-term investor.
Profitability for Westport could still be a few years out, yet the trend to natural-gas vehicle fleets is accelerating, and simple economics of the business work in its favor, with the big "if" of the federal government doubling the existing tax credit for natural gas vehicle purchasers.
ThinkEquity's Severson says it's best to think of clean technology investments in terms of return on investment (ROI). Trucking companies know how much they spend on fuel and how much a natural gas vehicle costs, and how long the payback period will be after migrating away from diesel.
Westport estimates the cost of a standard heavy duty truck at $106,00. After a doubling of the existing tax credit for purchasers of natural gas trucks, the cost of the clean fuel vehicle would be $118,000. These economics would make the payback period a little over seven months for the purchasers of natural gas trucks, based on the assumption of a $1 difference in the price of natural gas and diesel fuel, and 20,000 gallons of fuel consumed annually.
Regardless, as long as the market lacks clarity on the federal tax credit, purchasing behavior will remain uncertain. Yet analysts say that the earnings of these natural gas vehicle companies are already lumpy. What's more, all the major truck purchasers knew that the federal government was going to introduce comprehensive energy legislation at some point, so the long-term reasons for investing in these stocks amid all the short-term market noise has not changed.
"It's changed a lot in the last year, with more investors now aware of the natural-gas truck industry as an investable theme. We're past the stage of education and we've entered the stage of 'when to buy,'" said ThinkEquity's Severson.
-- Reported by Eric Rosenbaum in New York.
RELATED STORIES:
>>Natural Gas Vehicle Stocks to Watch: Earning Outlook
>>Climate Bill Winners: Clean Energy Fuels
>>Climate Bill Stalls Natural Gas Vehicle Staocks
Follow TheStreet.com on Twitter and become a fan on Facebook.
Copyright 2009 TheStreet.com Inc. All rights reserved. This material may not be published, broadcast, rewritten, or redistributed.