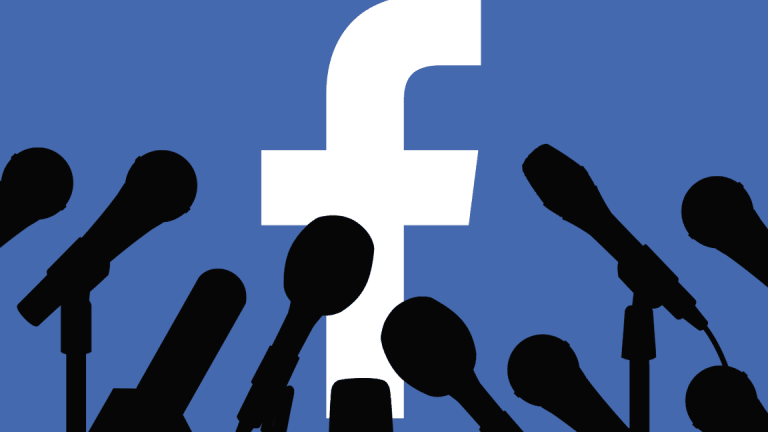 Why Facebook Is Starting to Spend Like a Media Giant
Mark Zuckerberg's company now seems very comfortable striking expensive deals for video and music content.
A year ago, Mark Zuckerberg insisted Facebook (FB) - Get Report is "not a traditional media company." And as long as Facebook wasn't directly investing in content, but simply writing algorithms that determined what third-party content users saw, that was a fair assessment. Even if it didn't appease critics bothered by how those algorithms worked.
But as 2017 winds down, the lines are increasingly blurring. The social media giant is becoming quite comfortable using its checkbook to obtain traditional media content. And arguably, the change in thinking is a product of a few different Facebook priorities.
On Dec. 21, Facebook and music giant Universal Music Group (UMG) announced a multi-year deal that allows music from Universal artists to be used in videos shared by Facebook, Instagram and Oculus users. Notably, the deal also calls for Facebook and UMG to "experiment hand-in-hand to introduce new music-based products" to Facebook platforms, including Messenger.
Terms of the deal are undisclosed, but it probably wasn't cheap. Back in September, Bloomberg reported Facebook is offering music labels "hundreds of millions of dollars" for licensing rights.
Separately, The Verge reports Facebook is talking with Warner Music and Sony Music about licensing deals. In May 2016, Facebook said it was testing a product called Slideshow that lets users share photo/video slideshows that have Warner Music content as their soundtracks.
The UMG deal follows a string of reports indicating Facebook is ready to spend heavily its recently-launched, ad-supported, Watch platform for professional videos. Specifically:
The Wall Street Journal reported in September Facebook is willing to spend up to $1 billion through 2018 on original shows for Watch.
Sports Business Journal reported earlier this month that Facebook wants to hire an exec to negotiate major sports rights deals, and will give that exec a budget of "a few billion dollars."
Digiday just reported Facebook "is increasingly seeking bigger-budget video shows that it can own outright" for Watch, and -- though partners can independently create and launch such content for Watch -- doing away with investments in short-length "spotlight" shows. The site previously reported Facebook is ending a program that paid publishers to create live and on-demand content appearing in its main news feed.
What's driving these moves? I think three factors are at work:
1. Facebook wants more ad inventory, especially of the video kind.
As the company has cautioned would happen, Facebook is no longer significantly increasing its news feed ad load -- the number of ads that appear for a given amount of news feed viewing. That's led Facebook's ad impression growth to slow meaningfully, which in turn has (together with the quality of Facebook's ad products and targeting tools) led ad prices to start rising more sharply. Facebook's average ad price grew 35% annually in the third quarter, while its total ad impressions and clicks only rose 10%.
Should it take off, Watch will create a lot of valuable video ad inventory that Facebook can sell to brand advertisers. Likewise, though details are light for now, licensing deals with big music labels should pave the way for new ad-supported music content (whether involving video or audio streams) that can be shared with family and friends.
2. Facebook wants to change how its main app is used.
While discussing Facebook's video efforts, Mark Zuckerberg has stressed that Facebook wants its main app to become a place that users visit for the purpose of seeing content from their favorite creators, rather than just seeing news feed videos pushed to them by an algorithm. But relative to Alphabet/Google's (GOOGL) - Get Report YouTube, Facebook clearly has a lot of catching up to do.
To change how users perceive Facebook's app as an entertainment source, the company needs to build a critical mass of quality and easily-discoverable media content. And though its massive scale will result in third parties supplying some of this content on their own, YouTube's big head-start means that Facebook also has good reason to pay for popular material.
Jim Cramer and the AAP team hold positions in Facebook and Alphabet for their Action Alerts PLUS Charitable Trust Portfolio. Want to be alerted before Cramer buys or sells AAPL or GOOGL? Learn more now.
3. Facebook wants to encourage more sharing of user-generated content.
Since mid-2016, Facebook has been trying hard to reverse a decline in the sharing of "original" content (i.e., status updates, photos and video taken on a user's phone) within its core app. Among other things, the company has overhauled its news feed algorithms to show user-created content more often, and has gotten more aggressive about notifying users when a "friend" has shared something.
Striking music-licensing deals that allow popular songs to be used with content uploaded by regular users is one more step in this direction. Facebook's efforts to promote original sharing still face some big challenges -- as users add more and more Facebook "friends," they often become more selective about what they share, and opt to move some of their sharing to messaging apps -- but it can't be accused of not taking the effort seriously.
Jim Cramer and the AAP team hold positions in Facebook and Alphabet for their Action Alerts PLUS Charitable Trust Portfolio. Want to be alerted before Cramer buys or sells FB or GOOGL? Learn more now.
More of What's Trending on TheStreet: