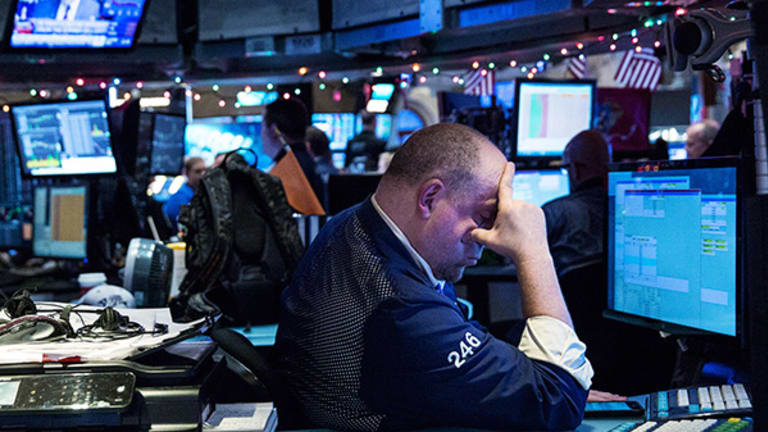 Why Euro Zone Could be Headed Back into the 'Doom Loop'
Uncertainty about Monte dei Paschi's rescue make Italy look vulnerable.
Uncertainty about Monte dei Paschi's rescue make Italy look vulnerable.
As jitters about Germany's largest bank, Deutsche Bank (DB) - Get Report   continue to reverberate through European markets, economists have warned about the risk of a so-called doom loop reemerging to ensnare banks and governments.
Record low interest rates and the ECB's quantitative easing program are fueling these risks by artificially suppressing market risk premiums.
In addition, there are country specific problems, notably in Italy, where a non-performing loan crisis threatens financial stability and a looming referendum on constitutional reform points to political upheaval later in the year. 
The 'doom loop' moniker gained traction in the euro zone's sovereign debt crisis of 2009 to 2010, where the interdependence of the banking sector and governments brought countries including Greece, Ireland and Portugal to their heels. Since then EU regulators have worked hard to snip the loop, for example by establishing the European Stability Mechanism to support cash-strapped nations.
Late Monday news that  Monte dei Paschi (BMDPY)  is considering reconfiguring an ambitious rescue program brought lenders' problems to the fore once more.
"There is more to do to clean up the EZ banking sector, especially in Italy and the negative feedback loop between bank and sovereign credit risks could well re-emerge" said Bronka Rzepkowski of Oxford Economics.
The doom loom often begins when a bank's , or wider banking sector, problems spark speculation about  government bailouts, which can in turn push government bond prices down and yields up.
Those lower government bond prices then erode the mark-to-market value of capital held in reserve within the banking sector and crystallize into losses in a bank's profit and loss statements, thereby exacerbating concerns over the stability of the system.
The struggle of Italian institutions against a record pile of non-performing loans has worried banking sector investors for years, but the feedback into Italian government bonds has been nonexistent given that the perceived risk of state intervention has been low. But this could soon change.
"There are two possible catalysts for a widening in bank and sovereign spreads in Italy in the coming months: a 'No' to the constitutional referendum (4 December) and a failure of the private sector to recapitalize Banca Monte dei Paschi da Siena (MPS)." said Rzepkowski.
On Dec. 4, the Italian electorate will vote in a referendum on whether to wave through constitutional changes that the nation's government and European regulators have pitched as being critical to much needed reforms of Italy's legal and economic governance.
Should the electorate reject the reforms, it would not only call into question public confidence in Italy's current leadership, it could dent market confidence in the long-term prospects of the Italian economy and cast a further shadow over a financial system that is already on the rocks.  
On Monday night Monte dei Paschi announced that it is now considering a voluntary debt-for-equity swap as part of its rescue, presumably in place of the supposed €5 billion ($5.6 billion) rights issue that was due to be carried out before the end of September.
For Monte dei Paschi's rescue to work without a rights issue, it would have to persuade at least some of its creditors to take an equity position in the bank. Without this, the Italian government could be forced to make use of a politically sensitive exemption to European rules on state aid, and to rescue Monte dei Paschi itself.
The warning from one of the U.K's leading independent consultancies is salient, not just because of Monte dei Paschi and the Italian banking system, but because a doom loop can also be induced from the sovereign side by a sharp rise in government bond yields.
"In the EZ....banks have increased their government bond holdings and may therefore incur severe losses when sovereign yields start to rise," Rzepkowski explained.
Yields could rise if financial or economic distress leads investors to perceive that a sovereign might need to come to the aid of its banking sector. But equally, an eventual economic recovery in the eurozone could also force yields higher if the market senses that ECB support is about to be taken away.
According to Oxford Economics research, European banks have bought €645 billion of sovereign bonds since the beginning of 2015, which is substantial even when compared with the €1 trillion of bonds bought by the ECB in its quantitative easing program.
Rzepkowski said: "The longer that unconventional monetary policies are maintained, the higher the level of financial vulnerability and the more brutal the market reaction will be when monetary policy is normalized."
And remember Greece? My colleague Antonia Oprita of Real Money, TheStreet's premium site for active traders, writes that you can sum up a new International Monetary Fund report on Greece with three words: "Nothing has changed." Click here to check her column out.