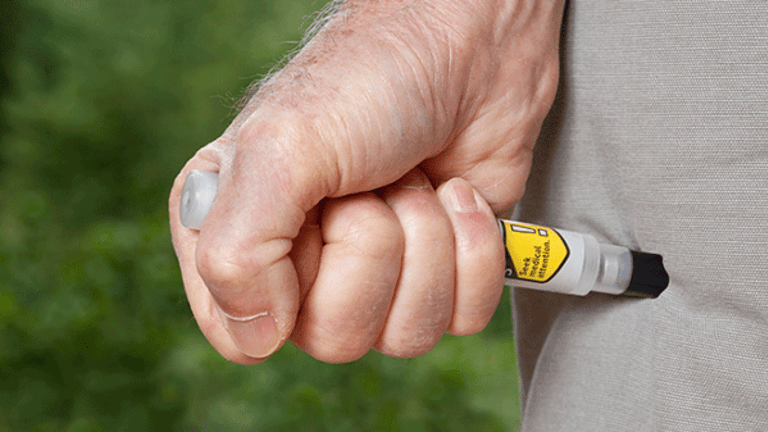 Why EpiPen, Why Now? Analysts Explain the Timing of Mylan's Trouble
The pharma company has been increasing the price of the epinephrine injector since 2007, so why are people finally taking notice?
Shares of EpiPen maker Mylan (MYL) - Get Viatris, Inc. Report continued to take a beating Wednesday as patients and politicians questioned the company's decision to increase prices of the lifesaving drug.
Mylan's shares fell to $2.49 Wednesday, or 5.5%, to a close of $43.13 per share. The stock has fallen about 40% since April 2015.
EpiPen, which is used as an emergency injection for anaphylaxis (a severe allergic reaction), can cost patients more than $600 for a pack of two autoinjectors. Changes ushered in by the Affordable Care Act have pushed much of that cost onto patients, especially those with high deductible healthcare plans, rather than insurance companies.
Presidential candidate Hillary Clinton, as well as senators Susan Collins (R-Maine) and Claire McCaskill (D-Mo.) issued statements Wednesday questioning the rising prices of the drug.
"For much of its product life, EpiPen was an affordable solution to a matter of life and death-it allowed countless Americans to save the lives of individuals suffering from allergic reactions that kill in a matter of minutes (a timeframe often too short to allow for trained medical intervention)," the two senators wrote in a letter to Mylan CEO Heather Bresch. "But since Mylan acquired EpiPen in 2007, it has implemented a cumulative 480-percent price increase."
Clinton issued a statement in which she called EpiPen's price increases, which are actually more like 25% per year since the product was acquired in 2007, "outrageous."
So, why EpiPen, and why now?
Raymond James & Associates' Elliot Wilbur said the hoopla surrounding the EpiPen is simply the latest in a series of "increasingly vocalized public outings and shamings of pharma companies that are perceived to raise prices more dramatically than they should have... The price has gone up at twice the rate of drug price inflation over the last 10 years. I don't think that's sustainable in the current environment."
Wilbur said Mylan, which actually donated to the Clinton foundation, has been increasing EpiPen's prices by about 25% each year compared to the the drug industry overall that typically sees about a 10% increases in drug prices each year.
Wilbur noted that EpiPen's price boosts are not as excessive as many media reports have made them out to be.
"If you look at their sales the last four years, total prescriptions have gone up 25%," Wilbur said. "Mylan's sales have gone up 50%."
Mylan, however, is not the only company to boost drug prices so steeply.
"They're far from being the only ones, they're just the one that got caught," analyst Ronny Gal of Bernstein said in an interview. "Their product is being used by a large swath of people."
He pointed to Humira, a rheumatoid arthritis biosimilar that is sold by AbbVie Inc. (ABBV) - Get AbbVie Inc. Report as another example of the "price gouging" going on in the drug industry. Prices were increased 20% this year, but since a much smaller group of people use the drug, the outcry was much smaller.
The other impetus for the recent public out-cry: the cyclical nature of EpiPen's sales.
"It's somewhat seasonal," Gal said adding that the back-to-school season is when most families feel the crunch as they look to make sure their children are properly equipped .
"With Americans across the country sending their children back to school this month, many parents and schools are encountering sticker shock over the cost of EpiPens," said Andrew Gurman, president of the American Medical Association in a statement. "Although the product is unchanged since 2009, the cost has skyrocketed by more than 400 percent during that period."
The other issue, is a lack of awareness of alternatives.
"There is a suggestion that there's not alternatives," Wilbur said. "There are multiple alternatives."
There are generics available, like Amedra's Adrenaclick. Patients could also opt to carry syringes of epinephrine, although there are concerns about the safety about that method.
Teva Pharmaceuticals (TEVA) - Get Teva Pharmaceutical Industries Limited American Depositary Shares Report also has a generic in the pipeline, which will likely get FDA approval in 2017. Some speculate that the FDA could push approval to this year in hopes of combating the high EpiPen prices.
"The FDA wants the drug and device to be as similar as possible," Wilbur said. "I think the FDA is very apprehensive about potentially making a mistake."
He pointed to the recent failure of Sanofi's (SFY) - Get SoFi Select 500 ETF Report Auvi-Q, a sleeker alternative to EpiPen that was recalled late last year because it delivered too much epinephrine to patients.
Still, though, analysts believe that Mylan is a decent investment opportunity.
McCaskill and Collins are calling for Mylan to brief the Senate Aging Committee on the price increases of EpiPen within the next two weeks. They join Sen. Chuck Grassley (R-Iowa) and Sen. Richard Blumenthal (D-Conn.), who wrote letters to the pharmaceutical company, and Sen. Amy Klobuchar (D-Minn.) who called for a judiciary hearing and an FTC investigation into Mylan Aug. 22.
Still, company followers aren't terribly concerned with the financial impact the public outcry will have on the company.
"From a stock valuation standpoint I think it's compelling," said Bernstein's Gal. "It's a stock we recommend."
Raymond James' Wilbur agreed.
"I think there's still tremendous growth opportunity, making sure everyone who is at risk for anaphylaxis knows it," Wilbur said. "There's still a significant growth trajectory ahead just by expanding the volume of sales."
Wilbur noted that there is still a vast portion of people with allergies and anaphylaxis who do not have a rescue auto injector like EpiPen, which Mylan could tap into.
Mylan headed by CEO, Heather Bresch, the daughter of Senator Joe Manchin (D-W.Va.), did not respond to calls seeking comment.