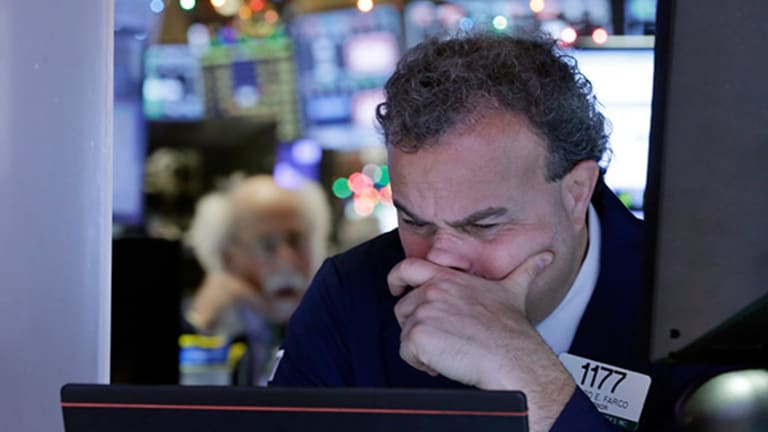 Earnings From These 3 Companies Hint at a Looming Market Selloff
Danger ahead?
Three industrial bellwethers reported fourth-quarter and full-year earnings on Thursday morning, and unfortunately, investors didn't like what they saw.
Shares of Caterpillar (CAT) - Get Free Report , Ford Motor (F) - Get Free Report  and Whirlpool (WHR) - Get Free Report closed the day down 0.95%, 3.28% and 8.55%, respectively.
But the companies' disappointing results may hint at a larger issue within the U.S. economy and signal an imminent market pullback.
Caterpillar reported quarterly earnings of 83 cents a share on revenue of $9.57 billion, compared with estimates of 66 cents a share but revenue of $9.8 billion. For the full year, revenue came in at $38.5 billion, down 18% from 2015, largely due to fourth-quarter sales falling 13.2%.
In addition, to the revenue miss, investors were also concerned about the company's 2017 outlook.
Management lowered revenue guidance for this year by $500 million to $37.5 billion and adjusted earnings-per-share guidance to $2.90. Analysts had been expecting full-year 2017 earnings of $3.04 a share.
Caterpillar Chief Executive Jim Umpleby told investors that "weak economic conditions around much of the world" hurt results.
Furthermore, management said that while some of President Donald Trump's infrastructure spending and tax reform plans will have positive consequences for the company, Caterpillar doesn't expect to see meaningful effects from these changes until next year.
Ford Motor, meanwhile, reported quarterly adjusted earnings of 30 cents a share, below the consensus estimate of 34 cents a share. Sales came in at $38.7 billion, whereas Wall Street had been looking for revenue of $25.5 billion.
Management's guidance for 2017 was lower than the results posted last year.
Chief Executive Mark Fields said he had discussed emissions and gas mileage requirements with Trump at a recent meeting and downplayed the possible impact of a border tax on Ford Motor.
Ford Motor recently canceled its plans to move a production plant to Mexico.
Ford's CFO says Asia Pacific profit will improve this year:
As for Whirlpool, the appliance manufacturer reported adjusted earnings of $4.33 a share or un-adjusted earnings of $2.36 a share on revenue of $5.66 billion in the fourth quarter. Wall Street was expecting adjusted earnings of $4.52 a share on revenue of $5.58 billion.
Management blamed the Brexit for an 80-cent-a-share loss in the second half last year.
Again, it should be noted that Whirlpool's CEO Jeff Fettig was one of many executives who met with Trump on Monday to discuss international trade, regulation and tax reform. The company plans to cut jobs in its Africa, Europe and Middle East region, which is likely a sign that management sees weakness in parts of the world that a U.S. tax cut or a U.S.-initiated trade war wouldn't help.
Since Trump was elected, stocks across the board have risen, with the major market indices hitting all-time highs. And though most of the gains have come from companies that would benefit from the reforms he promised during his campaign, investors may have pushed stock prices too high too quickly.
As Caterpillar's management said, it is likely that Trump's infrastructure plans, tax reforms or weaker Environmental Protection Agency regulations won't have an impact on business operations for a year or more. Investors need to focus on future business opportunities, organic growth and valuation when deciding what to buy, not how political policy changes will boost earnings.
Remember, high earnings due to lower tax rates don't mean that a company or the economy is healthy. It just means that a business is moving more money from its top line to its bottom line.
---
Want a list of seven companies that would be worth owning, no matter what kind of investor you are or what direction the market is moving? The list gives you access to stocks that you will profit from regardless of what the markets do. With many calling for a coming crisis, now is the perfect time to make sure you and your portfolio are protected. Each one of these powerful, yet overlooked companies barely notices when the market tumbles. And they'll skyrocket when it rebounds. You can pick all seven up for pennies on the dollar right now. But that'll change the instant average investors catch wind of just how bad things really are. Get their names here before it's too late.
The author is an independent contributor who at the time of publication owned shares of F.