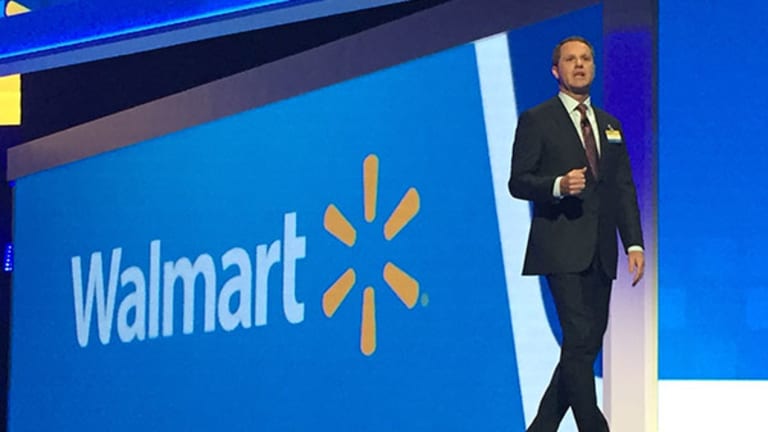 Why Doug McMillon Is the First-Ever Walmart CEO to Star in a TV Commercial
Walmart is now using its youthful, tech savvy CEO to help improve public perception.
Walmart (WMT) - Get Free Report CEO Doug McMillon is a baby-faced 49-year-old, 6-foot-2, and looks great in a tailored suit. He's a dad who knows how to use Instagram and comes off as highly relatable. He had a regular-guy upbringing that included a stint working in Walmart warehouses while he was in high school. 
So, why not put him on TV to promote some of the labor initiatives he has set in motion since he became Walmart's CEO in 2014?
That's precisely what Walmart has done. A 30-second TV spot, first aired in select markets in July, stars McMillon. (The video is below.)
A source close to the matter said Walmart checked its archives and couldn't find any TV commercials with other CEOs; McMillon is the first-ever Walmart CEO to be in one. Walmart founder Sam Walton may have been in a print advertisement, but the source hadn't been able to find it to confirm.
The new ad is what is known as a reputational ad, targeted toward improving public perception. From a Walmart perspective, the ad seeks to "emphasize who we think we really are and counter the critics."
The TV ads are mostly being run in Washington, D.C., and New York, two areas where Walmart for years has dealt with outcry from government officials and members of the public that the retailer pays workers too little and puts small businesses under with its low prices.
"I am Doug, and here at Walmart we are committed to taking care of the people who take care of you," says McMillon. Throughout the spot, McMillon -- a frequent user of Instagram and Facebook -- is scrolling his verified Instagram account on a Samsung smartphone showing off pictures he has taken with Walmart workers. At last check, McMillon had 14,200 Instagram followers, up from 6,379 when the commercial was taped.
"A lot of folks like to share stuff, but the reason I share is that I am proud of the people I work with -- that's why we are investing $2.7 billion over two years in training, education and higher wages." McMillon says. 
The source said no future TV spots with McMillon are planned at the moment.
"I like him," said retail expert and professional investor Jeff Macke of McMillon. "He's got a perfect backstory -- seems straight out of central casting." Macke added, "He's got the right balance between being relatable and aggressive, and those are his best tools for getting Walmart moving towards digital."
Walmart's use of its well-regarded CEO on TV comes as McMillon is gaining momentum with his turnaround strategies.
Walmart CEO Doug McMillon shows off his fist-bump skills on Instagram.
Second-quarter sales rose 0.5% to $120.8 billion, beating Wall Street forecasts of $120.2 billion. Earnings came in at $1.07 a share against the $1.02 a share estimate of analysts. Walmart guided to a range of 95 cents a share to $1.08 a share three months ago. The company lifted its full-year profit forecast to $4.15 a share to $4.35 a share from its previous outlook of $4 to $4.30 a share.
Shares of Walmart are up about 18% year to date, outperforming the 6.6% gain for the Dow Jones Industrial Average.
The standout during the second quarter was the sales strength at Walmart U.S., especially as rival Target (TGT) - Get Free Report reported a surprising sales decline. Walmart U.S. notched its eighth straight same-store sales increase with a gain of 1.6%. All three of Walmart's product categories -- grocery, general merchandise, and health and wellness -- saw sales growth.
Walmart's U.S. sales were driven by more people visiting its supercenters as traffic rose for the seventh straight quarter. The traffic gains arrived as Walmart started slashing prices earlier this year in areas such as food and household products as part of a multi-year, billion-dollar-plus investment in lower prices. Sales have also likely been lifted by over 1.2 million better-paid Walmart workers spending more on their weekly essentials.
In February this year, Walmart raised its minimum wage for store workers hired before Jan. 1 to at least $10 per hour from $9 an hour. New entry-level workers will continue to start at $9 an hour but can move to $10 an hour in six months by going through a training and development program.
Walmart workers that already earned more than $10 an hour received a pay increase of about 2%.
When asked when McMillon will be joining other prominent CEOs such as PepsiCo's (PEP) - Get Free ReportIndra Nooyi and Coca-Cola (KO) - Get Free Report CEO Muhtar Kent on Twitter, the source said not soon. Apparently, the tech savvy Walmart CEO, who just signed off on a $3 billion deal for online marketplace Jet.com, likes the visual story-telling aspects of Instagram and Facebook better. 
PepsiCo is a holding in Jim Cramer's Action Alerts PLUS Charitable Trust Portfolio. Want to be alerted before Cramer buys or sells PEP? Learn more now.