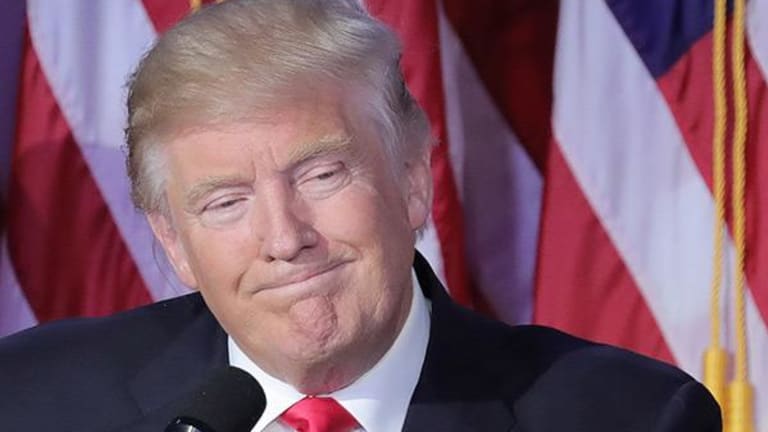 Publish date:
Why Donald Trump's Victory Is a Boon for Some Banks, but Not All
The Republican sweep of Congress is a clearly positive result for deals between mid-sized banks, but a negative for the biggest financial institutions.
The Republican sweep of Congress is a clearly positive result for deals between mid-sized banks, but a negative for the biggest financial institutions.
Editors' pick: Originally published Nov. 9.
Donald Trump's remarkable election as president and the Republican sweep of Congress offer a boon for mergers among mid-sized regional banks while dealing a potential blow to the biggest financial institutions through a House plan to change, if not repeal, the Dodd-Frank financial reform law.
The results have opened the door over the next couple of years for legislation that would raise the $50 billion threshold at which a big bank automatically becomes designated systemically important to some higher level, regulatory analysts in Washington said.
Banks designated as systemically important financial institutions, or SIFIs, are subject to tougher liquidity requirements as well as an obligation to draft living wills explaining how they would unwind themselves in bankruptcy. Republicans had been seeking to raise the threshold to $500 billion, but a $250 billion limit is more likely.
Raising the SIFI threshold at least somewhat is a real possibility, said Don Lamson, of counsel at Squire Patton Boggs in Washington and a former regulator at the Office of the Comptroller of the Currency.
Further, "if you do raise the SIFI threshold, you will see more merger activity," Lamson said.
Banks that would benefit from a SIFI threshold hike -- and ones that might consider engaging in M&A once the restriction is increased -- include Zions Bancorp (ZION) - Get Report , CIT (CIT) - Get Report , Comerica (CMA) - Get Report and Huntington Bancshares (HBAN) - Get Report , as well as a few other regional banks with small-enough asset bases to curb the risk of crossing a SIFI threshold.
Raising the benchmark to $500 billion would likely encourage even bigger regional banks to acquire mid-sized institutions such as BB&T (BBT) - Get Report and KeyCorp (KEY) - Get Report .
In addition, regional banks and other financial institutions with a large exposure to overdraft fee revenue should benefit because the Consumer Financial Protection Bureau's work on the issue will slow or stall under a Trump administration, said Isaac Boltansky, analyst at Compass Point.
Beneficiaries include:
Regions Financial
(RF) - Get Report
,
TCF Financial
(TCB)
,
BOK Financial
(BOKF) - Get Report
and
International Bancshares
(IBOC) - Get Report
.
While it's unclear what community bank restrictions might be eased, Lamson and others said the combination of Trump's presidency and a Republican-controlled Congress will also likely be a positive for community banks.
Lamson hopes the Federal Reserve under Trump would ease restrictions and make it easier for private equity firms to buy community banks without falling under existing and onerous bank holding company requirements.
"You either are going to permit private equity to come in and buy small banks at realistic price levels or you are going to see them go into liquidation," Lamson said. "These smaller banks can't make it. You need to find a way to permit small banks to exit the market."
Mark Calabria, director of financial regulations at the Cato Institute and an ex-senior staffer on the Senate Banking Committee, said the election will yield a much less aggressive Financial Stability Oversight Council.
The FSOC was set up, partly, to designate non-bank financial institutions as SIFIs after regulators failed to identify and oversee significant risk-building up before the crisis at mega-insurer American International Group (AIG) - Get Report . 
The vote will also probably help incoming Senate Banking Committee Chairman Mike Crapo, R-Idaho, push through a higher threshold, Calabria said.
However, even with a Republican sweep, significant regulatory risk remains for the largest U.S. banks, including Citigroup (C) - Get Report , JPMorgan Chase (JPM) - Get Report , Wells Fargo (WFC) - Get Report , Bank of America (BAC) - Get Report , Morgan Stanley (MS) - Get Report and Goldman Sachs (GS) - Get Report .
EXCLUSIVE LOOK INSIDE: Citigroup and Wells Fargo are holdings in Jim Cramer's Action Alerts PLUS charitable trust portfolio. Want to be alerted before he buys or sells the stocks? Learn more now.
Analysts and ex-banking committee staffers say Trump's lack of focus on big bank regulation -- beyond comments urging a repeal of the Dodd-Frank Act -- puts a spotlight on legislation crafted by House Financial Services Committee chief Jeb Hensarling. The Texas House member's bill would repeal large parts of Dodd-Frank, written in the wake of the 2008 financial crisis.
"Hensarling will definitely be in the driver's seat, and the GOP will definitely see this as a mandate to change, if not repeal, Dodd-Frank," said Calabria.
Jaret Seiberg, analyst at Cowen & Co., said Dodd-Frank is unlikely to disappear under the Trump administration. The results do make Hensarling a new "power broker" however, and his bill, the Financial Choice Act, the hot legislative package on Capitol Hill.
The legislation would repeal and restructure a large part of Dodd-Frank in exchange for tougher leverage and capital restrictions that could drive big banks to slim down through divestitures. "We remain dubious about the benefits to banks if the legislation advances," Seiberg said.
In addition, Seiberg said a real risk remains that a modern version of the 1933 Depression-era Glass-Steagall Act could be approved. The measure would effectively break up the largest banks by separating their investment banking units from the commercial bank divisions.
"We continue to see this as the one issue that unites the far right and the far left," he said. "It was also part of Trump's platform."
In addition, Seiberg said top bank-breakup advocates, including Federal Deposit Insurance Corp. vice chairman Tom Hoenig and Minneapolis Fed President Neel Kashkari could "surprise folks by getting" the ear of the Trump administration.
"It is why we believe, even in the new political environment, that policy will favor regional banks over the mega banks," Seiberg said.