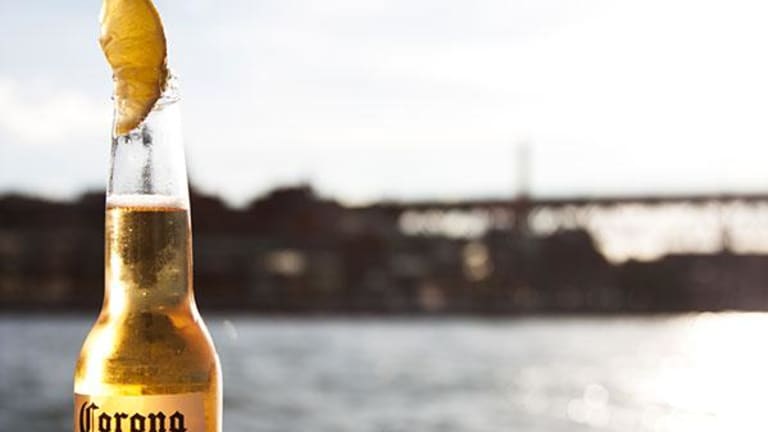 Why Corona's U.S. Marketer's Latest Deal May Be One Too Many
Constellation Brands buys a Mexican brewery at a lofty premium and may be itching to do more deals, all of which is an argument for staying away from the stock.
Constellation Brands (STZ) - Get Constellation Brands Inc. Report said Monday it would buy a Mexican brewery from Anheuser-Busch InBev (BUD) - Get Anheuser-Busch Inbev SA Sponsored ADR (Belgium) Report , adding some badly needed beer production capacity to its portfolio, but does so at the risk of further straining the already high leverage for a well-loved company.
Constellation, the premium beer, wines and spirits company, trades at a forward P/E of 24 times, and, at $168, its shares are already in nose bleed territory, with its 17% year to date gain more than quadrupling the improvement in the S&P 500.
What's more, there's always the risk that Constellation is going to put on its own beer goggles and decide the time might be ripe to make another splashy acquisition, such as Boston Beer (SAM) - Get Boston Beer Company Inc. (The) Report , the struggling maker of the premium craft product line of Sam Adams.
Boston Beer has been staggering on its own lately, with shares off 22% year to date, after the company this month lowered its sales forecast as it struggles to identify its niche in an increasingly crowded craft beer market. Sam Adams would solve a few problems for Constellation Brands: for one thing it would offset the perception of seasonality that plagues Constellation's increasingly important suds sales.
Consumers, millennials included, embrace what the beer industry likes to call the premiumization of the upper echelon of the suds market, in particular Constellation's mostly Mexican themed products, which include the U.S. rights to the super popular Corona Extra.
But the sensibility among those consumers is that anything you spike with a wedge of lime belongs to seasons and locales where there's sand between their toes. Once football season kicks off, and those beer boys are tailgating in the parking lot of a stadium, it's time to say hasta la vista to Corona, and head back to Bud Lite. Oh, and in cans, please. (You can't toss around the old pigskin while you're trying not to drop a slippery bottle.) Corona, you'll have noticed, pretty well comes in bottles.
Beer sales have become an increasingly important part of the Constellation portfolio. Suds accounts for 55% of sales, but 70% of profits. Most of its product line is priced at a premium to the comparatively blander U.S. products that Bud and Miller peddle. Consumers absorb the price point because they like the association with a classier product. And beer drinkers evidence more brand loyalty than wine tipplers, who tend to graze among brands, and certainly more so than Constellation's miniscule spirits business, which accounts for only five percent of company sales.
Monday's deal to snatch up the Grupo Modelo brewery in Obregon, Mexico, for $600 million—the deal ultimately struck with Grupo Modelo's parent Anheuser-Busch—is a nice tuck-in for Constellation. The brewery will add 4 million hectoliters of capacity to Constellations current 27.5 million hectoliters of production. (And, no, don't ask us what a hectoliter is, except that it's unlikely that we'll consume even one while watching the Browns lose another one this Sunday.) Constellation is persistently capacity-challenged, so anything that helps plug that hole is welcome.
Some analysts worry that the beer market could turn economically sensitive. Not that suds guzzlers would start to drink water while watching their NFL team break their hearts every Sunday afternoon. But if GDP were to contract some more, football fans might trade down from premium to Pabst. And that a company with a high debt load, like Constellation, might face the prospect of cutting its dividend. Given that the founding family controls the voting rights via the Class B shares—meaning individual investors have limited power to thwart any takeovers—the yield is about the best reason retail investors have to hold the stock.
None of which is to say that Constellation isn't one of the standouts in the category. It's just that as it's already working to digest last year's $1 billion acquisition of Ballast Point, and now the Obregon brewery, another big acquisition could threaten to leave shareholders without a barstool to squat on.