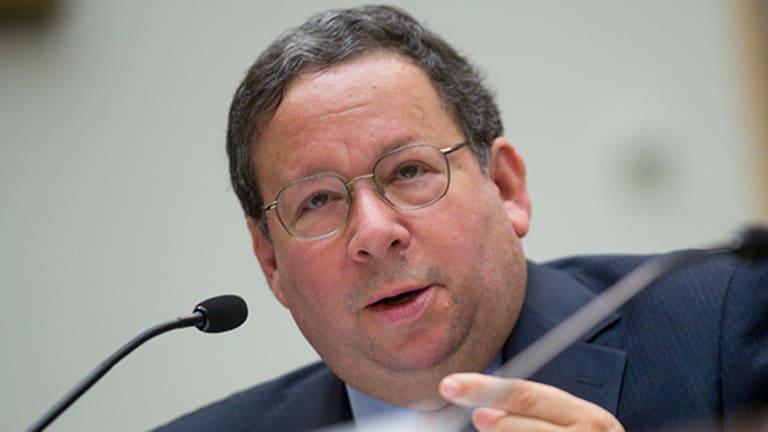 Why Comcast Will Do Whatever It Wants With Net Neutrality
Comcast's David Cohen pulls no punches, tells Net Neutrality advocates that the country's largest cable-TV company can charge whatever is reasonable for different levels of Internet service.
NEW YORK (TheStreet) -- Comcast's (CMCSA) - Get Comcast Corporation Class A Report  David Cohen pulled no punches in a talk Wednesday to Wall Street analysts and media company investors, proclaiming that when it comes to charging different amounts of money for different levels of Internet connectivity, the law allows it.
"Whatever it is, a fast lane, paid prioritization, whatever you want to call it, it has been completely legal for 15 or 20 years," said Cohen, Comcast's executive vice-president, during a presentation at the MoffettNathanson Media & Communications Summit in New York. "Whatever it is, we are allowed to do it."
Cohen, though, was quick to add "but whatever it is, we haven't done it."
Comcast's point man on "Net Neutrality" and its pending $40 billion merger with Time Warner Cable (TWC) , lashed out at net neutrality defenders for fomenting a "hysterical reaction" to Federal Communications Commission Chairman Tom Wheeler's proposal to allow broadband operators to sign deals with content providers such as Netflix (NFLX) - Get Netflix, Inc. Report or Time Warner (TWX)  to ensure faster and more reliable speeds.
"I don't think it's a debate," Cohen said regarding "Net Neutrality," which will be the subject of an FCC hearing on Thursday. "It's been an almost hysterical reaction to an attempt by the Chairman of the FCC to put in place legally enforceable open Internet protections."
"It's been the specter that's been stirred up by the Netroots and the opponents to what Tom Wheeler is doing because it sounds bad," Cohen added. "I think 'fast lane' sounds bad, but since we don't know what it is or what definitions of it are, it's a little bit hard to be able to react to it."
Nonetheless, Cohen made clear that Comcast's position is that current law doesn't forbid it from arranging deals with clients to afford higher levels of service. The FCC's Open Internet order issued in 2010, Cohen said, doesn't prohibit 'paid prioritization.' And although that order was struck down in January by the Washington D.C. Court of Appeals, Comcast will continue to abide by it until ordered differently.
Net-neutrality supporters are pressuring Wheeler to define Internet broadband service under Title II of the Communications Act as a network that should be treated as a utility, whereby broadband operators led by Comcast, Verizon (V) - Get Visa Inc. Class A Report and AT&T (T) - Get AT&T Inc. Report would be required to treat all users equally.
Cohen said Title II, at present, doesn't prohibit Comcast from striking a deal as it did in February with Netflix to ensure faster and more reliable streaming.
"There is nothing in Title II that provides authority for saying that all services have to be treated the same," Cohen said. "The whole history of Title II has been that telecom carriers are absolutely allowed to provide different levels of service for different amounts of money."
It's my ball, and I'll run my game on my rules.
Comcast was little changed on Wednesday at $50.09. Shares have gained 16% over the past 12 months compared to the S&P 500 Indexundefined was has advanced 12%.
--Leon Lazaroff is TheStreet's deputy managing editor.
>Contact by Email.
Leon Lazaroff is TheStreet's deputy managing editor.